Holmes Cay Heritage Blend – Esotico Edition – May 2023

Welcome to the Australian Mega Launch of a sensational 3 rum blend celebrating all things Caribbean rum…rum, rhum and ron!
With a specialist mix of rums from Barbados, Venezuela and Martinique…we are proud to bring the Holmes Cay Heritage Blend Esotico Edition exclusively to the Tribe in 750ml of rum goodness!
The Holmes Cay Heritage Blend Esotico Edition is a collaboration between Holmes Cay and Daniele Pola (Head honcho of Miami's famous Esotico Rum Bar). It is blended to be delightful in a daiquiri, make a mighty mojito, and be super straight up.
The Heritage Blend Esotico Edition is a rum that pays homage to all the traditional rum styles and techniques in the Caribbean and thus is made of 3 components.
The first is a molasses based pot and column still blend from Barbados (known as the 'English Style'). The second component is Venezuelan Ron – molasses based, and column distilled (known as the 'Spanish Style') And the third in this rummy trinity is a column distilled sugar cane juice Agricole rhum from Martinique representing the 'French Style'. On paper, what one would hope to get from such a blend is a rum with a bit of funk, but also some sweet, grassy, herbaceous notes (from the cane-juice based), with the clean crisp mouthfeel of a column distilled molasses rum. And on tasting it – that's exactly what you get!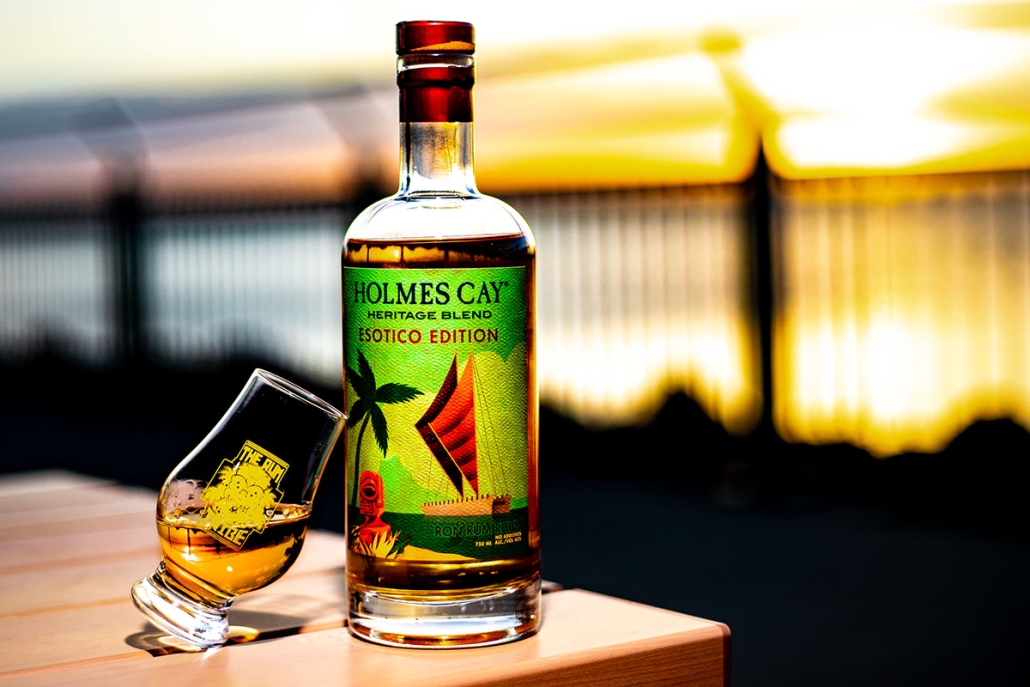 Now, we here at the Rum Tribe are no strangers to independent bottlings of fine rums. For example, our good friend Justin Boseley and his Dead Reckoning brand have brought some amazing rums to us that otherwise wouldn't have existed. In the same way Justin picks and chooses rums from all over the world for his Dead Reckoning brand, so does Eric from Holmes Cay. And just as Justin believes in using NO additives in his rum, so does Eric and Holmes Cay. No colour, No sugar and non chill-filtered. You can see why we love this rum!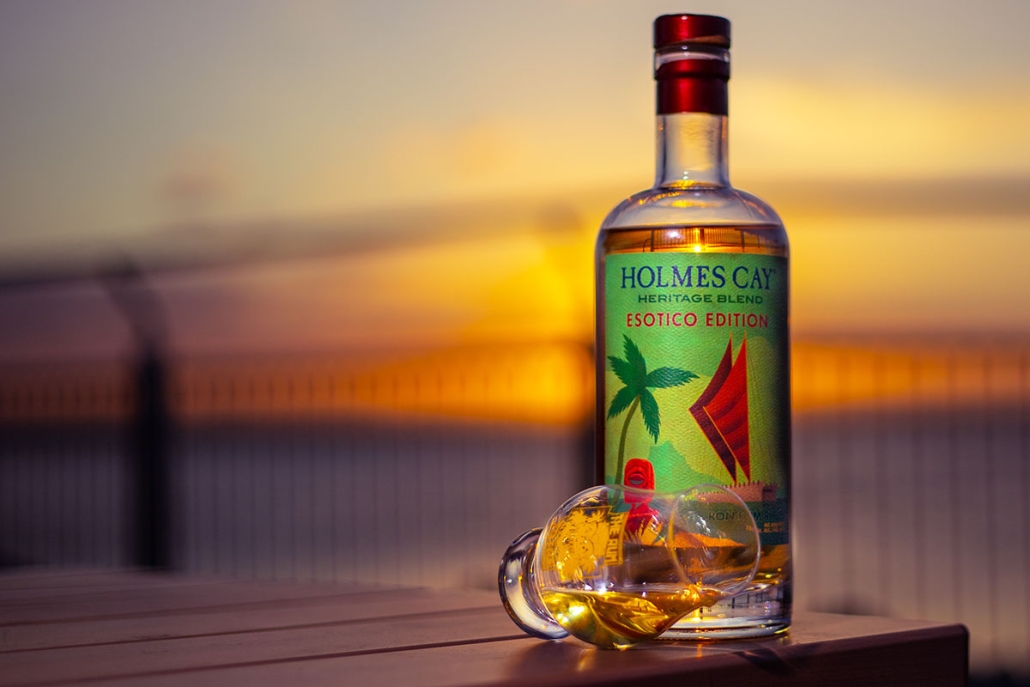 Our Tasting Notes:
Nose: Funky fruit salad with a side of floral frangipani(?) garnished with an herbaceous, grassy grassy note.
Palate: Super creamy banana custard at first, then it dries out and turns on a more candied rind quality.
Finish: More citrusy notes and a slight aniseed leaning at the back end of this short crisp finish.
This is a rum that has been designed to sip neat, slide nicely over ice or slap into your favourite cocktail or tiki drink with negative perspiration! It plays nice anyway you like it. And you're gonna like it, I promise. There's just nothing not to like in this easy drinking rum/rhum/ron combo!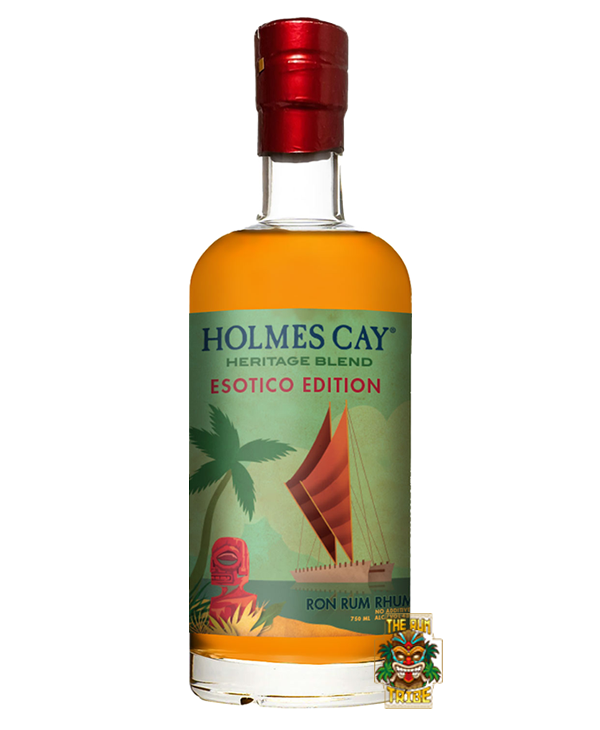 FROM HOLMES CAY
The limited edition Heritage Blend is Holmes Cay founder Eric Kaye's tribute to the three rum traditions that arose in the Caribbean basin. The Esotico edition's label design is a collaboration with Esotico's Daniele Dalla Pola. The design is an homage to vintage travel posters, and to the thrill of travel – The novel, the beautiful and the delicious are always waiting to be discovered.
Bottled at 43% alcohol by volume, the Heritage Blend shows up gracefully in classic and tiki cocktails and is a great sipper on its own.
The components of the blend were chosen to celebrate the diversity and versatility of rum, incorporating the three styles of rum, rhum and ron.
Barbados Rum Molasses-based Pot / column still blend Venezuela Ron Molasses-based Column still Martinique Rhum Cane juice-based Column still
In the Heritage Blend, aged pot and column distillates from molasses and cane juice sources create the unique flavours. No sugar, no colour and no other flavours are added in the making of this rum.
Tasting Notes:
Vanilla custard, dried fruit and citrus notes on the palate, with a finish of oak and baking spice.
ABOUT HOLMES CAY
Holmes Cay (pronounced 'key') Rum curates a continuously evolving collection of the best small-batch, limited-edition rums from all over the world. Single Cask selections are aged in cask, while Single Origin editions are younger single expressions or blends.
Founder Eric Kaye — a lover and collector of rum as well as a lifelong entrepreneur — started with a clear vision of the spirit's wide open potential. His purpose for Holmes Cay is to give spirits lovers access to great rums that they can learn about, collect and savour.
In the US, the rum category is still largely defined by dated references, tropical themes, and limiting cocktail programs. The opportunity to lead authentic elevation of the category nevertheless exists. Rum is not only about pitchers of pina coladas or Tiki Tuesdays, because like any expertly made spirit, the right rum can be savoured and explored with great pleasure.
Holmes Cay was founded to help spirits lovers discover the exciting diversity of rum flavours by curating a wide variety of rum profiles. All are made with expertise and without short cuts. Holmes Cay is a modern take on an aged product — One that lets the authentic, unadulterated beauty of rum shine through. When you see Holmes Cay on the label, you know the liquid and its source have been carefully chosen to ensure that the flavours showcase the very best of their home distilleries. Each Holmes Cay product is an expression of craftsmanship and quality ingredients. Each needs no embellishment or additives.
Holmes Cay focuses on bringing special, limited-edition casks from respected and up-and-coming distilleries that are difficult or impossible to find in the United States with its Single Cask rum line. As with any high-quality aged spirit, these rums cannot be replicated once they've been depleted. With recent additions to the more accessible Single Origins and blends, Holmes Cay is about finding the best rums of any age in the world and sharing them for as long as they last.
ABOUT ERIC KAYE
Eric Kaye is the founder of Holmes Cay Rum, a premium brand that seeks and curates the finest rums from around the world and releases them without additives.
After exploring nearly every island in the Caribbean, and drinking exceptional rum along the way, Kaye realized the U.S. spirits market lacked access to those special, rare rums from around the globe. Recognizing that access to unadulterated rums was extremely limited in the United States, Kaye saw an opportunity to focus on hard-to-obtain aged expressions, presented with transparency, and launched Holmes Cay in 2019.
https://rumtribe.com.au/wp-content/uploads/2023/04/Holmes-Cay-Esotico-Header-4.jpg
405
1030
admin
https://rumtribe.com.au/wp-content/uploads/2022/01/Main-Logo_Border.jpg
admin
2023-04-24 15:41:49
2023-05-26 18:10:29
Holmes Cay Heritage Blend – Esotico Edition – May 2023