Dead Reckoning 'The Sextant' – December 2020

Welcome to the world launch of a new rum brand! Yes, this month we take on the world with the world-wide release of the 'Dead Reckoning' rum brand – and we are beyond stoked to be able to showcase it for the first time ever, anywhere!
As is only fitting – The Rum Tribe members will be the first IN THE WORLD to taste this new rum. With only 330 individually numbered bottles produced – we'll be accounting for the vast majority of the entire world supply of this release! Bad luck, rest of the world – but the Rum Tribe gotta rum!
Blended from 4 major distilleries, Dead Reckoning is the baby of rum legend, Justin Boseley – ex- mega-yacht captain, and nowadays importer of high quality rums into Australia. 'The Sextant' adds yet another feather to Justin's enviable cap – rum blender and brand owner!
'The Sextant is a blend of 4 Caribbean rums from FourSquare (Barbados), Worthy Park (Jamaica), Angostura (of the 'bitters' fame) and Demerara (Guyana) all blended into the Dead Reckoning 'The Sextant' here in Australia.
Dead Reckoning 'The Sextant' is a 5 year old Column still rum from Trinidad (Angostura), a 3 year old Pot still rum from Jamaica (Worthy Park), a 5 year old pot and column still rum from Guyana (Diamond Distillers). To round out the palate Justin has selected a 3 year old pot and column still rum from Barbados (Foursquare).
All the rums used in The Sextant are 100% tropically aged, then bottled & blended in Australia at 49% ABV.
Our Tasting Notes:
Nose: A huge funky fruit salad – bananas jump at me first, then sweet pineapple and pawpaw. All wrapped up in a creamy egg-nog envelope.
Taste: A deep velvety demerara rush coats the whole mouth at first then a warm spice hit cuts through… and the tropical fruits come through again! A very long finish with luscious stewed fruit with just enough spice to contrast, but not overpower, the delicious lingering sweetness.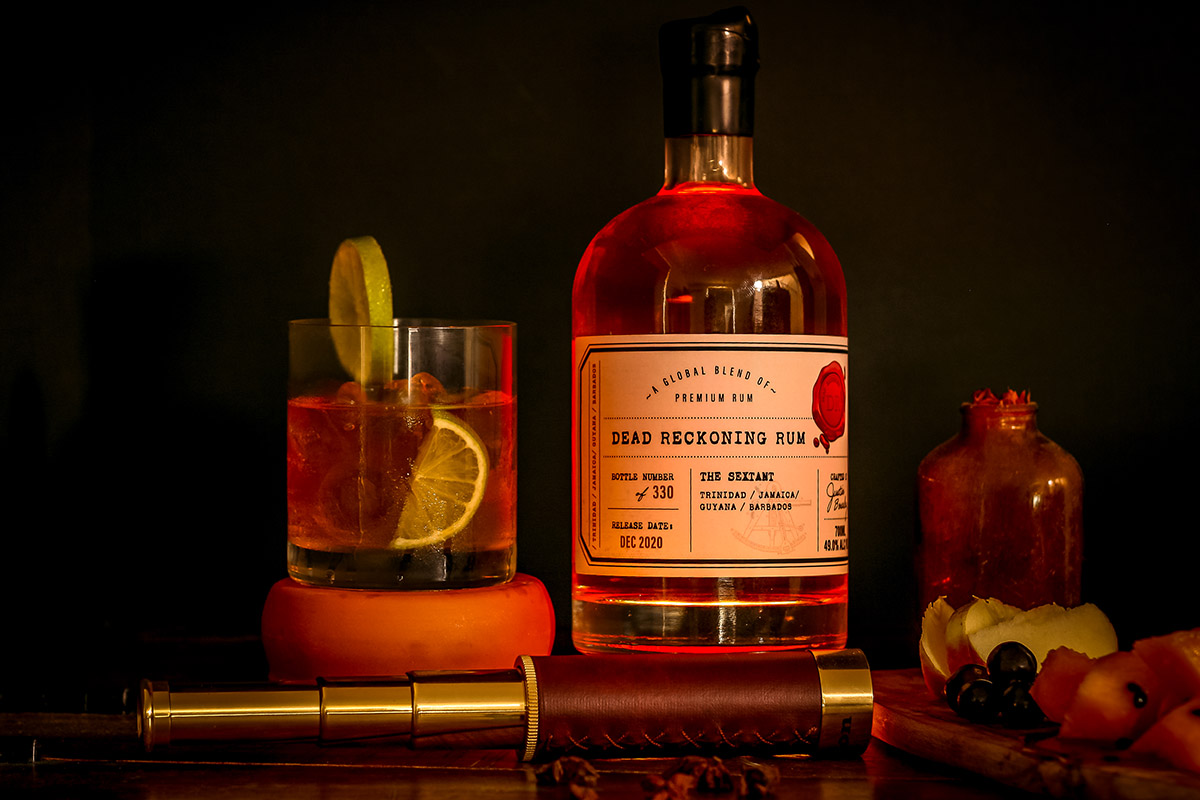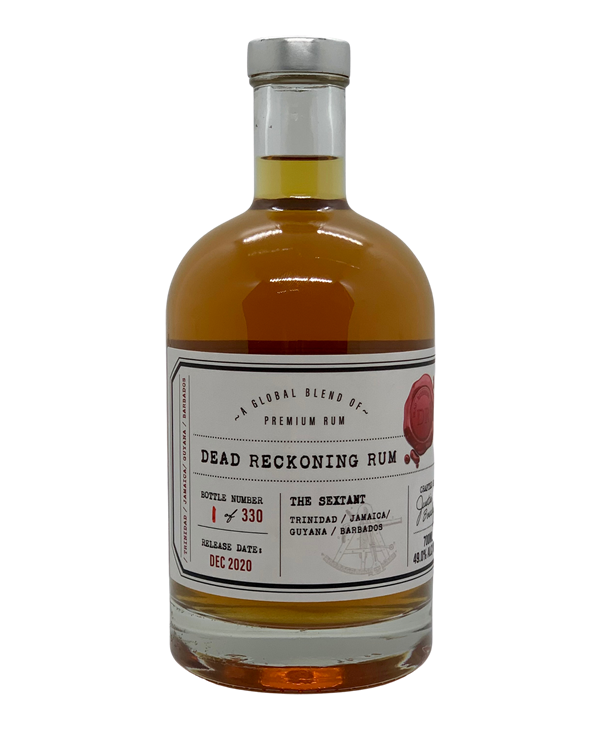 FROM THE BOTTLERS
DEAD RECKONING, in navigation, dead reckoning is the process of calculating current position of some moving object by using a previously determined position, or fix, by using estimations of speed, heading direction and course over elapsed time
A sextant is a doubly reflecting navigation instrument that measures the angular distance between two visible objects. The primary use of a sextant is to measure the angle between an astronomical object and the horizon for the purposes of celestial navigation.
Dead Reckoning 'The Sextant' Rum Release is a step back in maritime history, a masterful blend of four offerings from Justin's favourite distilleries. A well balanced mix of rums from arguably some of the finest distilleries in the world.
It is well known the British royal navy's daily rum ration or 'Tot' was a mainstay of life upon the seas. Rum sourced for the now legendary tot was often procured from the chain of British colonies around the world. Some of the rums selected for Dead Reckoning releases have been loved and recognised for 3 centuries and have fortified many a thirsty mariner.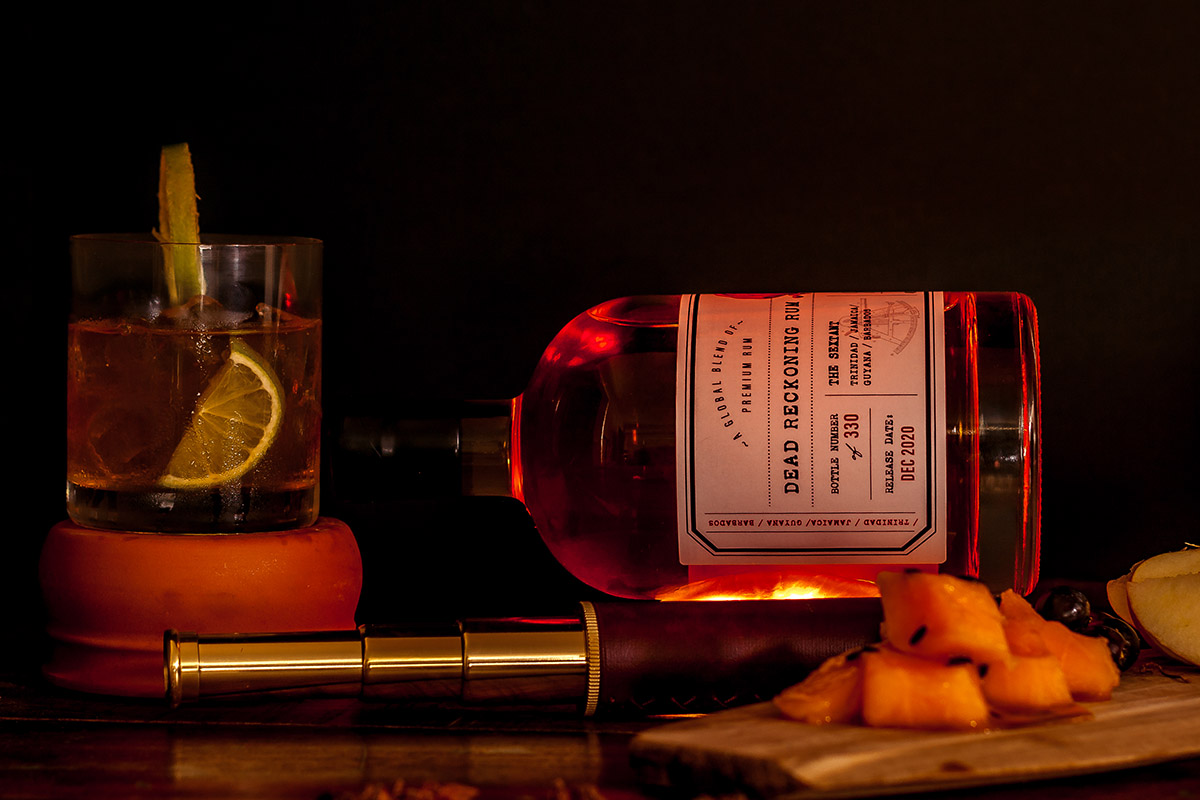 ABOUT THE BLENDER AND DISTILLERIES
Justin Boseley
Justin, has immersed himself in rum for the past 20 years; a journey starting as a deck scrubbing lad with a thirst for Rum and adventure culminated in him becoming a Chief Officer; driving billionaire's mega yachts around the world. This life of salty seadog adventure took him to Rum's heartland, the Caribbean islands for 6 months a year, every year.
When he wasn't at the helm of a yacht he could be found hanging off a bar or at a distillery sampling the best the Caribbean rum scene had to offer. Upon ending his days at sea there was only one thing he knew better that navigating around the world's oceans- that was Rum. For 10 years Justin has scoured the globe discovering & importing the world's best rums into Australia.
Having an intimate knowledge of the Australian market, Justin identified space for unique, rare blends. Enter Dead Reckoning Rum. An Australian Independent label specialising in master-mixed rum blends, single casks and some rare, forgotten 'barn-finds' of the Rum world. Justin has his sights set on truly unique and memorable releases by his label.
The Diamond Distillery
Located in Guyana is the culmination of a rich history of Rum making that stretches back to the 1650s. In its heyday it boasted over 300 sugar estates, each with its own still producing world class Rum.
However, over the centuries, a process of amalgamation saw the various estates combine, with only a small number of unique stills surviving the test of time. The heritage stills as they are now known have all been relocated to Diamond Distillery on the banks of the Demerara River under the governance of Demerara Distillers Limited.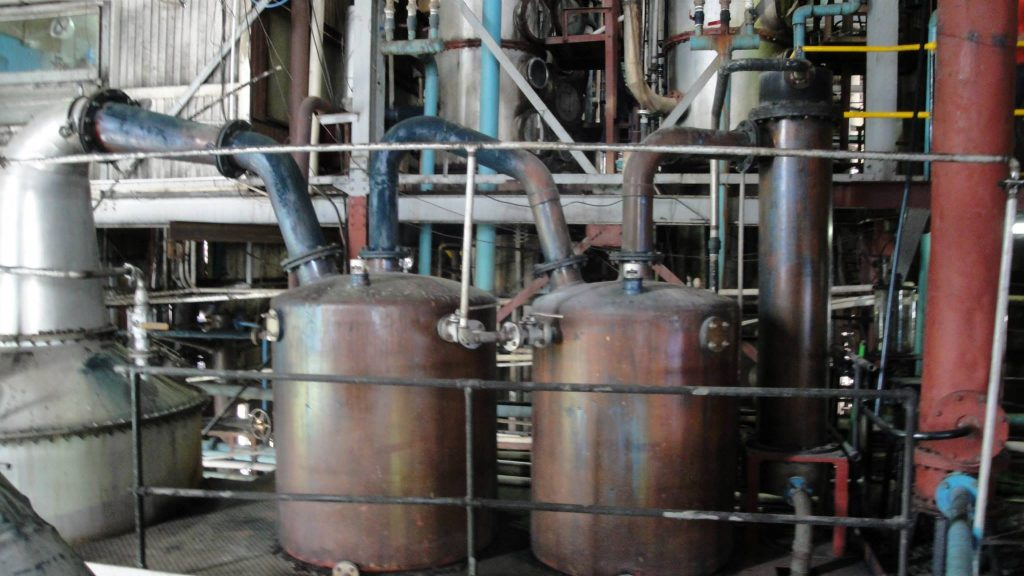 Foursquare
The owners of Foursquare Distillery, the Seale family, can trace its roots on Barbados back to the 1650s, and can reference five generations of rum-making expertise dating back to 1820. The establishment of the foursquare brand, however, came much later. While the family could lay claim to one of Barbados' oldest trading houses, Reginald Leon Seale was prohibited, like other traders, from selling rum directly to consumers under the Barbados Excise Law. Solution? Establish a distribution business in Bridgetown. In the early 1900s R. L. Seale was born.
Despite being sat in the middle of a sugarcane plantation, foursquare are forced to import most of their molasses from Guyana. Surprisingly, given the number of different brands of rum produced at foursquare, they utilise a singular fermentation practice. Using distillers yeast imported from South Africa, the two-step process is computer temperature controlled, progressing very slowly molasses is added during the latter stage over a period lasting 24 hours. Rums produced at foursquare are all a blend of pot and column stills. Blends are undertaken both before and after ageing, with all casks filled with various blends of the pot and column stills. Master distiller Richard utilises American oak, ex whiskey casks for the majority of Foursquares' rums, often also experimenting with Sherry, Madeira port & Zinfandel casks which offer nuanced variation in flavour.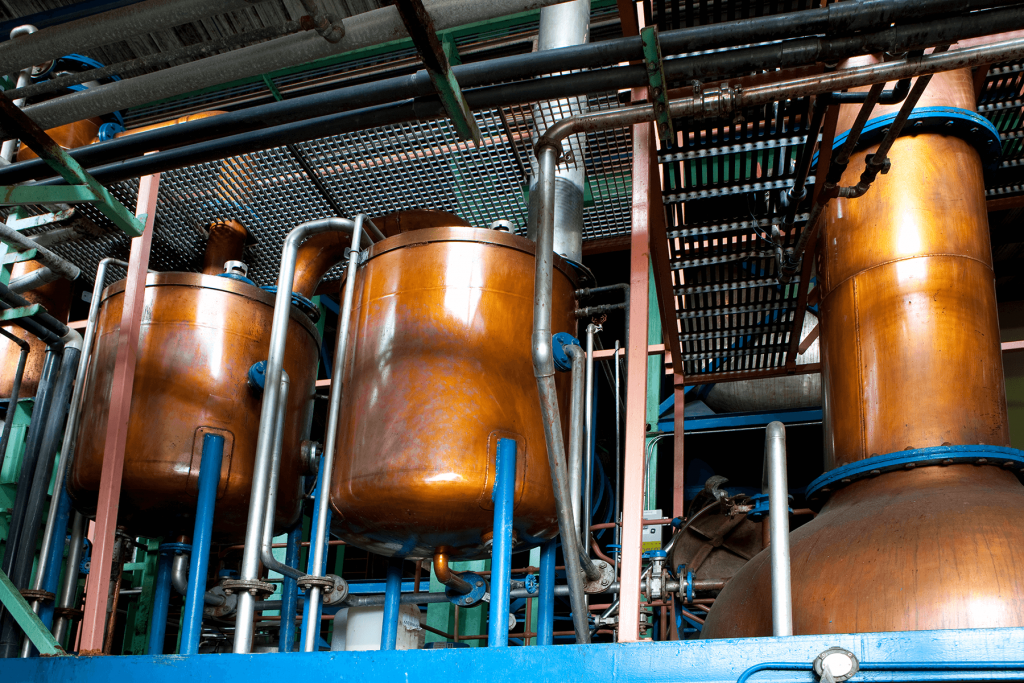 Worthy Park
Worthy Park has been producing rum intermittently since the 1740's. There was an oversupply of Jamaican Rum following World War II and under agreement with the Spirits Pool Association of Jamaica production was ceased in 1962. After being out of the distillation business for decades, the Clarke family decided in 2004 that there was room for a Jamaican rum, made with quality ingredients by distilling in the Traditional Jamaican Pot-Still method, however with modern efficiency, utilising state-of-the-art equipment. In 2005, the new distillery was complete! By 2007, the flagship brand of Rum-Bar Rum was launched and has forever changed the Jamaican rum industry.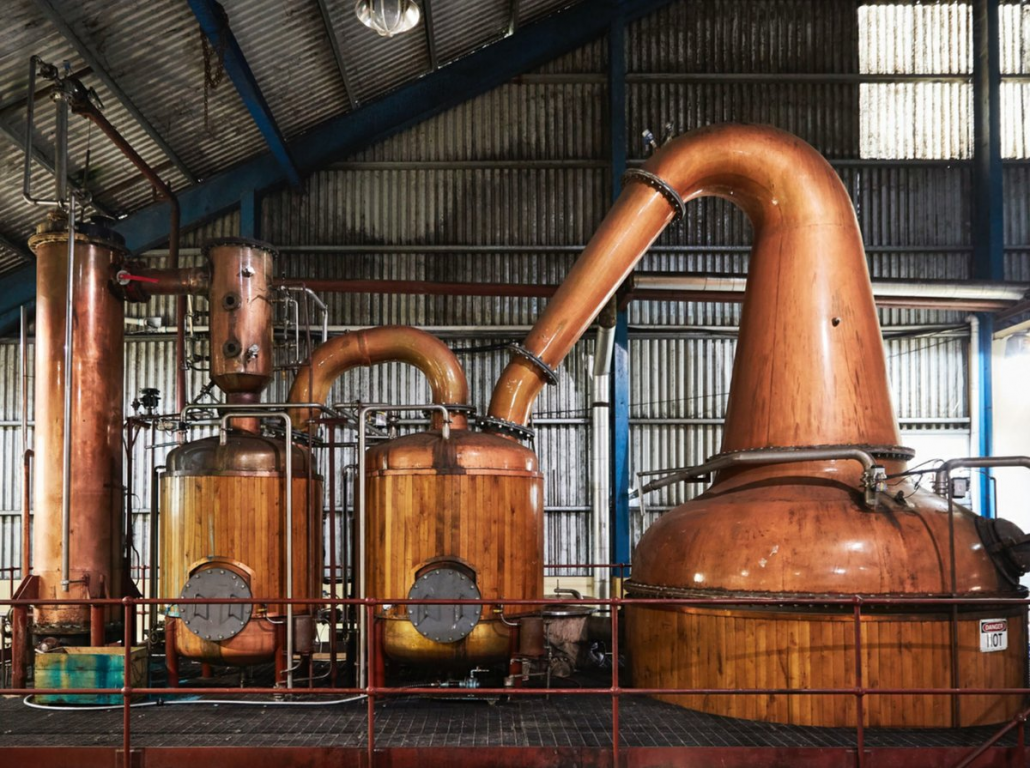 Angostura
The House of Angostura's award-winning rums are steeped in nearly 200 years of tradition. Dr. Johann Siegert first produced aromatic bitters in Angostura, Venezuela (today called Ciudad Bolivar) in 1824 to use as a tonic in his medical practice. In the 1870s, he and his three sons migrated to Trinidad, where they began to produce their aromatic bitters on a larger scale and add them to cocktails.
Angostura rums are column-distilled using a combination of two rigs. The first is a large single column system responsible for their heavy rum production. Their five-column setup handles the light rum production. If such a setup sounds familiar, it's largely on par with Puerto Rican Rum production, as a point of comparison. The idea is to keep enough flavour components on hand while also ensuring a clean spirit. According to Angostura's long-serving—though now semi-retired—master distiller John Georges, you want to keep "just enough of the funky stuff".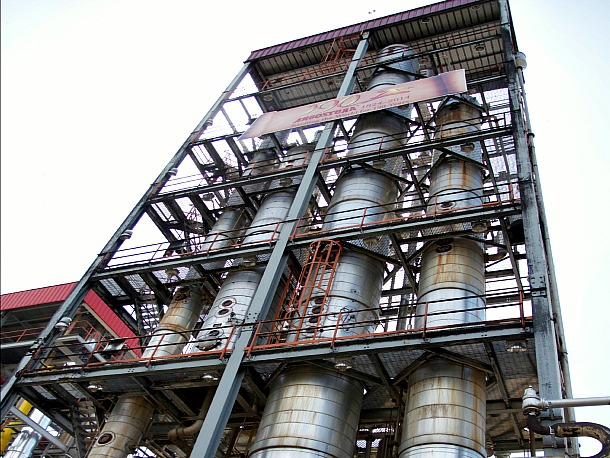 https://rumtribe.com.au/wp-content/uploads/2020/11/header-3.jpg
405
1030
admin
https://rumtribe.com.au/wp-content/uploads/2022/01/Main-Logo_Border.jpg
admin
2020-11-24 21:41:58
2021-12-02 16:29:00
Dead Reckoning 'The Sextant' – December 2020