Description
**STOP PRESS! Killik WIN Multiple Medals At World Rum Awards **
Our favourite Victorian Hogo-evangelists, Killik just WON SILVER at the World Rum Awards for their first aged rum release 'Single Cask #1' (and GOLD and the Australian Rum Awards)! Guess who is the FIRST to get their hands on Single Cask #2?
This is Killick's very FIRST 'pure single rum' – being solely copper pot distilled (Cask #1 was pot/column hybrid distilled).
You will want this STRICTLY LIMITED Members Extra pot-stilled, single cask, pure single rum presented at a cask strength of 58%.
The Killik 'Single Cask #2' is a molasses based rum. A four week open ferment of the molasses based wash is then distilled in copper pot still. In this case, they have used their 'stripping still' (known as the 'wash still' in whisky production) only in this production, so this is technically a pure, single rum. Their 'Single Cask #1' made use of their hybrid still, and thus can't be classified as pure single rum. This is the, in fact, Killicks very first, pure single rum.
Aged for just over two years in a shaved and re-coopered ex-red wine cask. Presented at a cask strength of 58%ABV and strictly limited to only 175 bottles, this is artisanal Australian pure single rum at its finest.
Now the boys at Killik are all about their 'hogo'. But what is this 'hogo' that we speak of? Well, originally a Jamaican style, hogo is an easily identifiable flavour which is the result of wild yeast fermentation. It is commonly characterized by its potent, funky nose and taste. In fact hogo is also known as 'funk' in some places. It can be very difficult to define and can vary wildly. In the case of Killik, it is often very fruity with strong aromas of tropical fruit, over-ripe banana, strawberry, and a distinct milkiness.
The key to hogo, or funk, is the use of wild yeasts in the fermentation stage of production. We spoke about 'dunder and muck' as a source of wild yeast last month in Nil Desperandums 'The Wild Muck' writeup. Killik also make use of their dunder in their muck. However, where Nil Desperandum solely used wild yeast in 'The Wild Muck' – Killik use a combination of a proprietary yeast strain to start (for a day or two), with muck added to the ferment after that.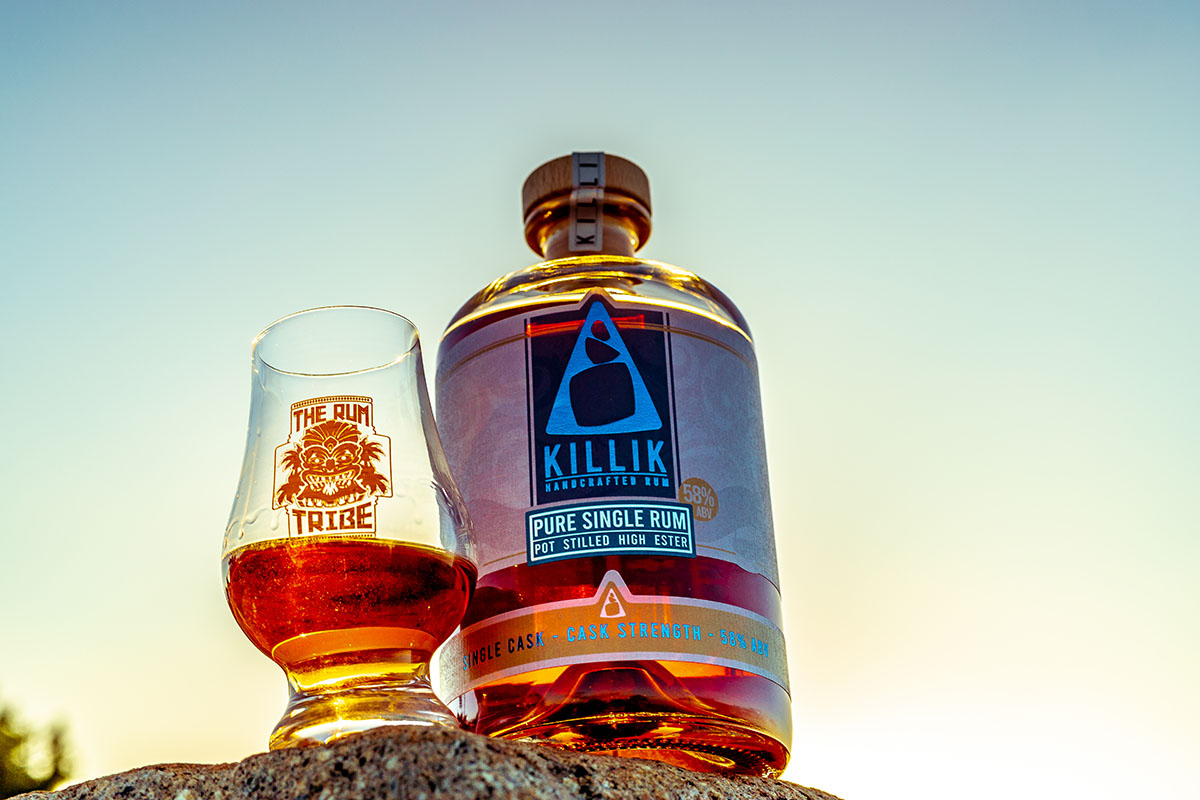 Our Tasting Notes
Nose: Yep the hogo if strong with this one, alright! It's got it all the esters you're looking for right here. There's everything from overripe apricots, bananas and kiwifruit to nail polish remover to baby vomit. Yep – that's not a typo. But in suuuuch a 'sweet and sour' good way! IYKYK, right!
Palate: Oh man, it's just an oil-bomb on the palate. So silky and viscous. But then a tidal wave of mouth-watering tropical fruits thunders in. It's a spectacular rush of guava, pineapple, kiwifruit and that elusive cherry in the tinned fruit salad you fought with your brother for as kids (you remember that, dontcha?) But there's also a creaming soda thing going on in there too, with a marzipan sweetness.
Finish: The finish on this is an absolute crescendo of steamy jungle and all that it entails. All those funky tropical fruits and half-rotting woody notes, sweet decay and glorious corruption just goes on and round and on and chew and round and on! OH yeah!
Look, this isn't a beginner's rum. Well, that's not entirely true. The 58% alcohol is very well integrated and is not harsh or hot in the slightest. It's incredibly easy to drink form that standpoint. But the massive hogo hit is delightful – yet divisive. Like peat in the whisky world – you either love it or hate it. Personally, I absolutely love this rum.
It's honestly hard to describe just how much this rum moves me. It's just so big and so complex and so mouthwatering…I sound a bit like a cult member, don't I? But I know, at least half the people I'll try this with will probably think I'm a little crazy and scrunch their face when they smell the cork.
If you like hogo then this is rum will rock your world. If you've not come across hogo before, this rum will change your world. If you are in the anti-hogo league – well…let's just agree to disagree and I'll take your bottle…YUM!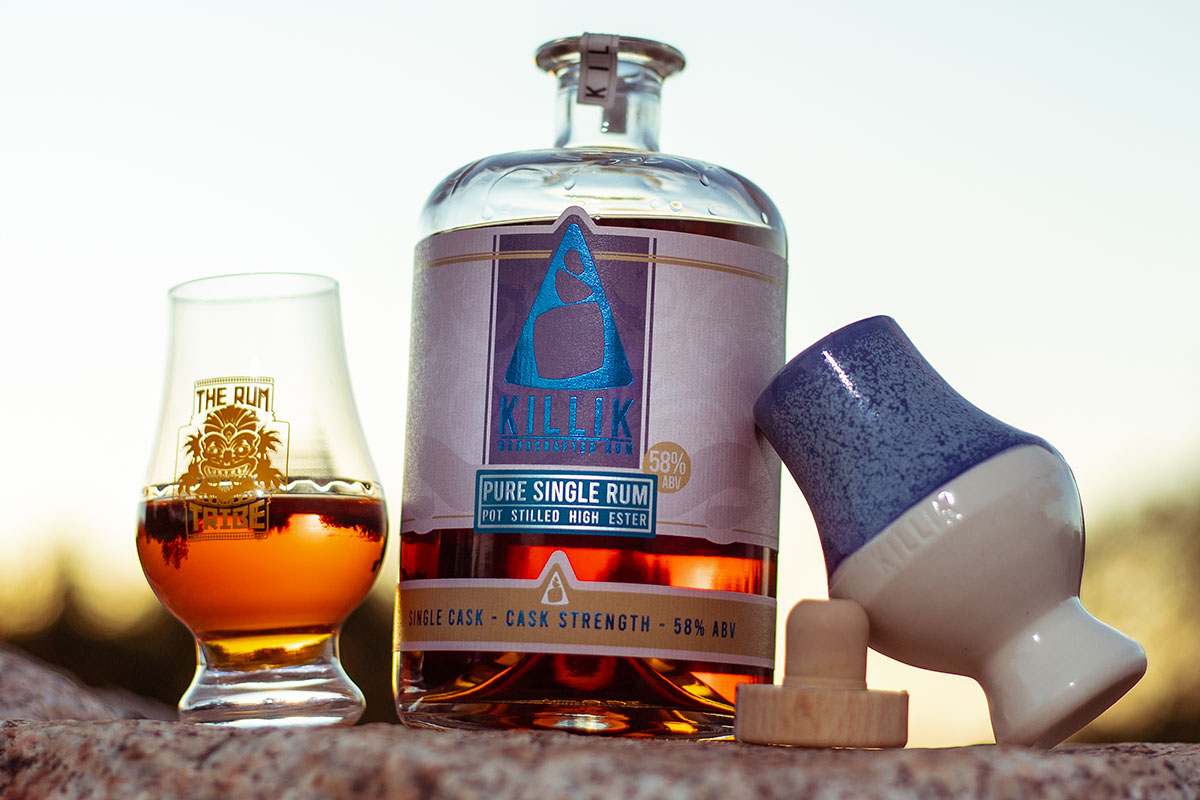 From Killik
Our inaugural single barrel pure pot still rum is crafted from our high-ester long fermentation stock, resulting in a bold and unique flavor profile. After fermenting for approximately four weeks, this rum boasts a tremendous amount of aromatics due to its high ester content, making it unlike anything you've ever tasted, unless you're a fan of particularly high-ester Jamaican rum.
Upon taking a whiff, you'll immediately notice an abundance of overripe fruit, as well as a prominent pineapple aroma, followed by milky caramel and cream. For those seeking a little more funk, you'll be pleased to know that there are also hints of barnyard hay and grass to be detected.
This exquisite rum was aged in an ex-wine cask that were shaved and re-coopered by Andrew Stiller in South Australia. It spent a total of three years maturing in the barrel, resulting in a truly exceptional spirit.
About 
Killik
Born in Belgrave, Victoria, Killik Handcrafted Rum is a family run distillery that aims to fill the void of great Australian rum. Their aim is to create products that were not only top tier in quality, but are also the most unique Australian rum you can find.
"HIGH ESTER IS THE DIRECTION THE RUM WORLD IS MOVING "
Callan Pratt – Partner, Killik Handcrafted Rum
Our rum utilizes a wild fermentation which leads to a high ester content referred to as "hogo" in the rum scene. Killik Handcrafted Rum is the first Australian dedicated rum distillery committed to this traditional Jamaican style of rum production.
The Killik lineup is perfect for creating classic cocktails or enjoyed neat.