Dead Reckoning Nelson's Dockyard – April 2023

Dead Reckoning is BACK and EXCLUSIVE to the Tribe!
It's time to 'Hoist the Colours' and 'Pipe the Side' to welcome none other than Lord Horatio Nelson himself to our monthly rum shenanigans. With rum originally from the legendary Antigua Distillery and then lovingly finished in Australia for another 2 years in a first-fill Apera cask and then bottled at a superb 50% – So arm the cannons and make way for the Dead Reckoning Nelson's Dockyard!
Dead Reckoning rum releases ALWAYS SELL OUT and this will be no different with only 355 BOTTLES of this collectors rum produced.
The Dead Reckoning Nelson's Dockyard started its life in the Antigua Distillery located in English Harbour (home of the 'English Harbour Rum' brand), distilled from a fermented molasses wash. The column stills at Antigua Distillery are made from 100% copper (even the nuts and bolts!). The spirit these stills produce is ultra-pure – at 95%.
It was then aged for 2 years in Antigua in an ex-bourbon barrel before being sent to S.A. where it was lovingly transferred into a first fill South Australian Apera cask and then left for two more years to age in the dry Adelaide climate. During that time, whilst the volume in the cask shrank – the ABV actually increased by 11%!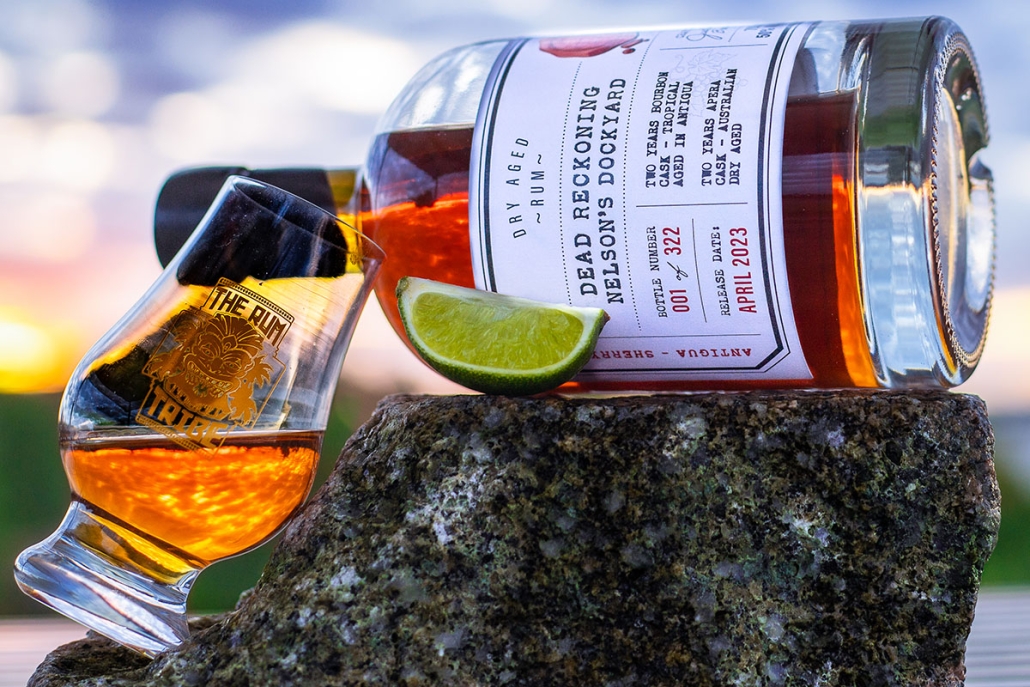 Lord Horatio Nelson spent 1784-1787 as Captain of the HMS Boreas, assigned as Senior Captain (second in charge overall) at English Harbour, Antigua. His main mission was to enforce the 'Navigation Act' – preventing British Islands trading with the USA – which had won it's independence only a year before in 1783. He also oversaw the completion of the dockyard that was to bear his name.
I don't think we really need to introduce the Dead Reckoning brand to any but our newest members. But for those who don't know – head honcho Justin is an ex- superyacht skipper who spent a significant portion of his life swanning about Caribbean rum bars of all sizes (and reputes!). When he 'grew up' he did the only sensible thing for a man in his position and became a rum importer. But more importantly he started the 'Dead Reckoning' brand of independently bottled rums from around the world. In a nutshell, Justin's Dead Reckoning brings rums from around the world, and finishes them in a variety of casks sourced from [mainly] South Australian wineries, in the outskirts of Adelaide. This extremely dry climate has been proven to actually increase the ABV of Justin's casks as the S.A. angels seem to prefer water when they take their share!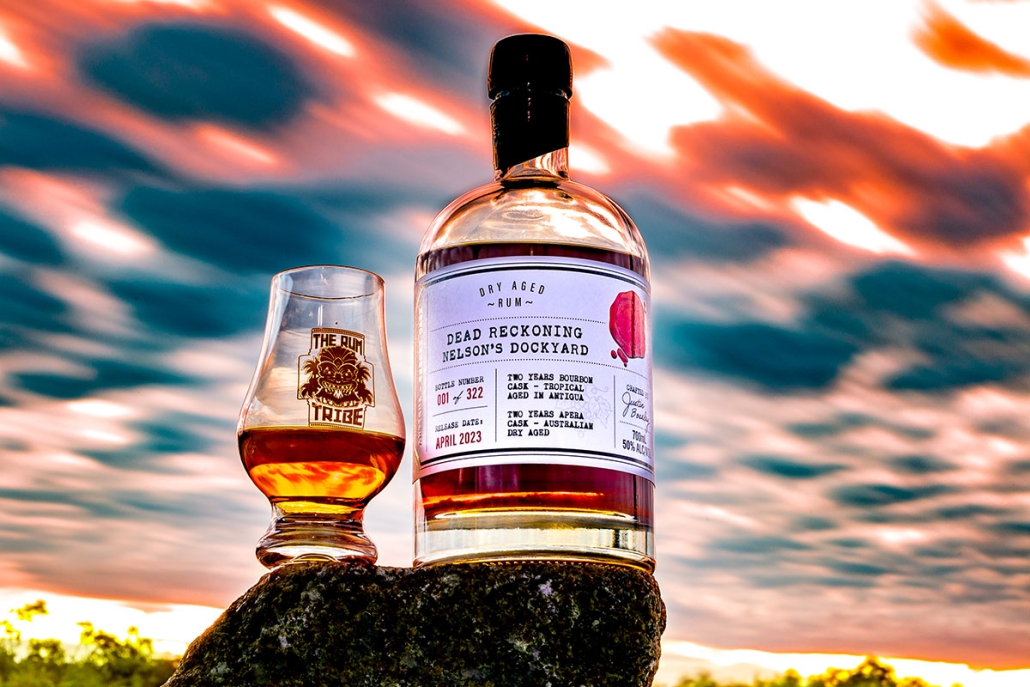 Our Tasting Notes:
Nose: A sweet cocophany of chewy dried figs, juicy lunchbox sultanas, toffee apples, dried banana chips and desiccated coconut.
Palate: Crisp, clean and dry on the pallet with granny smith apples and vanilla custard chased around by stewed fruits and ginger-y spices.
Finish: Not a lot of length to the finish, but it's a fun ride whilst its there! – espresso coffee, dark chocolate and more sultanas with a mild white pepper salute right on the tail.
Wow – this is quite a textbook mix of bourbon and sherry (ok, ok… Apera) cask characteristics – floral apple and vanilla notes from the bourbon and the dark stewed fruit and pepper from the Apera cask. The characteristic column still 'crispness' is also there to complete the lesson.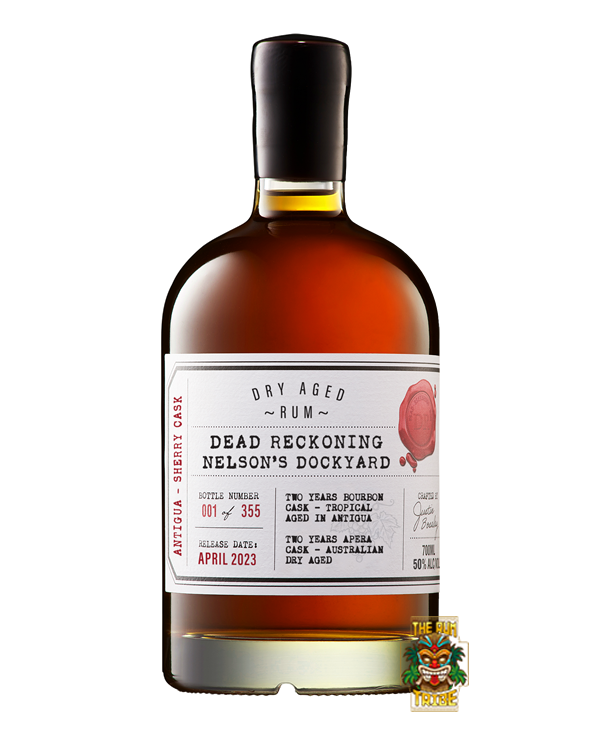 FROM DEAD RECKONING
Toffee, caramel, roasted coffee, chestnut & a hint of black pepper
Whilst working in the mega yacht industry, I was fortunate to spend several months a year living in English harbour in Antigua.
Nelson's dockyard was the location of many a party with fellow crew members. It is also place where Lord Horatio Nelson spent time.
This is where my love for this Rum developed as it was a daily staple for all yachting crew.
In the past English Harbour rums did have slight adulteration, but I believe they have now changed their formula so no longer will you see sugar added to any of their rums.
ABOUT DEAD RECKONING
Justin, has immersed himself in rum for the past 20 years; a journey starting as a deck scrubbing lad with a thirst for Rum and adventure culminated in him becoming a Chief Officer; driving billionaire's mega yachts around the world. This life of salty seadog adventure took him to Rum's heartland, the Caribbean islands for 6 months a year, every year.
When he wasn't at the helm of a mega-yacht he could be found hanging off a bar or at a distillery sampling the best the Caribbean rum scene had to offer. Upon ending his days at sea there was only one thing he knew better that navigating around the world's oceans- that was Rum. For 10 years Justin has scoured the globe discovering & importing the world's best rums into Australia.
Dead Reckoning is Australia's first independent rum bottler, and each release from his bond-store is an anticipated event that never fails to please! The Rum Tribe is incredibly proud of our close association with Justin and the Dead Reckoning brand.
ABOUT ENGISH HARBOUR RUM
The company Antigua Distillery Limited (ADL) was formed in 1932 by 8 local businessmen and in 1933 they established their own distillery on Rat Island (named like that because of its shape) – the authorities didn't want a distillery on the mainland due to potential smell and noise. Originally equipped with a multi-column Savalle still, it was replaced in 1991 with a 3-column still from John Dore & Co. made entirely out of copper – bolts included. The 3-column has been modified into a 5-column still making it shorter, apparently due to the danger of tropical storms in the area.
While the ADL website does talk about their yeast and fermentation process that "adds a level of flavour to the liquid in the tank, and it also produces a number of compounds that contribute directly to the complex flavours and aromas of the final product" the wash is distilled to 95% ABV making it pretty much neutral in taste. Most of the flavours come from the maturation process. ADL ages their rum in charred 200 litres ex-Bourbon casks.
https://rumtribe.com.au/wp-content/uploads/2023/03/DR-Nelsons-Dockyard-Header-3.jpg
405
1030
admin
https://rumtribe.com.au/wp-content/uploads/2022/01/Main-Logo_Border.jpg
admin
2023-03-24 09:49:59
2023-05-09 11:24:29
Dead Reckoning Nelson's Dockyard – April 2023