Dead Reckoning Port Broadside Jamaica – September 2023

DEAD RECKONING IS BACK! This time with a FUNKY but MELLOW blend of three low-ester Jamaican rums (Hampden, Worthy Park and New Yarmouth) born, bred and married in the tropics and honeymooned in the dry heat of Adelaide. It's time to man battle stations as Dead Reckoning launches a Port Broadside!
The DR Port Broadside is a single cask blend of three incredible Jamaican distilleries. Hampden, Worthy Park and New Yarmouth – two pot stills and a column still respectively. 3 years tropically aged in bourbon casks in Jamaica and then whisked off to Adelaide to be dry aged in a Seppeltsfield Tawny Cask that has held port continuously for 120 years (this cask is almost GOOEY it's got so much port infused into it!).
Just like the amazing price of $125 – Justin has specifically blended this Jamaican rum to exhibit the funk that Jamaican rum is famous for – but do it in an extremely accessible way. He's done this by blending 3 Jamaican low ester 'marques'. In Jamaica, a marquee is given special initials and indicates different 'types' of rums made by a distillery. Much like a bakery bakes different types of bread, the distilleries make different marques of rum – each one with a characteristic Ester level. The marque classification system of Jamaica is a bit of a 'rum geek' thing – if you'd like to know more – check out this article at the Cocktail Wonk.
The marques used in this rum are stated on the label – all of them amongst the lowest ester marque of their distillery. What this means is that whilst this is definitely an ester-forward rum (it is Jamaican, after all!), this is not overstated or over-the-top hogo.
For the non sailors out there a Broadside is a firing of all the guns from one side of a warship.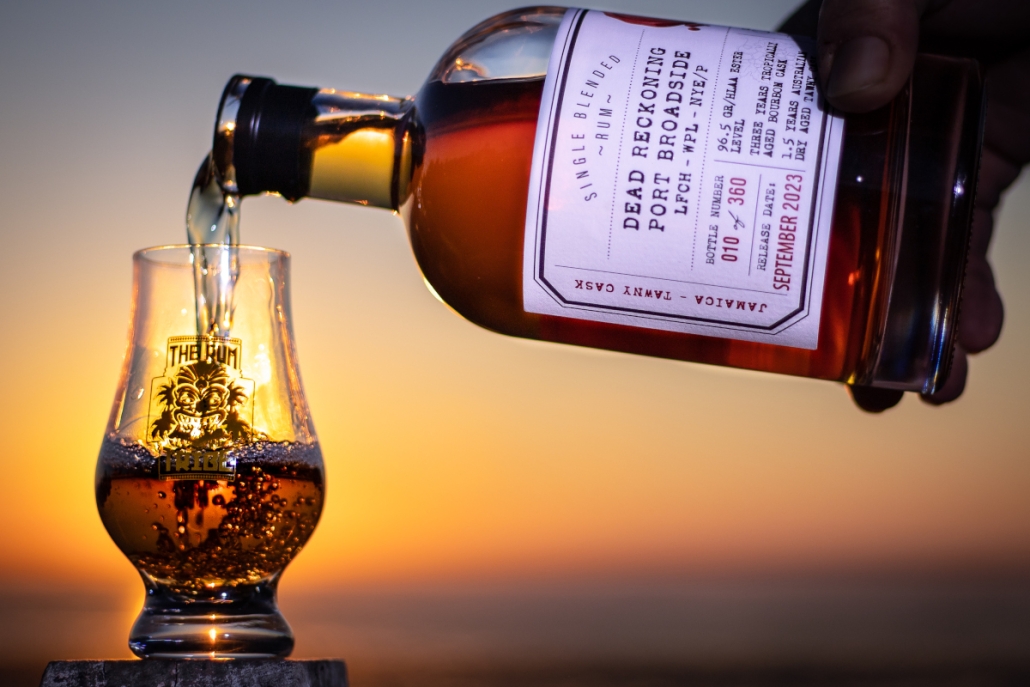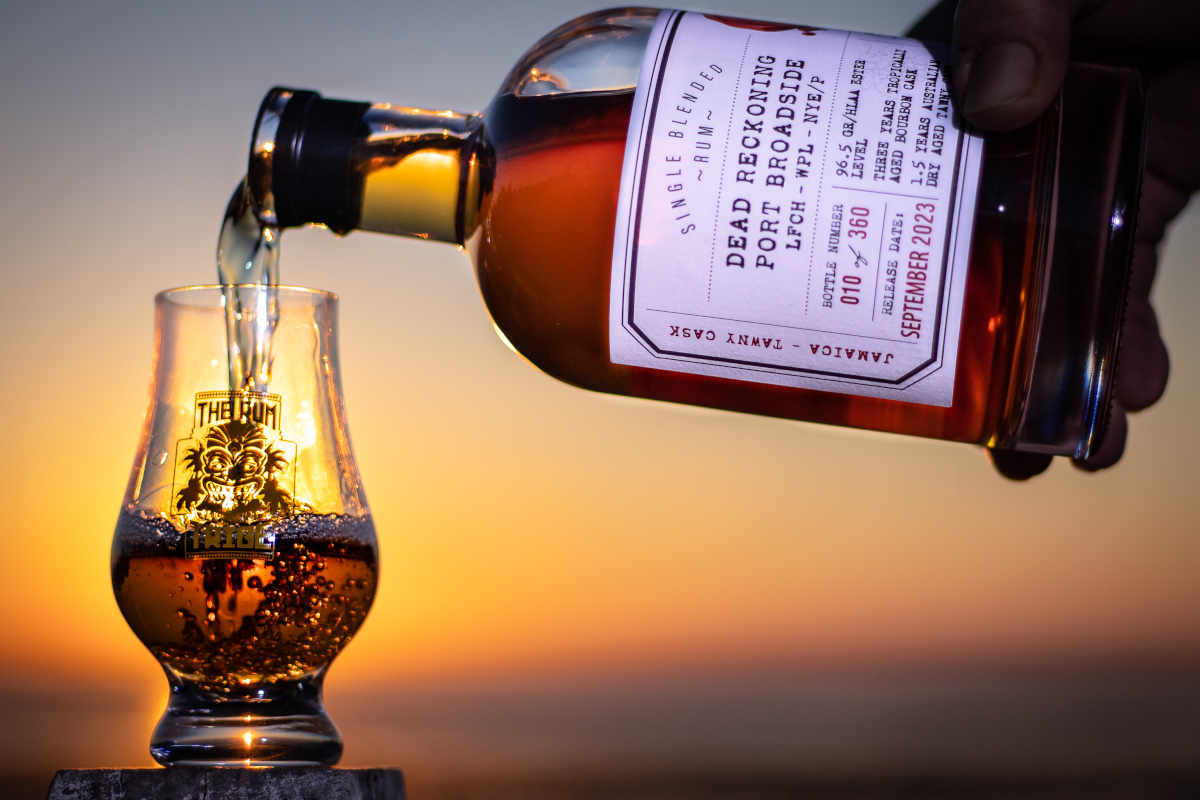 NOW we here at Rum Tribe HQ as well as Dead Reckoning know how tough everyone is doing it at present. Mortgages, fuel, electricity prices through the roof – and to sink the boot in even more – the excise on spirits like rum (and whisky etc) has just passed $100 per litre of alcohol. So if you have a 1-litre bottle, with a spirit at 50%ABV – you will be paying more than $50 in Australian excise before you even start paying for the product itself. The third-highest spirits excise in the world. And it increases twice a year. That's right – Twice. Every. Year.
So this month, Dead Reckoning and the Rum Tribe have gotten together with the express purpose of getting AWESOME rum to the people with as little hit to the wallet as possible. Both of us have taken a bit of a beating to get this absolutely incredible 4 and a half year old Jamaican to the Tribe for a pre-2020 price.
And why are we doing this? Well, in all honesty, we're hoping if we do an attractive enough price, you'll buy two bottles if you can! And then everyone is a winner!
No added sugar. No added colour. Non-chill Filtered. Bottled at 50%ABV so the taxman gets his fair share, don't you worry!
Going forward – this is the first expression of the 'Port Broadside' line from Dead Reckoning. Look out for more single country of origin, blended single casks, tropical/dry aged combo rums finished in Tawny casks in Adelaide to come down the track.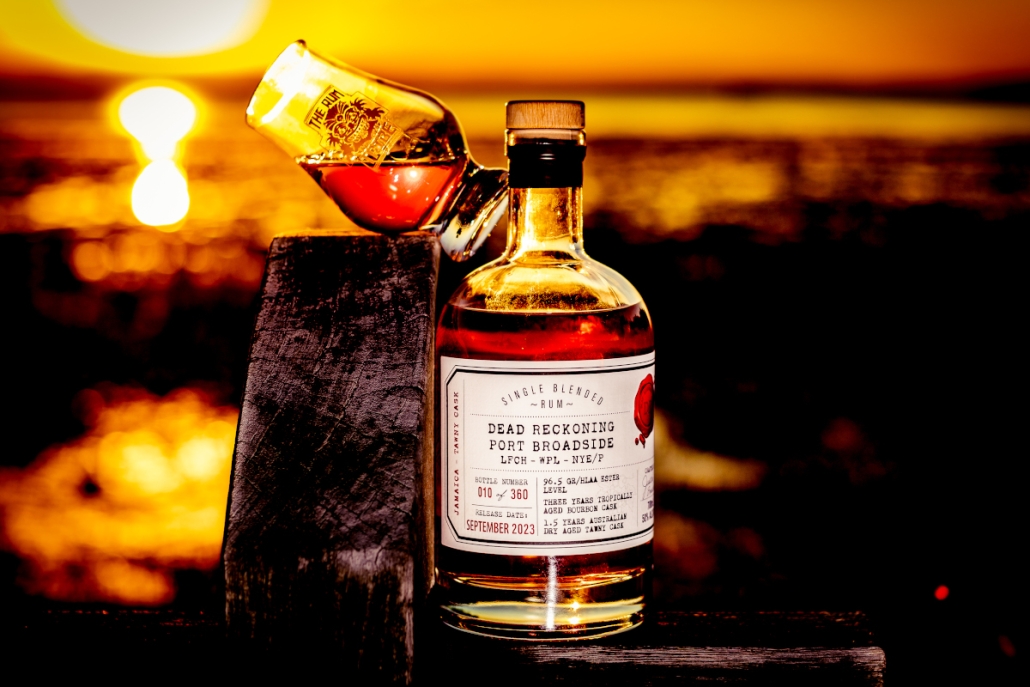 Our Tasting Notes:
Nose: The nose on this really evolves over time. There's waves of mashed banana, juicy fruit chewing gum, creaming soda and a sultana-laden bread and butter (or is it rice?) pudding and custard!
Palate: Masses of firepower with a rich and syrupy mouthfeel yet there's also a crisp and dry backbone that makes itself known with just a touch of astringency that balances out the sweetness. [The column still component plus the tawny barrel at work there I'm sure!] Masses of fruit salad, lots of sweet and fragrant spices and stewed fruit to boot!
Finish: Lovely, Long and Utterly divine. Burnt liquorice, sarsaparilla-spider, caramel and sweet banana custard.
Another amazing release from the master of the dry-aged finish. Sweet and slightly funky on the nose, but takes a port tack to the dry side on the palate before rolling back to round sweetness in the finish. Mellow and funky like a groovy summer breeze, carrying the rhythm of a laid-back Funkadelic tune. Complex as quadratics, but easy as 1, 2, 3.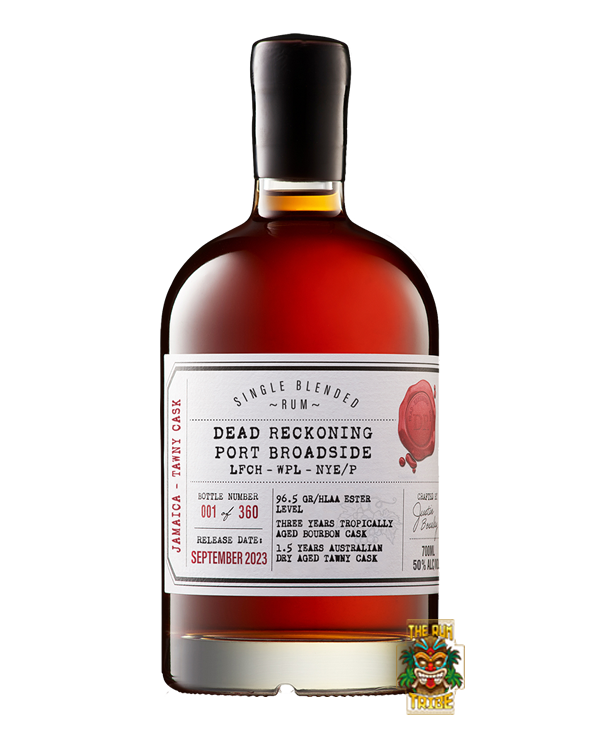 FROM DEAD RECKONING
I've always been a funky rum junkie. Jamaican rum is synonymous with funk , dunder & ester. While some Australian distilleries are now adopting Jamaican methods of dunder & longer fermentation, the Jamaicans have been treading this well-worn path for centuries.
When I was fortunate enough to find a Seppeltsfield tawny "port" cask from the 1800's I knew exactly what to age it. The search for a Jamaican rum that had the right flavour profile started. Not happy with just 1 distillery, I ended up using a Hampden / Worthy Park / New Yarmouth Plummer blend. 2 pot & 1 column still.
The use of 3 Jamaican rums has given this release layer upon layer of of flavour profiles. Finished in a tawny cask was the icing on the cake, it married the funk , flavour & low ester together. The goal was to create a multidimensional rum that would educate the consumer, leading them down the Jamaican rum rabbit hole.
The port broadside series is a collection of rums aged in tawny (port) casks.
For the non sailors out there a Broadside is a firing of all the guns from one side of a warship.
With the current situation of inflation, interest rates & living costs. The decision to release DR Jamaica at its bare bones cost was made in the hope of getting good rum into people's glasses at a great price.
Flavour Profile: Banana Cake, dates, sultanas, dark roasted coffee & passionfruit
ABOUT DEAD RECKONING
Justin, has immersed himself in rum for the past 20 years; a journey starting as a deck scrubbing lad with a thirst for Rum and adventure culminated in him becoming a Chief Officer; driving billionaire's mega yachts around the world. This life of salty seadog adventure took him to Rum's heartland, the Caribbean islands for 6 months a year, every year.
When he wasn't at the helm of a yacht he could be found hanging off a bar or at a distillery sampling the best the Caribbean rum scene had to offer. Upon ending his days at sea there was only one thing he knew better that navigating around the world's oceans- that was Rum. For 10 years Justin has scoured the globe discovering & importing the world's best rums into Australia.
Having an intimate knowledge of the Australian market, Justin identified space for unique, rare blends. Enter Dead Reckoning Rum. An Australian Independent label specialising in master-mixed rum blends, single casks and some rare, forgotten 'barn-finds' of the Rum world. Justin has his sights set on truly unique and memorable releases by his label.
ABOUT HAMDEN ESTATE
Hampden Estate, nestled within the scenic landscapes of Jamaica's Trelawny Parish, stands as a venerable institution in the world of rum production. With roots tracing back to the 18th century, this historic distillery has earned its reputation for crafting rums that exude a distinct and captivating character. Embracing the art of traditional pot still distillation, Hampden is a purveyor of "Pure Single Rum," a distinction denoting the exclusive use of pot stills and a single distillery source. This approach results in rums that are renowned for their intense and complex flavours, a testament to the high ester content characteristic of Hampden's spirits. The distillery's dedication to both molasses-based and sugarcane juice rums further enriches the spectrum of taste profiles, appealing to enthusiasts seeking the perfect balance of fruity notes and robust depth.
ABOUT WORTHY PARK
Worthy Park Estate is a historic Jamaican sugar estate and distillery located in St. Catherine, Jamaica. It has a long history dating back to the 17th century and is known for its production of sugarcane and rum. Worthy Park is one of the few distilleries in Jamaica that produces both molasses-based and estate-grown sugarcane rums. Their rums showcase Jamaican rum characteristics, including bold flavours, tropical fruit notes, and a rich, full-bodied profile. The distillery uses traditional pot stills for distillation, contributing to the unique character of their rums.
ABOUT NEW YARMOUTH
The New Yarmouth distillery, deeply rooted in Jamaica's history since the 18th century, is a significant player in the rum industry. It proudly stands as the birthplace of – among others – Wray & Nephew rum, renowned as the best-selling brand in Jamaica. New Yarmouth is a part of the Appleton Estate. New Yarmouth operates both pot and column stills.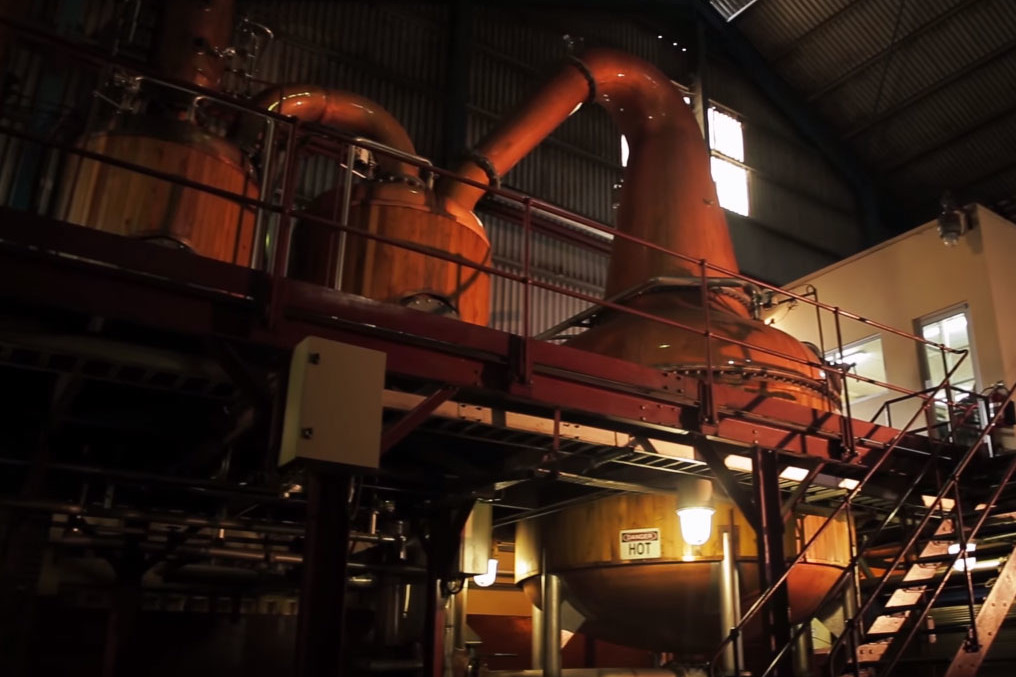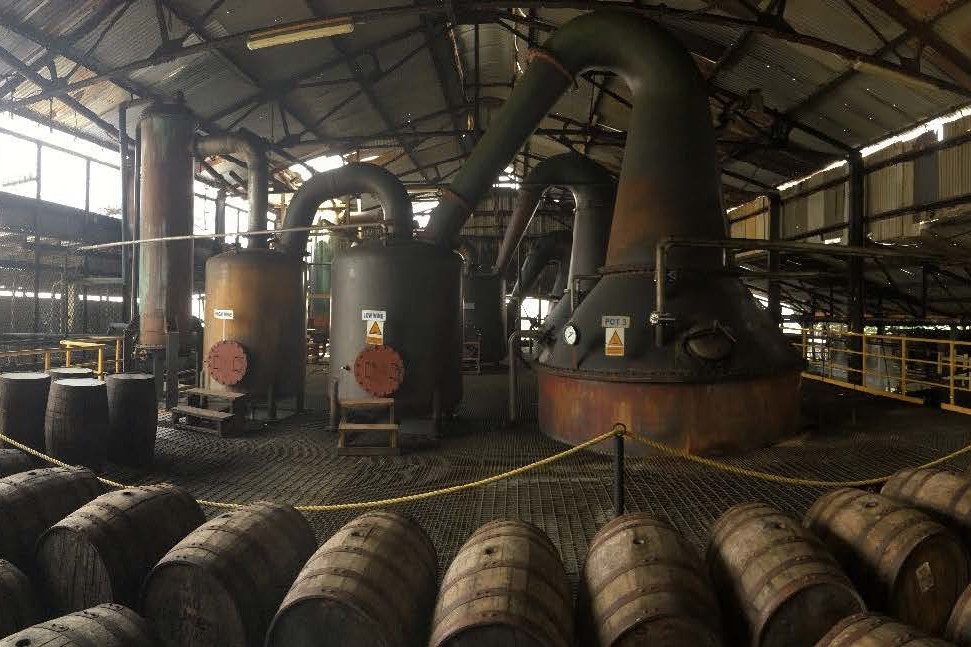 https://rumtribe.com.au/wp-content/uploads/2023/08/DR-PortBroadside-Header-2.jpg
405
1030
admin
https://rumtribe.com.au/wp-content/uploads/2022/01/Main-Logo_Border.jpg
admin
2023-08-24 10:44:46
2023-09-24 18:27:34
Dead Reckoning Port Broadside Jamaica – September 2023