Dead Reckoning – HMS Antelope – January 2022

In the spirit of kicking off the new year in a BIG way – we're leading 2022 with a brand-new Dead Reckoning release. A distinct blend of 5 world class rums from Australia, Jamaica, Trinidad, Guyana and Barbados…this Navy Strength (55% ABV) is a smooth flavour explosion typical of Dead Reckoning and The Rum Tribe gets the first taste!
This is the 3rd Dead Reckoning Rum release (following The Sextant and Mutiny 'South Pacific') and they have all been HUGE hits with the Tribe. All different but all exceptional and the Dead Reckoning HMS Antelope is great, complex and well balanced combination of flavours and a homage to 'Navy Rum'.
The HMS Antelope pays homage to 'Navy Rum' with a blend of four-year-old pot still Rum from Australia (in fact Australia's oldest distillery), 3–5-year-old column still rum from Trinidad, three-year-old pot still rum from Jamaica, 2–5-year-old pot and column still Rum from Guyana plus to round it off three-year-old pot and column still Rum from Barbados (Foursquare).
True to Justin's ethos of adding nothing to the rum (until it's poured in a glass that is – then all bets are off!) – the HMS Antelope is made entirely without any colouring or added sugar or flavours.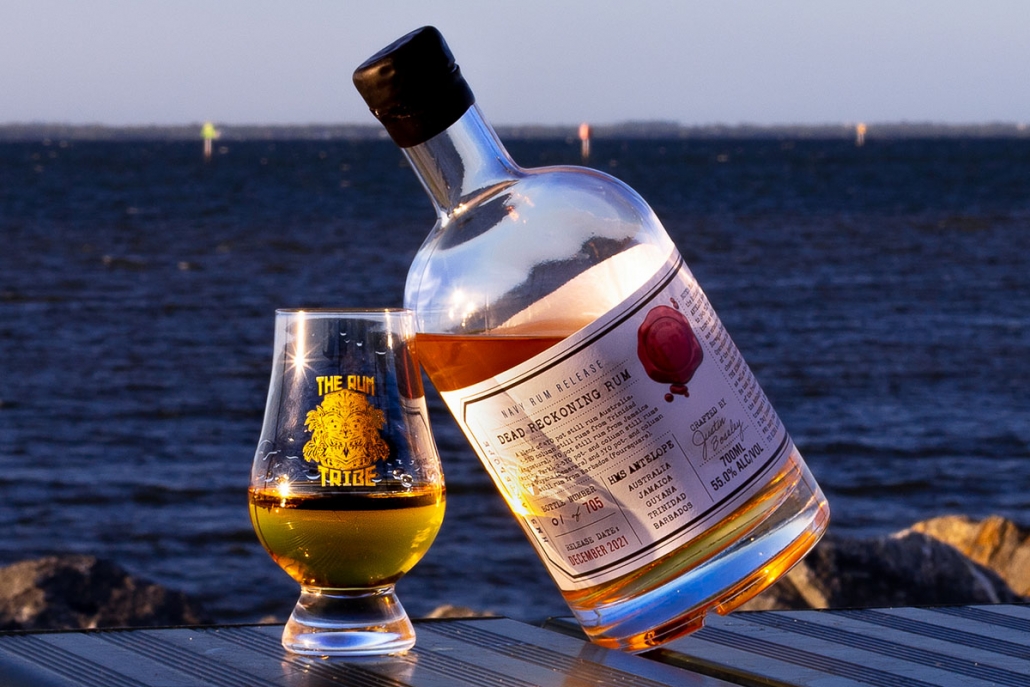 This release is very personal to its creator – Independent bottler, Justin Boseley. Not only is January's rum an ode to traditional Navy Rum – it also pays tribute to a Royal Navy ship with an impeccable WW2 record, and is dedicated to one of the sailors who served aboard her – Justin's Grandad, Sidney Boseley – This rum is dedicated to Sid.
'Navy Rum' is what the Royal Navy (interestingly, the RAN never served a rum ration to its sailors) served as part of the revered 'Rum Ration' or 'Tot' to their sailors. Starting as early as 1655, the RN's daily 'tot' began as beer or wine, but gradually it changed to rum. By 1790, the 'rum tot' was standardised over the whole of the RN. Of course, it was cut with water and lime juice (to combat scurvy) – and the rum itself was no stranger to colouring (ie caramel) and sugar (however no such additives in any Dead Reckoning release). 'Navy Rum' was blended from rums from around the world (obviously mainly British colonies).
To be considered a 'Navy Rum', its minimum strength must be 54.5% ABV or higher. It is widely considered that a 'true' Navy Rum should contain aged rums from at least two or more of the following colonies: Barbados, Jamaica, Guyana, and Trinidad.
There was never an official Navy rum recipe. Whilst there was almost certainly a flavour profile it changed over many decades. Through out time Rum from Caroni in Trinidad, Martinique, Cuba, Australia, Barbados, Guyana, Jamaica, Antigua, Saint Kitts and Nevis and the Virgin Islands has been used.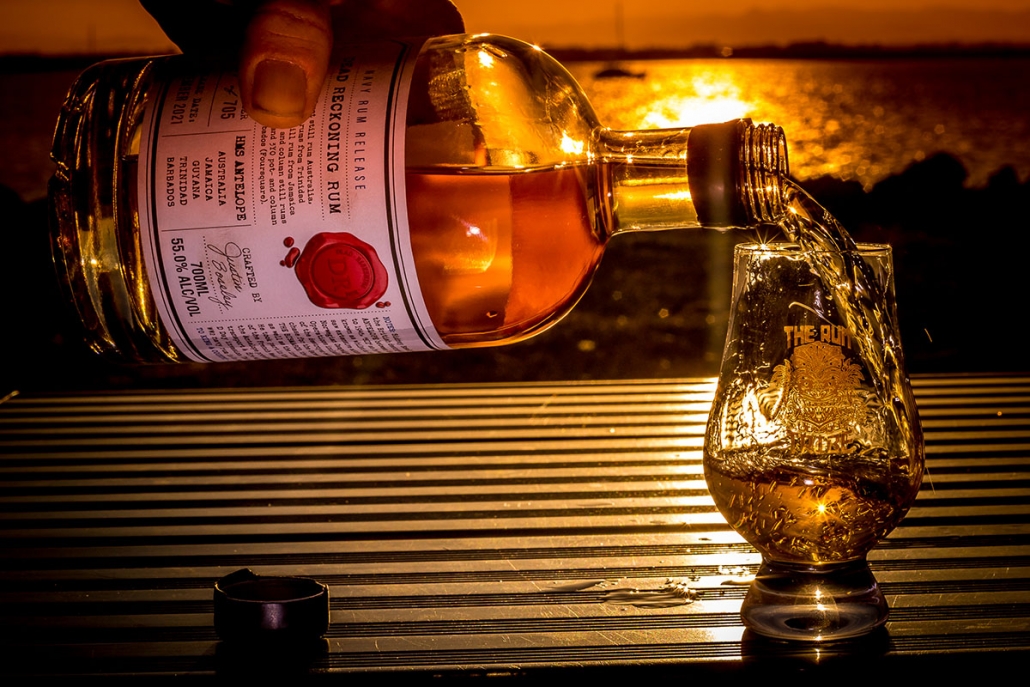 Our Tasting Notes:
Nose: Banana-ey funk at first but then it's more a banana custard with subsequent sniffs which shares the spotlight with sultana aromas. A tropical fruit presence is there also- with fresh fruit notes and floral hints.
Palate: Thick and rich and oh so creamy. Real Christmas pud spices and a bug dollop of home-made custard in this one but those tropical vibes from the nose don't give up either! So much delightful fruity sweetness! There is a slight funkiness in the mouth, but very mild – and acts to tie in the rest of the flavours rather than sitting apart and dominating them.
Finish: Lovely and long and with a jumble of fruitiness, more cakey spices and a nice touch of mild pepper creeps around it as it fades.
Look, I won't be mixing this one (much). It's just so good on it's own in this swabbee's humble opinion. Just a great, complex and well-balanced combination of flavours that swirl around each other without any one of them taking control or dominating. So easy to sip, so little alcohol burn, so … well so bloody good! Now I'm going to stick my neck right out on this one – it's also fantastic in a 'Moreton Bay Mud' – Ice, milk, rum. Simples. Best drunk in an enamel cup at low tide on a sand bar at dawn with a bacon and egg sanga! Optional garnish – esky full of fish on ice from the overnight session in the boat.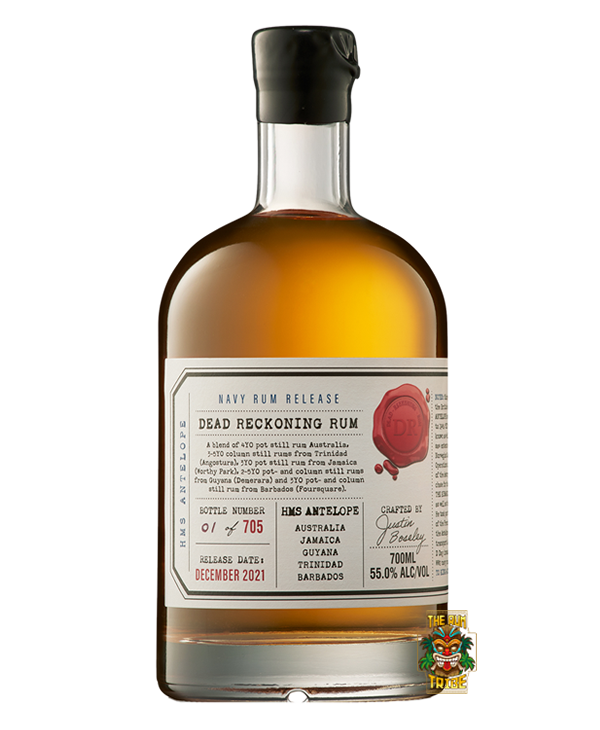 FROM DEAD RECKONING
I felt a tribute to not only my grandpa but all those sailors that served in WW2 was needed in the rum world. Stories of my pops days at battle and his daily TOT were a mainstay in my child hood, whilst playing darts and snooker at the local RSL.
This rum blend came from the heart, I hope everyone enjoys it as much as I did creating it, To Sid !
Tasting notes courtesy of Cody Banks from Hains & Co bar in Adelaide.
The HMS Antelope immediately jumps out the glass with a mix of sweet, rich plums and dark cherries. Sweetness turns slightly spicy with a whack of soft liquorice anise and gentle ginger. This rests on a subtle honeycomb backing that is neither too sweet or cloying, simply adding structure to an already interesting nose.
The nose is thick and cakey, as the ABV starts to show itself so too does the tropical fruit funk of the Jamaican start open up. Pineapple skin, papaya and green apple skin present as much fresher tropical notes than the more usual over fermented stew of pineapple, mango & bananas many straight Jamaican rums have.
Thick and viscous on the palate, it retains a great amount of fresh tropical fruit, stone fruit also presents itself via apricots and orange melons, intertwined with dark berries and plums.
As the palate evolves, so too does the fruit, turning darker and spicier as it lingers longer. This is certainly reminiscent of great navy rums of old, as it descends into true dark molasses, pimento, ginger and anise.
A long finish of blackcurrants and spices, I would recommend drinking this at its bottled 55%, water doesn't do this true navy rum justice.
THE STORY OF SID AND THE HMS ANTELOPE
The Sailor
Sidney Boseley was born and raised in Kent, England_. Like tens of thousands before him, When the call for arms was put out to serve King and country, Sid enlisted in the Royal Navy . Sid served on the British destroyer HMS antelope between the years of 1939 to 1945.
The Ship
HMS antelope was an A class destroyer ,323 feet long with the top speed of 35 kn ,displacement 1773 tons, Her armaments consisted of 4 x 120 mm guns, 2 x 40 mm anti aircraft guns , 2 x quadruple 21 inch torpedo tubes & six Depth charge chutes
WW2
On the outbreak of the Second World War the destroyer HMS antelope was assigned to the 18th destroyer Flotilla, channel force, based in Portsmouth. For the rest of 1939 and early months of 1940, antelope carried out patrol and convoy escort duties in the English Channel and western approaches. On on 5 February 1940, antelope was the sole escort of the outbound Atlantic convoy 08 84 south of Ireland when the German submarine U– 41 attacked the convoy, sinking the freighter Beaverburn and damaging the tanker Ceronia.
Antelope retaliated, by depth charging and sinking the U boat. It was the only you boat at sea at the time in the area and was the first U boat in history to be sunk underwater by a single destroyer.
Norway
In April 1940 antelope was attached to the home fleet for operations as part of the Norwegian campaign. Antelope after operations in Scapa flow collided with the destroyer Electra. Antelope then returned to the UK for repair.
Atlantic Operations
August 1940 antelope sailed in a convoy to take part in operation Minus the attack on Dakar west Africa. During the convoy antelope encountered the German U-boat U-31 of North West Ireland. Depth charges from the antelope drove U-31 to the surface where her crew abandoned ship. Antelope attempted to board U-31, but collided with the unmanned submarine damaging the destroyer and sinking the boat. Antelope rescued 44 of the German U-boats crew and returned them to the United Kingdom.
And August 1941 antelope to park in operation Gauntlet ,antelope formed part of the escort for the Arctic convoy to the Soviet Union.
Antelope formed part of the destroyer escort for the battle cruiser Hood and battleship Prince of Wales in the chase for the German battleship Bismarck. Separated from the battleships during the battle of the Denmark straight antelope then searched for survivors from the sinking of the Hood of which only three people survived.
Malta
Antelope sailed to Gibraltar in 1942 escorting US aircraft carriers in an attempt to deliver badly needed 62 spitfire aircraft to Malta. During this convoy they were under constant attacked from German U boats and the German Luftwaffe.
Antelope took part in another 5 escorts delivering an additional 55 more spitfires and much needed military supplies to Malta in May.
Antelope was then based off west Africa, antelope escorted troop convoys taking part in operation Torch, the Allied invasion of West Africa.
In July 1943 antelope took part in operation Husky the Allied invasion of Sicily .
On June 5 and six 1944 ,the antelope took part in D- Day.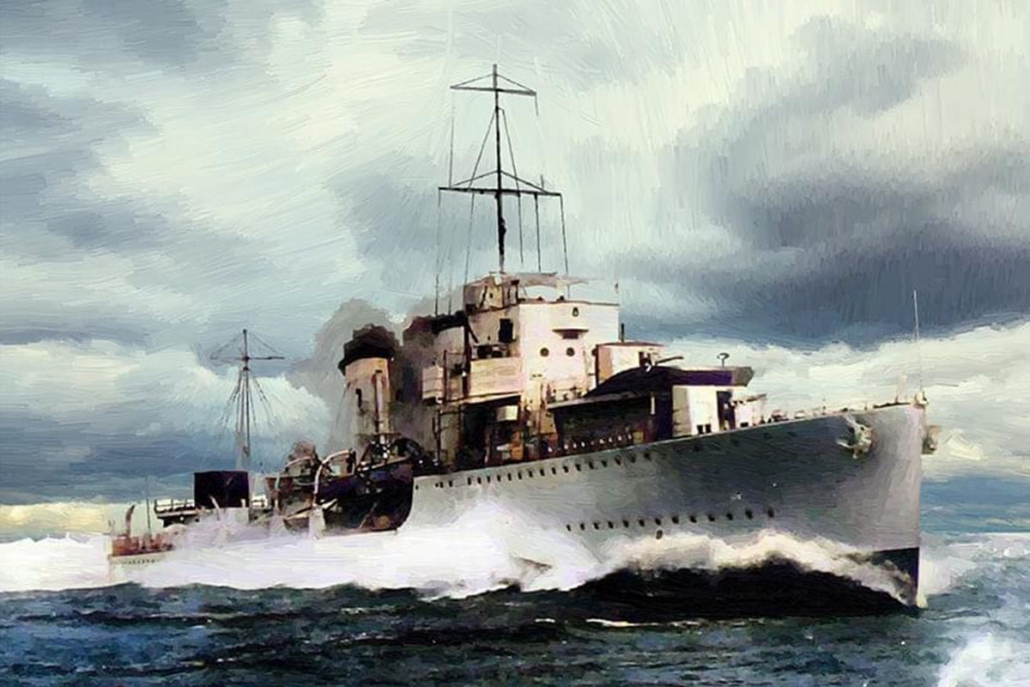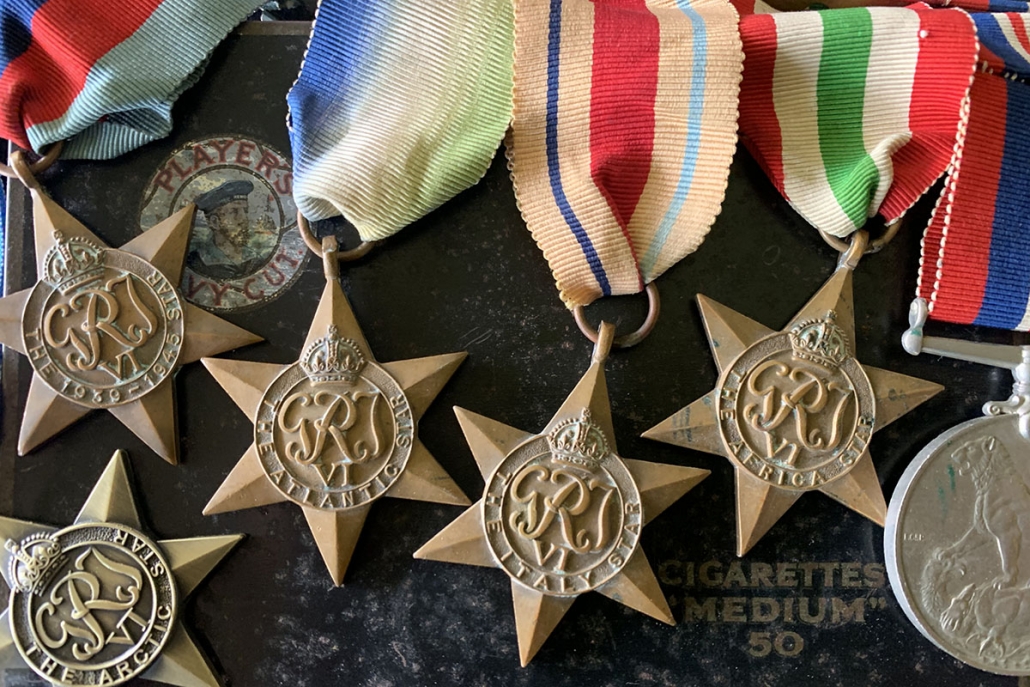 https://rumtribe.com.au/wp-content/uploads/2021/12/Antelope-Header-1.png
405
1030
admin
https://rumtribe.com.au/wp-content/uploads/2022/01/Main-Logo_Border.jpg
admin
2021-12-24 09:34:55
2022-01-24 09:55:52
Dead Reckoning – HMS Antelope – January 2022