Requiem SV Songvaar – August 2021

Four words to excite any rum lover – 'Tin Shed Distilling Requiem'! This month we bring you the latest in the series – Requiem SV Songvaar.
The legendary South Australian distillery has released their second rum and we have ALL of it for the Tribe! Tin Shed released their first rum release, The Requiem 'SS Ferret' to much fanfare, rave reviews and a complete sellout almost instantly. Turns out the Rum Tribe has a long history with head distiller, Mr Ian Schmidt, and we begged him to give us all of his new release Requiem SV Songvaar for our members.
The boys at Tin Shed know what they are doing when it comes to distilling fine spirit and matching it to first rate wood. The Requiem SV Songvaar is a molasses based rum, distilled in copper pot-stills at the distillery in Adelaide. Aged onsite for 5 years in Jim Beam bourbon and charred port casks, then blended and finished for 2 years in a shiraz cask. This is Australian artisanal distilling and maturation at it's finest and like their first release, will quickly become a collectors item.
Their first rum release won Best Australian Rum in 2020 at the 'Tasting Australia Award's – then went on to the World Rum Awards in 2021 where it took out a gold in the 6-10 year old category. Not bad for a distillery's first foray into rums, dontcha think?
This is a serious pot still rum for grown-ups, with no added sugar or spices, no added colour and non-chill filtered; and no better way to raise a glass to those in peril on the high seas.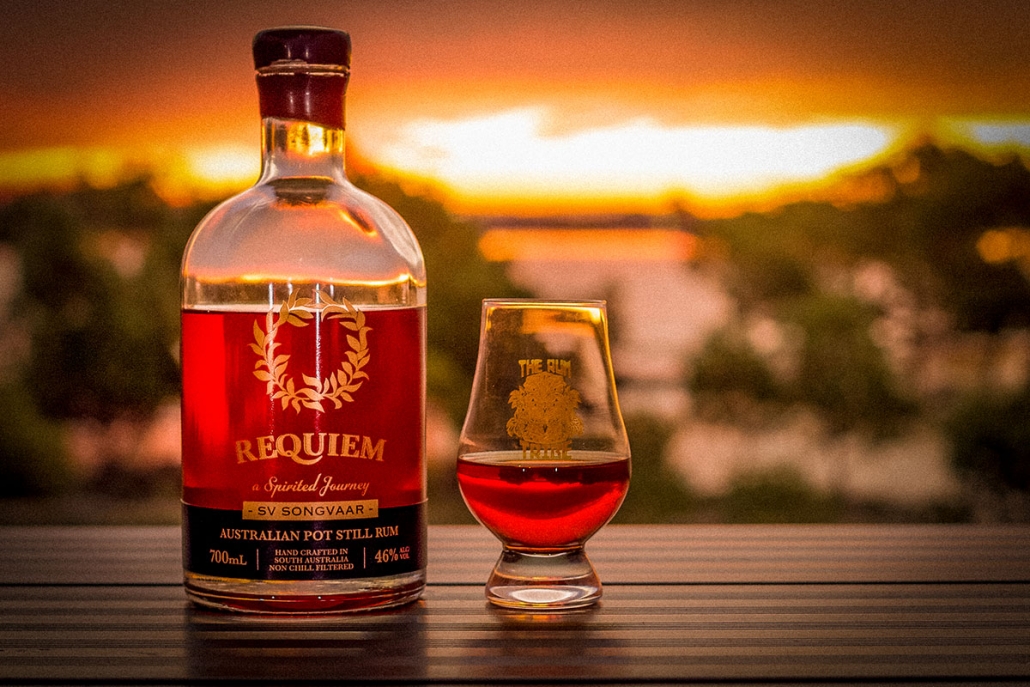 By definition, a 'Requiem' is a final mass, a prayer for the dead, a final tribute. Each release of the 'Requiem' brand will pay tribute to a ship, wrecked or lost at sea – and to the seafarers who sailed in those ships.The Requiem SV Songvaar continues this tradition.
Whilst this is only the second rum Tin Shed Distilling has released, they have been making world class spirits since 2010. Previously, Ian and Vic at Tin Shed Distilling have been specialising in Single Malt Whisky and their brand 'Iniquity' is legendary in both Australian and international whisky circles and is certainly no stranger to gold medals. Their Requiem Rum brand is quickly following suit. They've also started playing with Vodka as well, so look out for a hat-trick of different gold-medal winning spirits in the Tin Shed stable very shortly would be my bet.
Get out your glasses, chill down your shakers and get some nice cubes of clear ice ready for Requiem 'SV Songvaar'.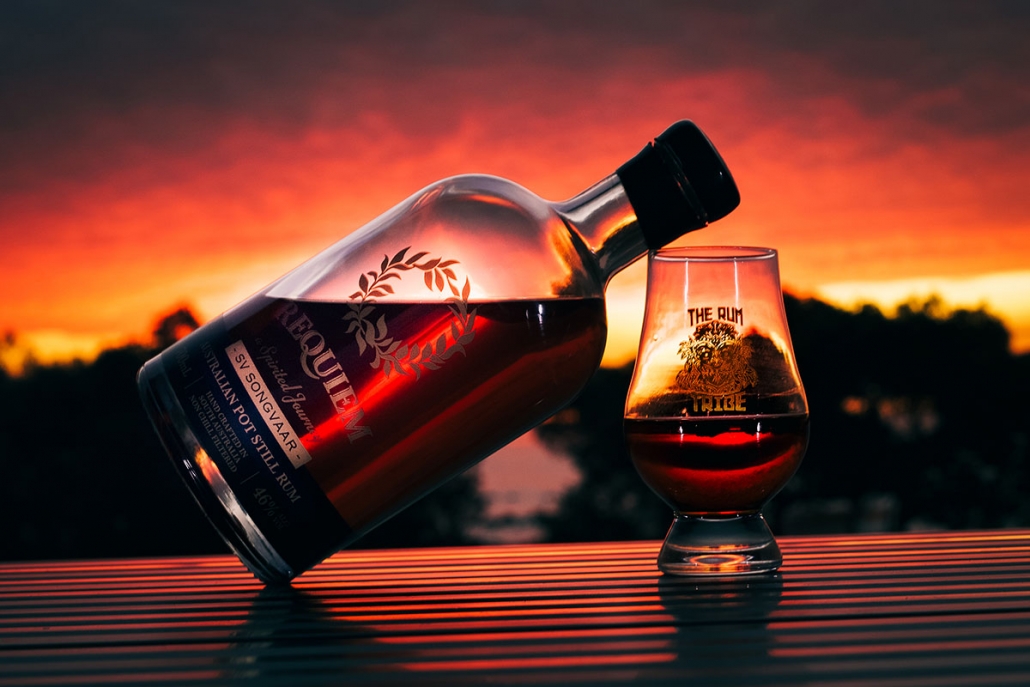 Our Tasting Notes:
Colour: Rich Reddy-brown
Nose: Sweet funky oak notes give way to banana custard with a hint of new-leather
Palate: Lovely mouthfeel. Rich fruit mince, a little spice, a touch of caramel.
Finish: More of the same – all the flavours take a bow as the curtain slowly closes.
A delicious and fruity rum that exhibits the pleasing leather notes I've come to know and love from the Tin Shed stills.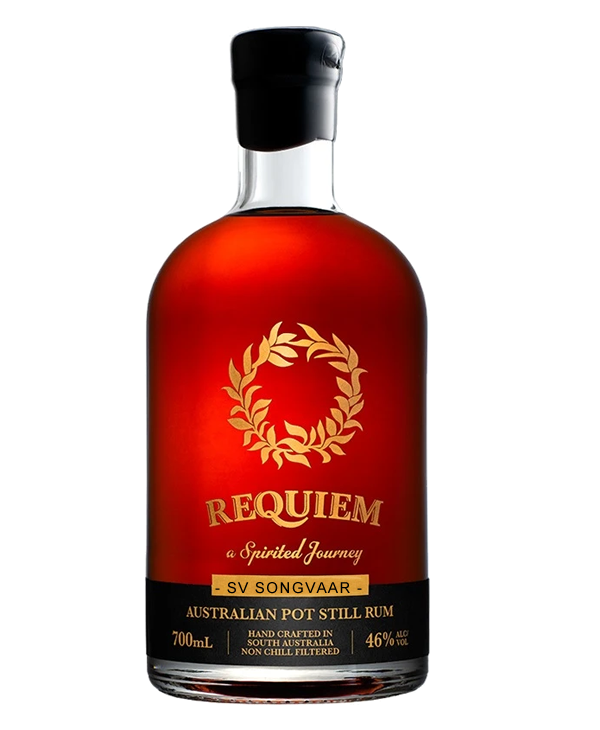 FROM TIN SHED DISTILLING
This rum is a little too civilised for hard core rum tragics. The exposure to the FO Shiraz cask has lent extra layers of complexity and subtlety not normally associated with funky rums. Delightful!
Nose: A hint of faint civilised Jamaican funk, Caramel, orange, mixed spice, Chocolate, Baked Apple and cinnamon
Palate: Moderate civilised Jamaican funk, chocolate, raisins and Demerara sugar
Finish: Sweet and gentle lingering finish, Dutch liquorice
ABOUT TIN SHED DISTILLING
Tin Shed Distillery was established in 2010 by Ian Schmidt and long time drinking buddy Vic Orlow. Ian is a straight talker with little time for fake extravagances – and his distillery certainly reflects this attitude. From the unassuming front door, through to the utilitarian stacks and rows of ageing whisky, to the small stills – this is grassroots craft distilling at it's finest!
There's no 'Visitors Centre' here (although Ian welcomes visitors by appointment) – the distillery is the visitors centre. What you get is plain and simple – almost spartan. A distillery, bond store, bottling plant and office all under one roof. It's all about the spirits at Tin Shed Distilling.
What Tin Shed Distilling lacks in size, flashyness or 'pomp' it certainly makes up for in the quality of it's products. Ian and Vic's philosophy is 'only bottle what we like to drink' – and the results of this attitude were apparent from day one. The very first batch of their Iniquity Single Malt Whisky made the Whisky Bible's 'Liquid Gold' list in 2015 with a score of 94 –described as "a gorgeous experience". Subsequent whisky bottling have won many accolades and now it's Tin Shed's rums turn in the spotlight!
Whilst awards are great, with a distillery as small as Tin Shed, they don't drive sales. As Ian puts it – "by the time the results are out, we've sold all of the spirit we entered". What's more important to the boys at Iniquity is feedback from 'the Den' (Tin Shed's members club) and the drinking public at whisky shows. Love this rum – then join Iniquity's 'the Den' and stay up to date with all new Iniquity releases and everything that's happening at Tin Shed Distilling.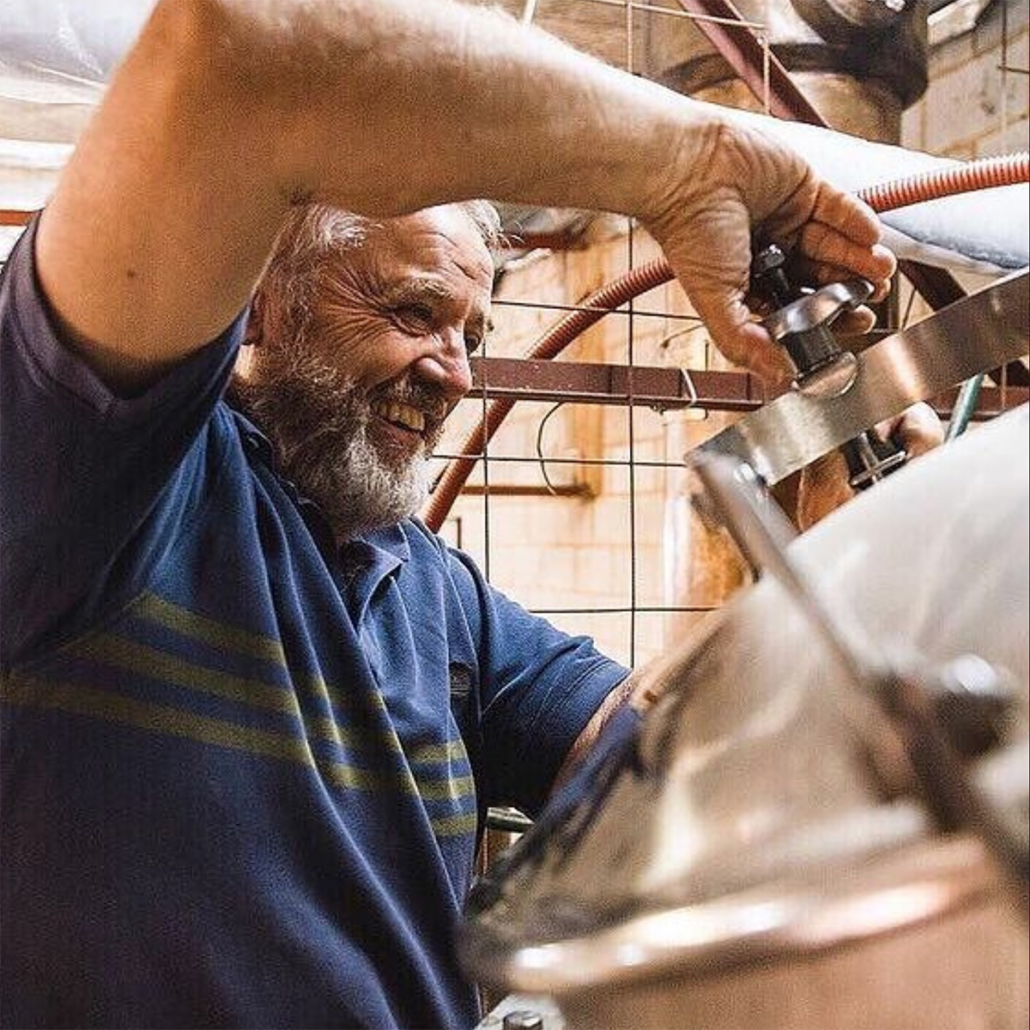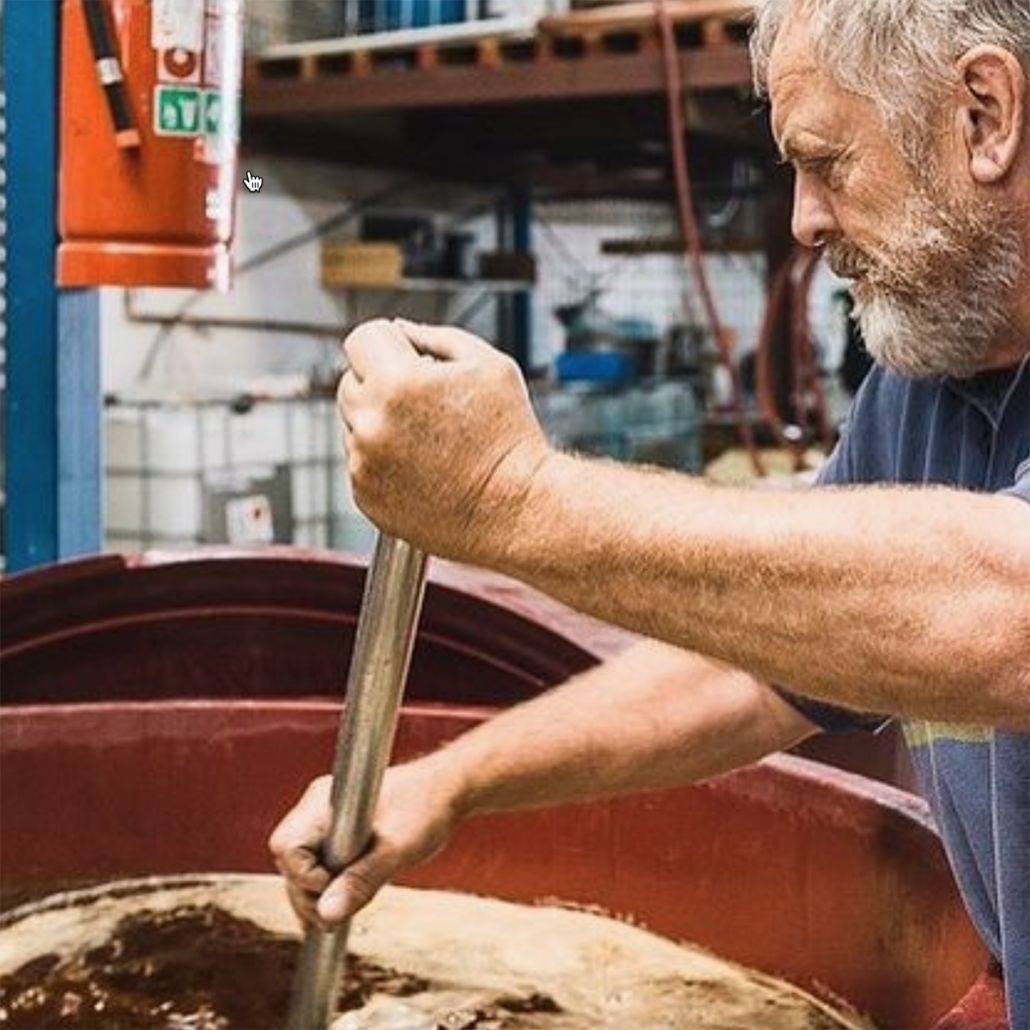 About SV Songvaar (1884-1912)
The Songvaar was formerly known as the Barcore and built as a three-masted iron ship at Stockton, England, in 1884. The vessel measured 278.6 feet (84.9m) in length, 40.8 feet (12.4m) in breadth, 24.5 feet (7.5m) in depth and displaced 2128 gross tons. It was built by Richardson, Duck and Company, and was a large vessel by sailing ship standards, built during the heyday of sail when iron ships had reached a pinnacle of design.
The Songvaar sank on the same day as the Titanic – but unlike that disaster, the story was not tragic in terms of human loss.
Whilst at anchor between Point Pearce and Wardang Island the Songvaar's captain was ashore arranging clearance, leaving the vessel fully loaded. On board the chief mate saw dark clouds on the horizon and dropped a second anchor in preparation for a storm. The storm blew out, the tide dropped and the Songvaar sat onto the second anchor, which pierced the hull just behind the foremast. With decks awash and the wheat swelling, the Songvaar settled "peacefully and quietly on the bottom" (Chronicle, April 20 1912) standing fully upright. Several salvage attempts failed and the vessel remained upright for eight years until it was damaged by a storm. It was subsequently demolished with explosives as it had become a hazard to shipping.
Today the Wreck of the SV Songvaar sits in around 10m of water which makes it easily accessible to divers.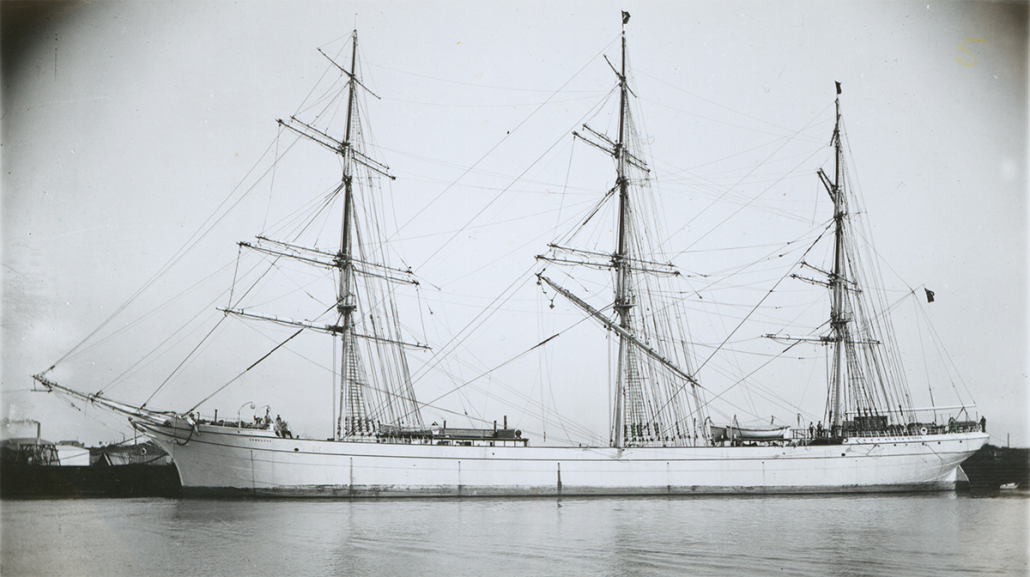 https://rumtribe.com.au/wp-content/uploads/2021/07/Reqiuem-Rum-Header-2.png
405
1030
admin
https://rumtribe.com.au/wp-content/uploads/2022/01/Main-Logo_Border.jpg
admin
2021-07-23 21:28:49
2021-12-02 12:59:58
Requiem SV Songvaar – August 2021