Mezan Chiriquí – February 2021

What? Another fantastic rum making it's Australian debut with the Rum Tribe this month? Yep…presenting the Mezan Chiriquí. This is the very first time Mezan has made it to our shores – and once again, only the 'Tribe' has it straight off the boat. And let me tell you – we didn't leave one bottle in that container! Rum Tribe Gotta RUM!
All the way from Panama – this rum is crafted to an exacting standard. Distilled at an unnamed single distillery from molasses 'beer' in modern, multi-columned stills, aged in white oak ex-bourbon casks and finished in Moscatel Casks – the Mezan Chiriquí is a sensational rum to be enjoyed both neat, and in your favourite cocktails.
Mezan's motto is 'The Untouched Rum' and they mean it! Unsweetened, uncoloured, un chill-filtered and aged in oak casks until they reach their optimal maturity. Mezan represents the purest and most authentic style of the Caribbean's rums.
In fact, we are so impressed with the Mezan collection, we've got another from Mezan coming up in a couple of months as well. When I said we plundered that booty – I mean we really wiped it out! Apart from Rum Tribe members and a few of our favourite bars – the rest of Australia is going to have to wait and hope more Mezan makes it's way here… someday!
The Mezan Chiriquí is single origin, small batch rum, distilled in multi-column stills in Panama. It is aged in ex-bourbon casks and finished in Moscatel casks. In case you're wondering about the 'Chiriquí' name – it's rather simple, Chiriquí is a province of Panama that features a variety of climates, from hot and humid lowlands to the cool and moist highlands. The district is home to the Fortuna Forest Reserve. The intricate design on the bottle label and box features art motifs and designs of the local rainforest tribes.
The Mezan Chiriquí label states a 'tropical ageing' time of 3yrs. This means that the rum was aged in ex-bourbon at the distillery in Panama (ie 'the tropics') for 3 years prior to it being shipped for further ageing and finishing in Mezan's London bond-store. Once in London, it was re-casked into new ex-bourbon casks, aged some more and then transferred to moscatel casks for finishing.  They don't specify how long it was aged or finished once out of Panama.
Our Tasting Notes:
Nose: Alcohol up front on the nose, but pancakes with icecream and maple syrup not far behind!
Palate: Much gentler than I was expecting based on the nose – the alcohol certainly doesn't upstage the delightfully creamy mouthfeel. Caramel milkshake notes with little if any pepper. And is that 'Strawberry & Cream' lollies on the side – I think so!
Finish: Sees a mellow warming develop. Fruit notes (raspberries?) swirl in and out.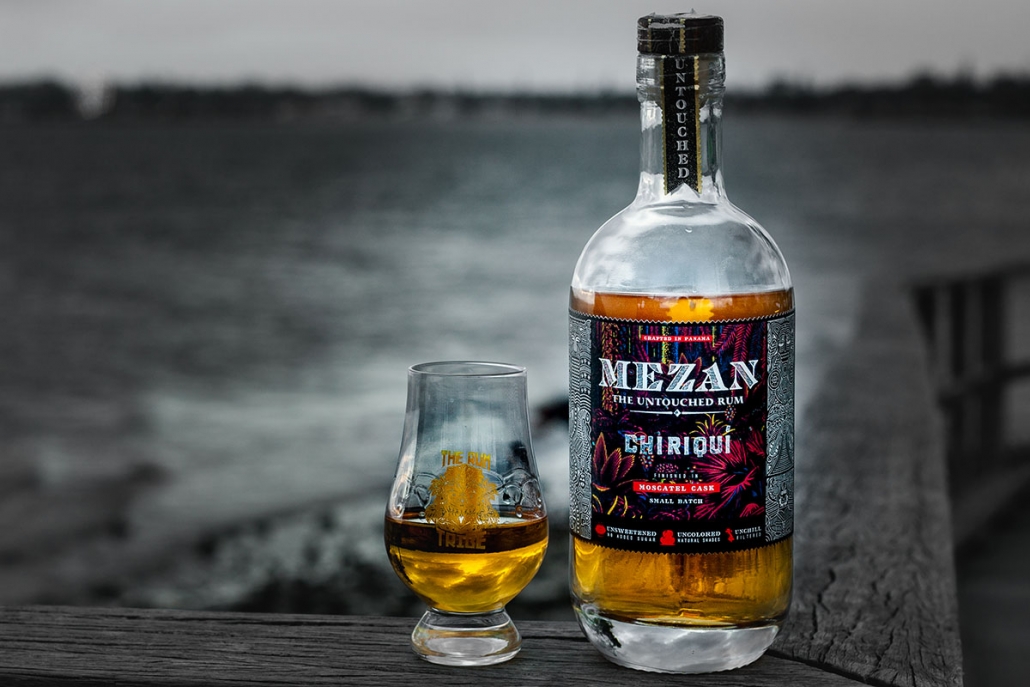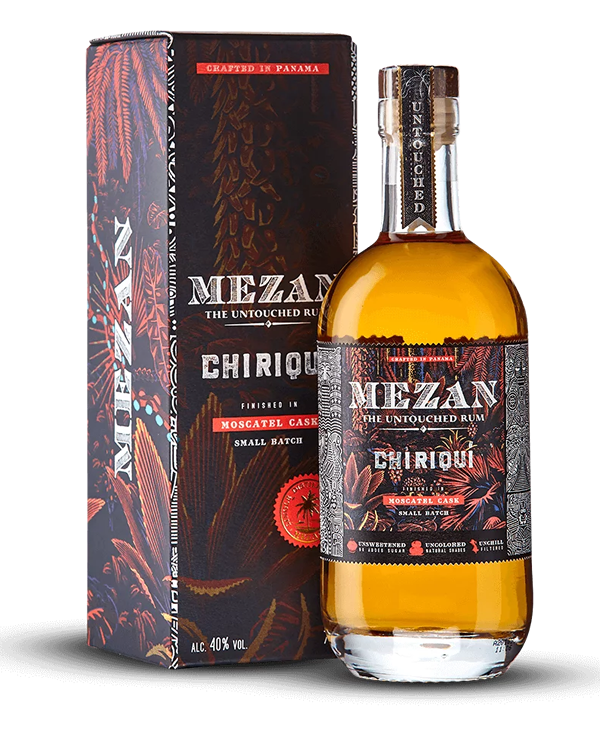 FROM MEZAN
The Chiriquí is a single-distillery, soft molasses-based rum. The distillery it comes from grows its own cane for the production of both aguardiente and rum and also cultivates historical yeast cultures which add character and individuality. The rum in this small batch have been aged twice in separate sets of white oak American Bourbon casks, to give added structure to the spirit.
MEZAN Chiriquí is a true Panamanian rum, luscious and round, finished in a moscatel cask adding depth to it. A must try! Chiriquí can be enjoyed neat, as well as in sophisticated cocktails. The powerful aromas will give your most refined cocktails excellent structure and a distinctive character.
A nice golden tint. An intense nose of spices, vanilla, pepper and light oak notes. Backed by stone fruits and coconut aromas. The palate is subtle, round and elegant, lightly woody which develops into spicy and refreshing peppery notes on the finish.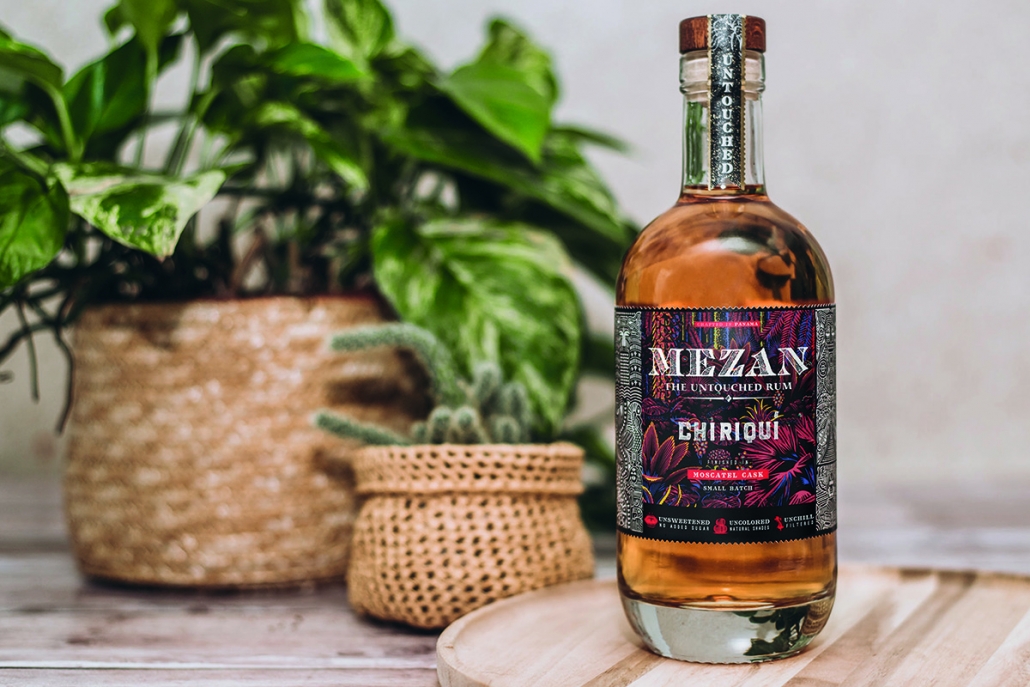 ABOUT MEZAN
The first thing to know about Mezan is that they aren't a distillery. In fact they are not even involved in sugar cane or any aspect of rum production – other than ageing, blending and bottling. Headed by Master Distiller Neil Mathieson, Mezan seeks out and buys single-origin rum casks from all over the Caribbean. Each cask is hand-selected and then shipped to the UK for further ageing.
Once in the UK, each cask of rum is then re-casked into ex-bourbon barrels. Mezan sources most of their bourbon casks through Heaven Hill distillery in Kentucky. They age in the UK due to the lower temps causing less interaction with the wood. "The UK" says Neil, "gives a very slow development of the spirit in comparison to the Caribbean and lets us manage the cask influence to a greater degree."
Neil says he looked to the Scotch, Armagnac and Cognac industries and felt he needed to begin aging rum in a similar way to see how its character developed. "We are targeting rum drinkers—not necessarily those who would turn to Bacardi—and also those who enjoy other brown spirits."
https://rumtribe.com.au/wp-content/uploads/2021/01/Mezan-Chiriqui-Header-1.jpg
405
1030
admin
https://rumtribe.com.au/wp-content/uploads/2022/01/Main-Logo_Border.jpg
admin
2021-01-21 22:59:45
2021-12-02 16:02:18
Mezan Chiriquí – February 2021