The Iridium X 10 year old – October 2020
The ultimate rum 'Barn Find'! What happens when a distillery that has won dual gold medals for their 5 year old rum finds 2 barrels of 10 year old rum in the back of their bond store? The Iridium X!
The Rum Tribe is proud to exclusively present the only 10 year old rum ever released by The Mount Uncle Distillery – the Iridium X 10 Year Old (and a single cask release at that!).
Hand crafted, estate hand-bottled, individually numbered – this single barrel rum is a small slice of tropical Far North Queensland for your tastebuds.
The Mt. Uncle Distillery is an award winning rum producer famous for their dual gold-medal winning 5 year old Iridium Rum and recently they found two 300L barrels of rum that have been forgotten about for 10 years in the back of the bond-store. One an Agricole style and one a dark rum. We have bought BOTH of them! One for this release and one for early next year.
This month we are very proud to have the exclusive access to Mark Watkins latest creation – The Iridium X 10 Year Old 'Rum crafted with Sugar Cane'.
The fantastic 'Iridium Gold 5yo' from Mt. Uncle Distillery has won such high profile international accolades there are perhaps no Aussie rum-fans that haven't heard of it. Produced in Far North Queensland in the Atherton Tablelands, the Iridium Gold 5yo took out 'Best Rum in the World' at the World Rum Awards in London last year. It has also won World's Best Pot Stilled Rum 5 years and under at this year's awards.
So..if 5 years ageing can produce a world beating FNQ rum, have you ever wondered what 10 years aging would do? Well – the time has come to find out for yourself.
This months fantastic The Iridium X 10 Year Old is due for release to the general public later in the year  – but we here at The Rum Tribe get exclusive members only access on tasting this eagerly anticipated Far North Queensland (FNQ) NQ Agricole-style rum.
'Rhum Agricole' refers to rum made from sugar cane juice – as opposed to most rums that are made from molasses.  On the labels, the The Iridium X 10 Year Old is declared as 'Crafted with Sugar Cane' rather than Rhum Agricole – the reason for this is simple. Technically, you can only call a cane-juice rum 'Rhum Agricole' if it is produced in one of 23 designated areas of the French Caribbean.
Our Tasting Notes:
Nose: Sweet and oaky, chewy jube lollies tropical fruit and a big hit of crushed pineapple.
Palate: Smooth and creamy, more pineapple, coconut and tropical fruit juice.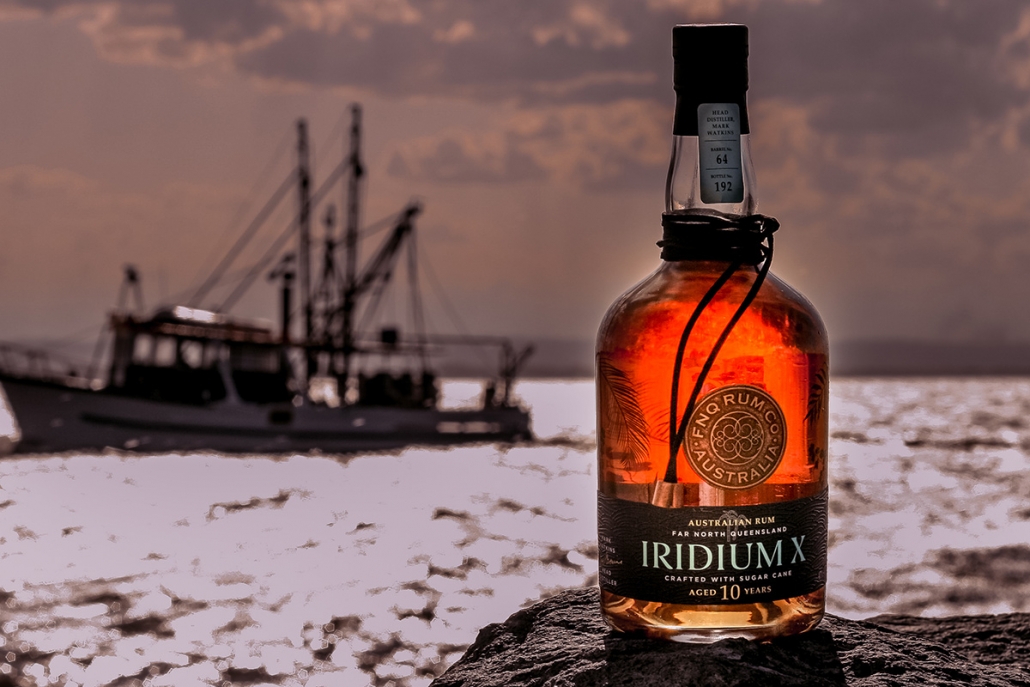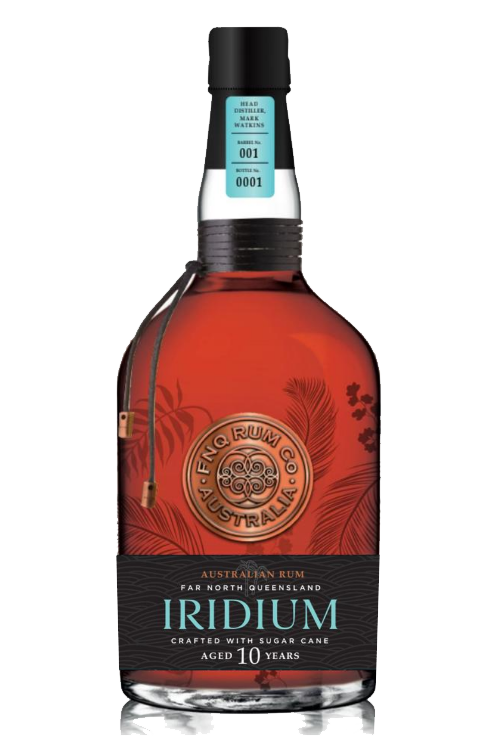 FROM THE DISTILLERY
The Iridium X 10yr Old Rum is a cane syrup-based rum, produced from cane harvested off the rich and red volcanic soil of sunny Far North Queensland.
A single cask release which has been rested in ex-red wine all American oak Hogsheads in the tropical environment in the north of Australia. The tropical environment of Far north Queensland has allowed the Iridium 10yr to rest gracefully & depreciate in volume, with high amounts of angel share due to the FNQ's warm climate.
The label is inspired by the environment in which the rum has been crafted and rested for its lifetime in Far North Queensland with the back-silk screen print representing the calm rippling waters of the Great Barrier Reef.
Hand crafted, estate hand-bottled, individually numbered this single barrel rum is a small slice of tropical Far North Queensland for your tastebuds.
Iridium 10 year olds younger sibling (the Iridium 5 year old) has taken out World's Best Pot Stilled Rum Under 5 years in 2020 and World Best Rum under 5 years in 2019.
Nose: Sweet Sweet can and crème brulee
Palate: Bottled at 47% ABV, the rum retains a sweet cane and crème brulee on the nose and forefront of the palate with middle touches of caramel, coconut and rice pudding and soft oak on the back end.
ABOUT MT UNCLE DISTILLERY
The Mt. Uncle Distillery must be about the best kept non-secret in the Australian spirits scene. I'm willing to bet that only a scant handful of our members have ever heard of it – I'll bet even less know they make the world-famous Iridium Rum. Like I said – it's not as if Mt Uncle distillery is a secret – it won Distillery of the Year in 2017 at the International Wine and Spirits Competition. In 2018, it won medals for all spirits it entered in the IWSC. Mt. Uncle Distillery did receive some notoriety in 2015 with it's 'Big Black Cock' single malt whisky (with the obligatory, explanatory picture of a rooster on the label) – but the Mt Uncle brand seems to remain just under the radar of the average Australian spirits fan. We hope we can help change all that.
Built in 2001, the Mt. Uncle Distillery is the brainchild of Mark Watkins and it remains Far North Queensland's only distillery. Mark originally hails from Tasmania where his dad and grandad (and great grand-dad) engaged in some "fairly dodgy stuff" (his words!). Of his ancestor's nefarious activities, it is distilling which remains a firm childhood memory for Mark. Now a legitimate and licensed distiller, Mark has continued to involve family and his wife Claire handles the distilleries sales and marketing for Mt. Uncle.
Nestled in a banana plantation and surrounded by macadamia and avocado orchards – Mark set out to build a distillery that could showcase the local produce within the gins, rums and liquors that it creates.
One would think the climate too hot that far north to age spirits. However, being on 'the tablelands' means slightly milder highs (but still quite warm) during the day but cooler nights. That constant cycling of temperature aids the maturation process by causing more 'movement' of the rum in the casks – thus exposing more directly to the wood. The 'Angels Share' is surprisingly low at 3-8%. "Our locality allows us to get very fast successful ageing of spirits due to the warm days and cooler nights here in Walkamin," he said. "We only use the best quality products and processes and that's why our products shine."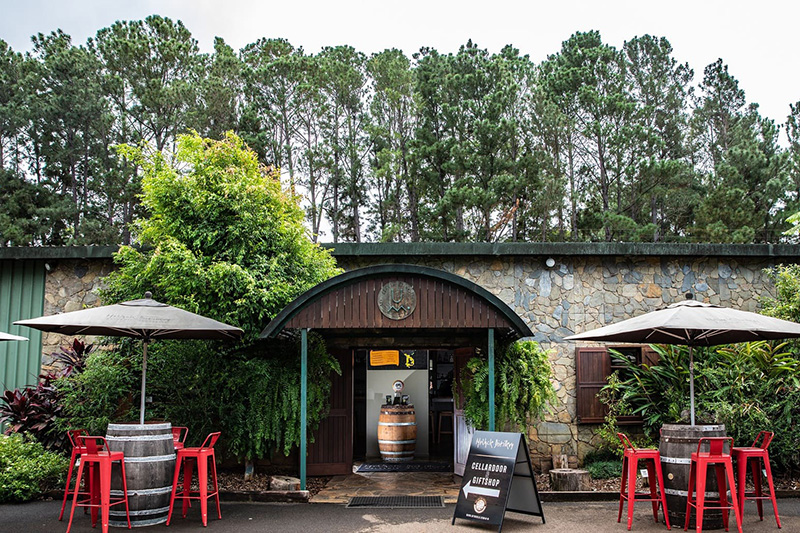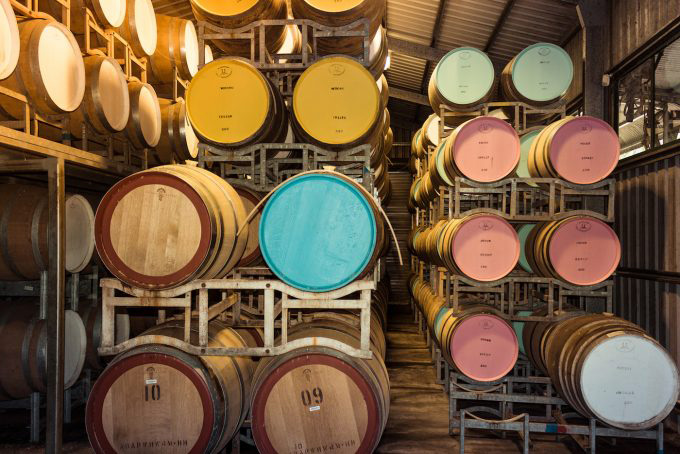 https://rumtribe.com.au/wp-content/uploads/2020/09/header2.jpg
405
1030
admin
https://rumtribe.com.au/wp-content/uploads/2022/01/Main-Logo_Border.jpg
admin
2020-09-25 21:46:07
2021-12-02 16:44:22
The Iridium X 10 year old – October 2020