Black Gate Overproof Dark Rum – March 2022

As 2022 finds its stride, we are blown away by the quality of rums coming out of Australia so we decided to do a month of "Exceptional Aussie Rum" and as such we are proud to introduce two exceptional Aussie rum producers to the 'Tribe'. Both are small, artisanal distillers with a passion for rum and a commitment to producing quality spirit.
To kick it off we have a Single Cask Expression, exclusive to The Rum Tribe from a legendary distillery in regional NSW – The Black Gate Overproof Dark Rum!
This is a BIG RUM! Bottled specifically for our members at a higher than standard 54.6%, matured in a single, first fill Tawny (Australian Port) cask since June 2017, making it only 3 months shy of 5 years old. The Black Gate Overproof Dark Rum is truly the work of a distillery (and distiller) that is 'doing it right'. Big – but rounded, full on – but not sharp or harsh…the Black Gate Overproof Dark Rum is fantastic for sipping neat but just as comfortable thrown in with a mixer or as part of a cocktail.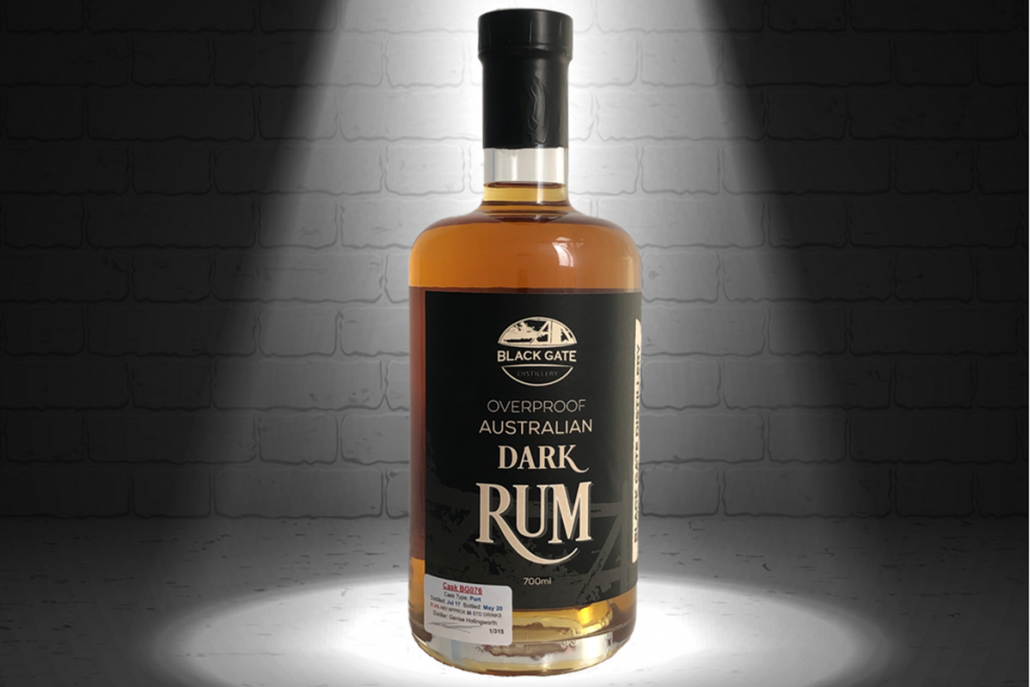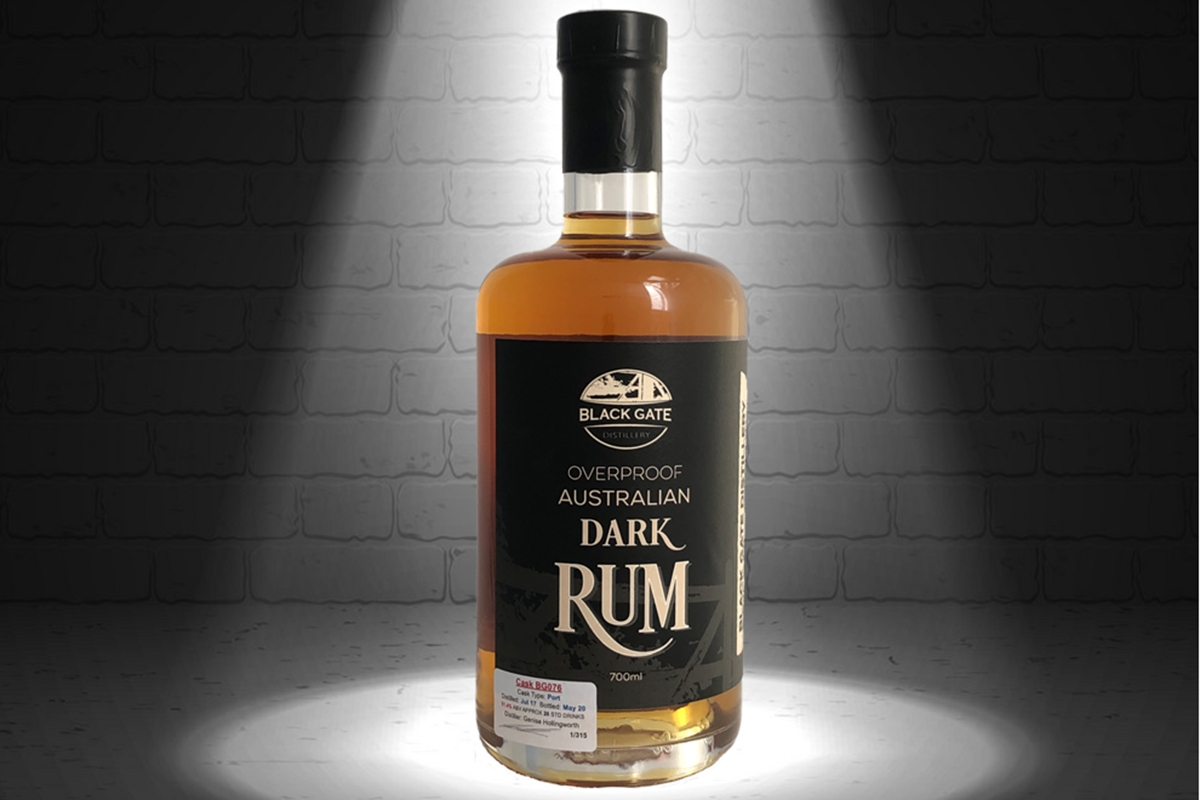 The Overproof Dark Rum is from the NSW husband-and-wife distilling team at 'Black Gate Distillery' in Mendooran, NSW. Brian and Genise are both distillers – Brian handles the whisky and Genise the rum. We have enjoyed their Whiskies previously and their rums are absolutely world class as well, so we wanted to share them with the Tribe.
It seems a pretty fair statement that we're currently (or at least right on the verge of) living in a golden age of rum production in Australia. In a few short years, the interest in Rum has exploded in our lucky country. Now it's fair to say that we've always been a nation of rum drinkers – in fact rum has played a major part in the lives of Australians since the first settlement in Botany Bay.
Historically, that love of rum has manifested itself in the fact that we, as a country, have been happy to drink lots of rum – but historically our rum producers have been large concerns focussed on quantity and efficiency of production. WWII saw huge demands placed on our producers for bulk shipments to service the commonwealth navies daily 'rum tot' (interestingly, all but our own RAN, which has always been a dry navy) and also for our diggers in the field.
Over the last 5-10 years, we've seen a change happening in the attitude of many of our countries rum drinkers, with more emphasis put on quality of rums consumed, rather than quantity and low price. A steadily growing percentage of rum fans in this country are seeking out rums that don't count on sugar or caramel or 'spices' to make them palatable. 'Pure rums' are becoming more and more in demand every day it seems.
This change in attitude, accompanied by the explosion in the number of small Australian distilleries means we are on the verge of a tsunami of fabtastic new Australian rums entering the market. That's not to say we don't already have great producers (both distillers and independent bottlers) releasing products regularly now – and this month we are proud to feature two more Aussie rum producers that are delivering fantastic, pure rums to the Australian (and hopefully soon the world) market.
For March we're shining the spotlight on two Australian distilleries. One from Mendooran NSW that has been established for around 12 years now, the other, a younger distillery from Yackendandah, Victoria. Both molasses based rums, both completely natural with no added sugar, colour or additives of any kind. Pure. Australian. Rum. Just how we like it!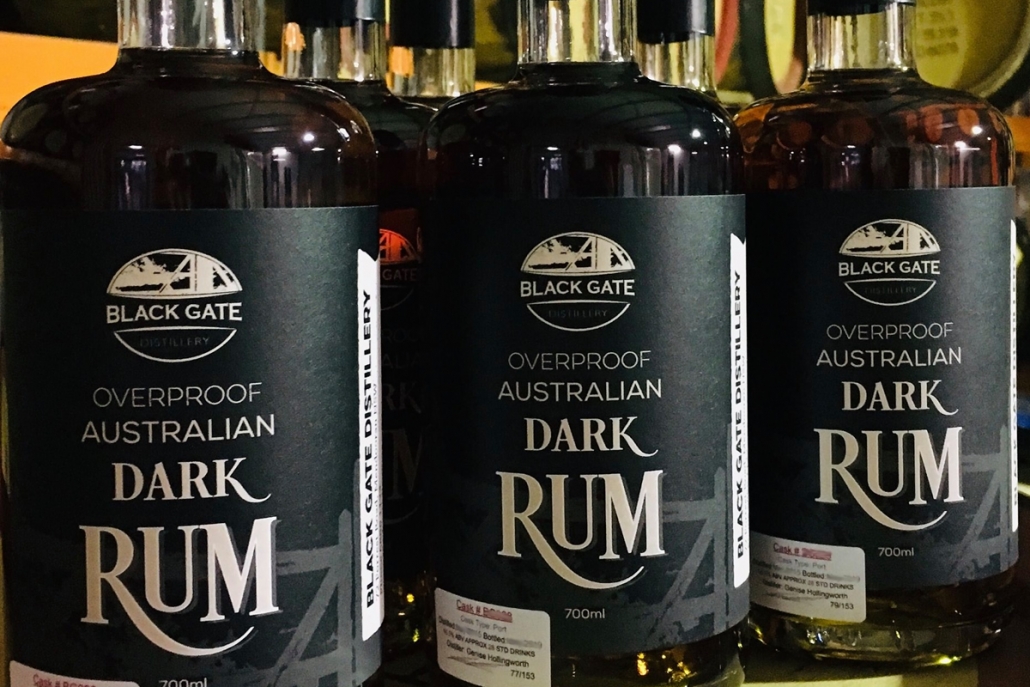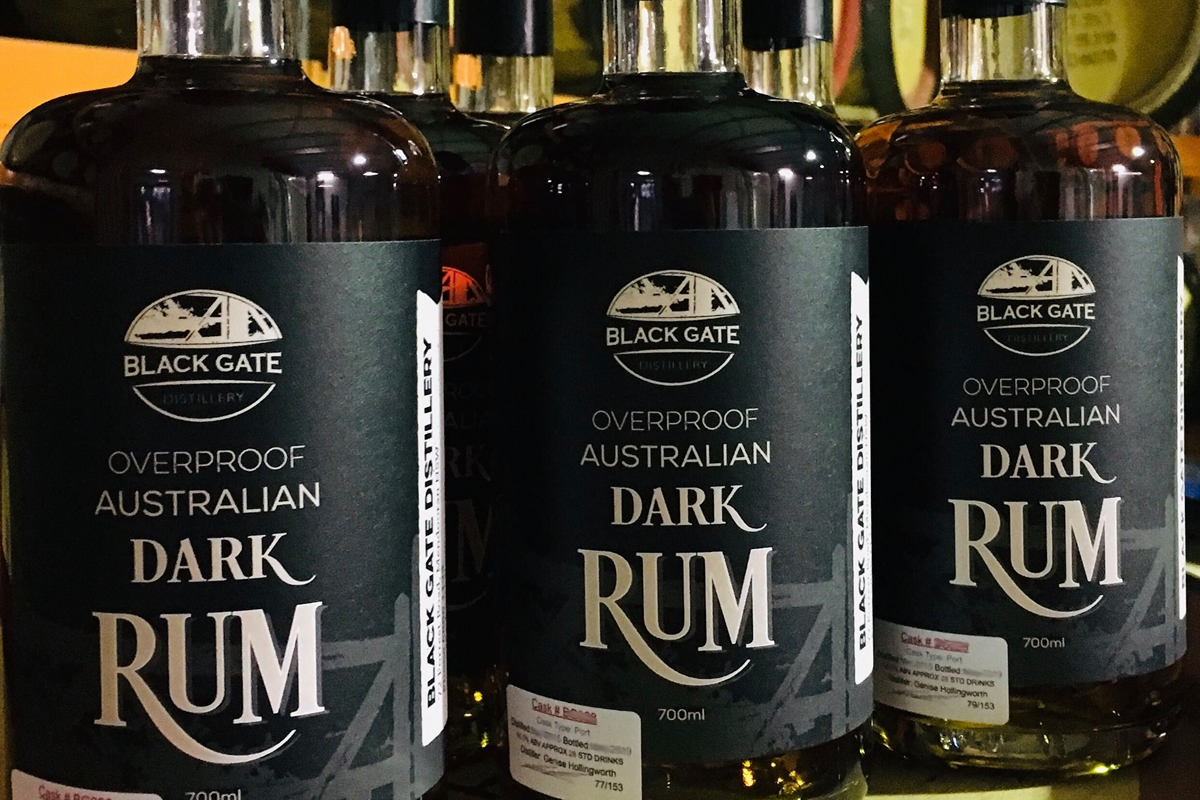 Our Tasting Notes:
Colour: Fresh bright copper
Nose: Sultanas, roast bananas with caramelised sugar and homemade ginger-nut bikkies
Palate: Wow! BIG and Spicy and Juicy and DELICIOUS! A massive explosion of fruity notes with burnt caramel, ginger and pepper there in spades.
Finish: This finish keeps swinging until the very end. Chewy caramel and fruit sweetness , liquorice too! All tempered with spicy pepper – the finish just rolls on and on, then on some more!

This rum is a gobsmacker. It's just so big and 'in your face' – in a totally good way! It's surprisingly easy to drink neat – but at 54.6%abv it certainly stands up to a chunk of ice if that's your style. Heaps of ginger and pepper mean it's brilliant in an 'adult' dark and stormy.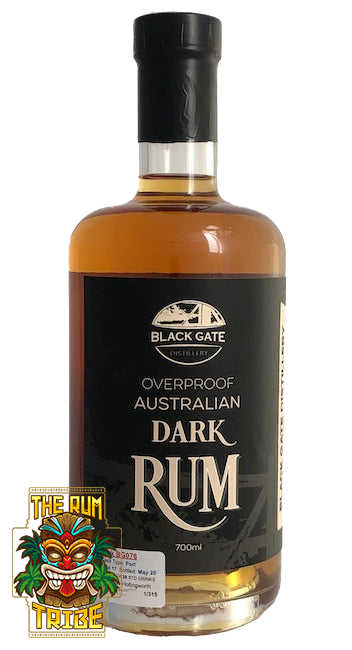 FROM BLACK GATE
We were established in 2009, rum was the first spirit we produced and we released our first bottling in 2014. Since then, Genise has taken over rum production while Brian continues with the whisky side. Everything we produce is doubled distilled in a direct fired copper pot still. We use refinery molasses, as we like the richness that it delivers to the final product, we use the pot ale from our earlier wash runs which gives our rum a much bigger, bolder flavour and we have a long fermentation period which translates to a drier style of rum. This rum is from a large format (225 Litre) ex Aussie tawny cask and is bottled at 54.6%abv. We think the subtle cask influence and the higher ABV allows the spirit to retain the big bold flavours that people have come to expect from us. .
Black Gate Dark Rum – "A sophisticated Australian rum, but not as you know it."
ABOUT BLACK GATE
Situated in Mendooran, 45 mins from Dubbo in Central West NSW, Black Gate Distillery is a small, husband and wife operation established in 2009. We enjoy a rural setting and a climate conducive to aggressive spirit maturation. We produce Australian Single Malt Whisky and Dark Rum which are both brewed and distilled on site. The distillery capacity is around 3000 litres of whisky and about 1000 litres of rum annually. We use direct-fired copper pot stills of 630 litres and 300 litres capacity that produce spirit on the richer end of the flavour spectrum. We stick with traditional methods, use the highest quality ingredients/casks available and encourage visitors.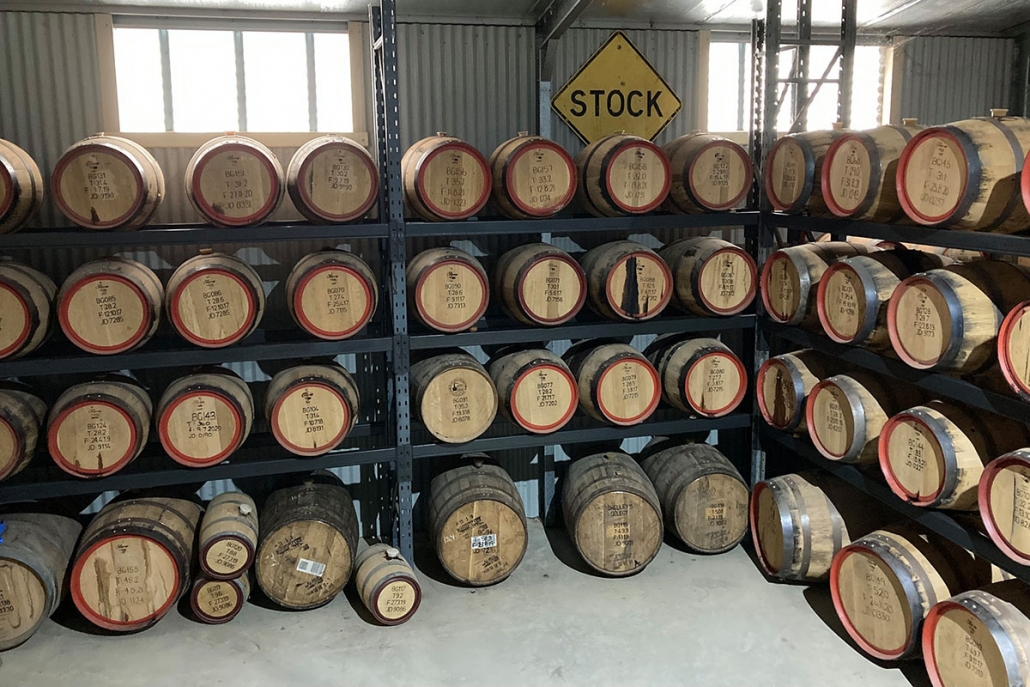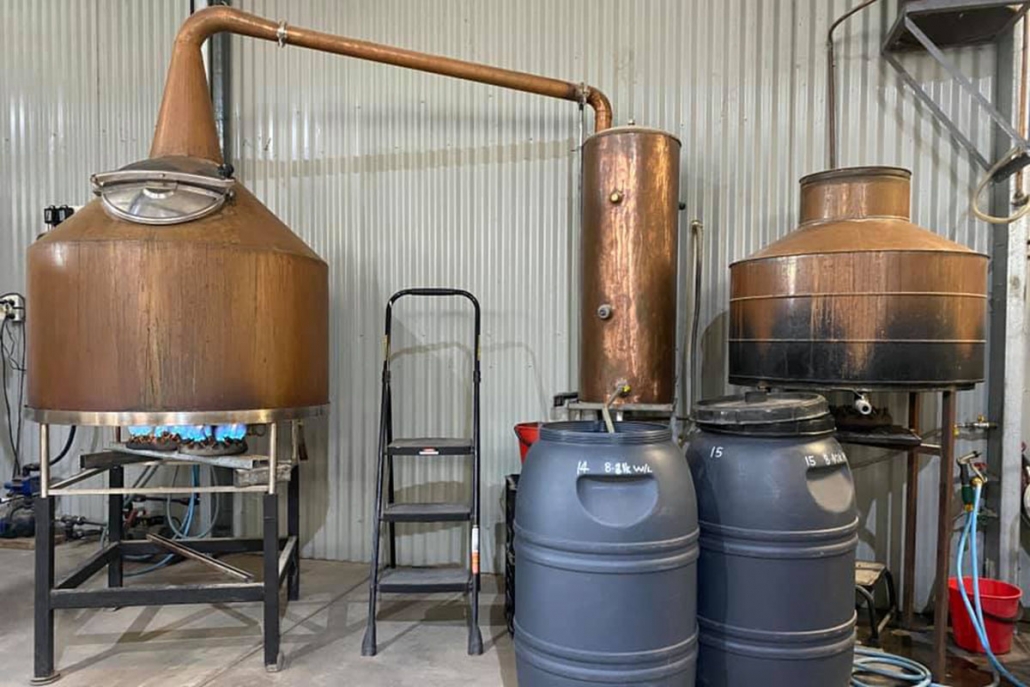 https://rumtribe.com.au/wp-content/uploads/2022/02/Black-GAte-Header-1.png
405
1030
admin
https://rumtribe.com.au/wp-content/uploads/2022/01/Main-Logo_Border.jpg
admin
2022-02-24 23:05:42
2023-05-10 14:52:21
Black Gate Overproof Dark Rum – March 2022