Description
Boutique-y is BACK! This absolutely fantastic 18-year-old, LIMITED RELEASE,  pure single rum is EXCLUSIVE to the Tribe! There are only 970 bottles of this rum worldwide and the Rum Tribe have the entire Australian allocation!
Our Members Extra for June is this sensational rare, pure, aged, single rum from Guyana. Yes folks, a pure, unadulterated Demerara rum from Guyana's legendary Diamond Distillery. Not just any old Diamond Distillery rum, no less than an 18-year-old, pure rum, with no added sugar, colouring or flavouring, presented at a close to CASK STRENGTH bottling.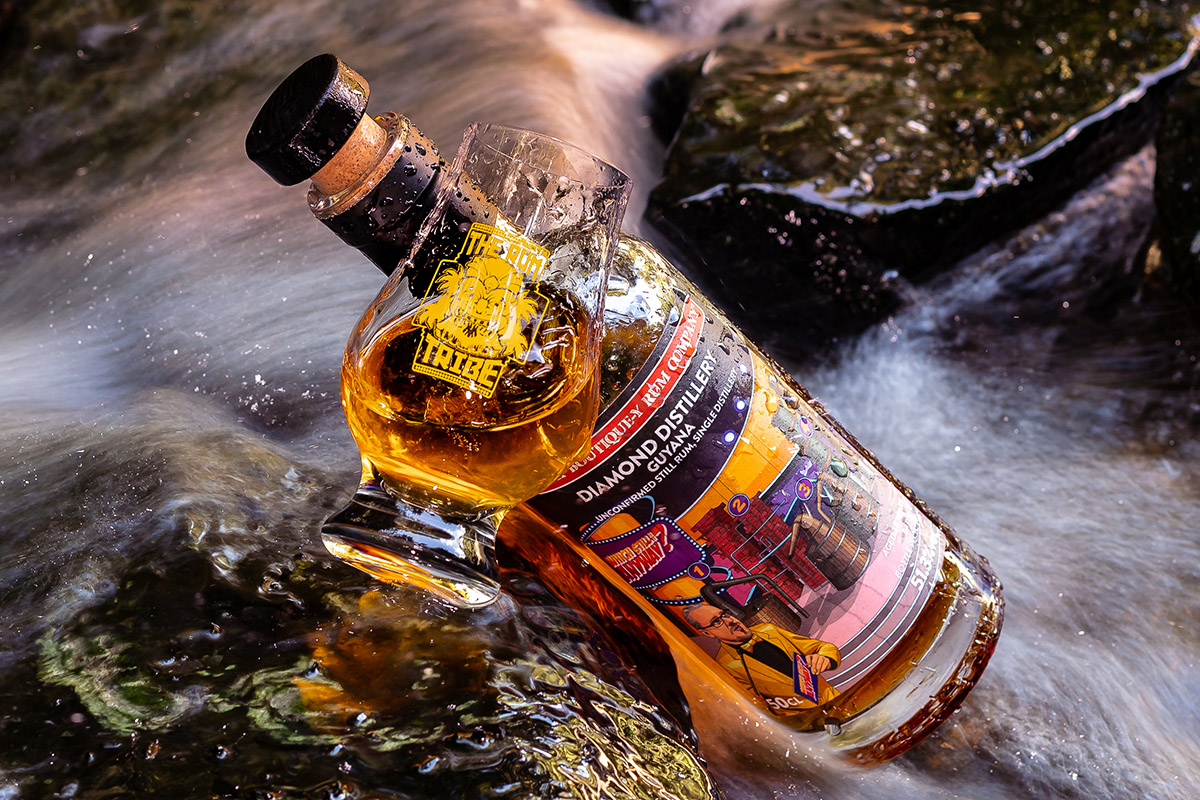 What we DO know about it is that it was distilled in the Diamond Distillery in Guyana in 2001.  It was then aged in 2 ex-bourbon casks for 10 tropical years in Guyana then shipped to Europe for 8 years of Continental ageing. Both the casks were then disgorged and married together, then bottled at a healthy 51.5% ABV.
What we DON'T know about this rum is what still it was distilled in. You see, Diamond distillery has 4 'Heritage Stills'.  In 1993, there were only three distilleries still operating in Guyana (Diamond Distillery, Uitvlugt Distillery and Enmore Distillery). By 2000 only Diamond Distillery remained.  Luckily (for the rum world), the stills and expertise from the Uitvlugt and Enmore Distilleries were transported and housed at the Diamond Distillery.  These 4 'Heritage Stills' (three of them wooden!) are still in use today at Diamond Distillery. And this rum came from one of those stills – we just don't know which one!
More info on the four Heritage Stills can be found here.
That Boutique-y Rum Company is a UK indy bottler who have a no nonsense approach to rum.  They search the globe for fantastic barrels of rum, then ship them to the UK for further aging. Once they are happy with the rums maturation, they then bottle the rum, the whole rum and nothing BUT the rum.  You see, like us, TBRC are all about pure rum – be it single cask, single distillery or blended – we want the rum, and just the rum! No colouring, no sugar and nothing else added.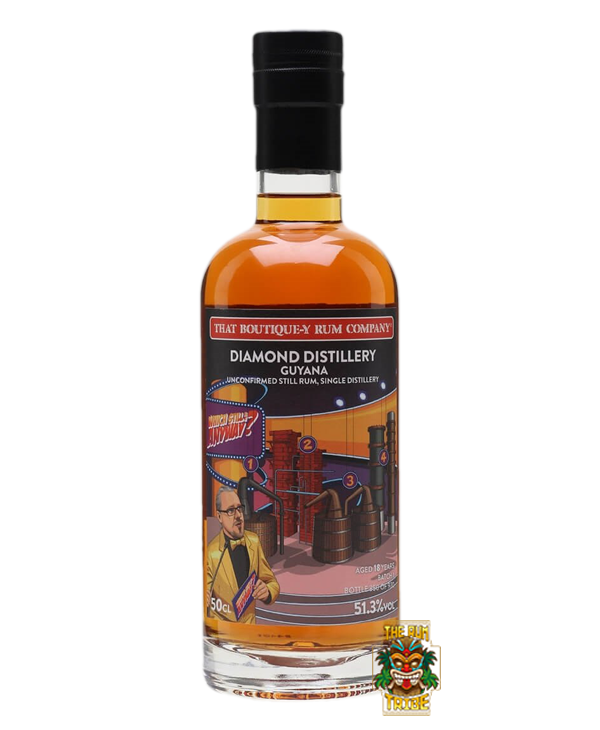 Our Tasting Notes
Nose: Deliciously rich and sweet on the nose – a real tropical fruit salad with bananas, pawpaw and passionfruit immediately apparent which becomes a more candied fruit aroma as it opens up. Some earthy notes with vanilla and cinnamon also adding to the fray.
Palate: Initially drier on the palate than the nose would suggest.  A brief burst of pepper follows but then sweeter fruit notes emerge and more vanilla shines though.  The oak comes through (as it would at 18yo) as a pleasant, earthy, 'old' smell.
Finish: That oaky, mustiness flows through and lingers alongside flashes of stewed fruit, pineapple (or is it passionfruit?) bursts and memories of fruit tingle lollies on the tongue.
This is delicious, and rare, pure, aged rum. It's immediately apparent on the first sip that you're experiencing something truly amazing. I'd like to say 'wait till you give your friends a taste' – but I'm not sure you're going to be that generous with this one!
From TBRC
Come join the fun as we invite you to play 'Which Still Is It Anyway?'
Join Boutique-y Pete in his shiny game-show-host-suit as we challenge you to guess which of the Heritage Stills this delicious bottling was produced on.
Was it?
the Versailles
the Enmore Column
the Port Mourant
the Savalle
Will the truth be revealed? Boutique-y Pete has his suspicions.
Tasting Notes: 
Nose: A zing of green apple skin in the background, with ginger and cinnamon spice alongside barbecued, caramelised banana, with just a hint of machine oil peeking through.
Palate: Initially rather woody, with damp oak leading into toffee penny, just a touch of smoke and underripe tangy pineapple.
Finish: Old leather alongside fruit and nut milk chocolate, with sweet, plump raisin lingering.
About 
TBRC
Following in the footsteps of sibling brands That Boutique-y Whisky Company and That Boutique-y Gin Company, That Boutique-y Rum Company (TBRC) is here to bring delicious rums to confirmed geeks, adventurous rookies and the rum-curious.
TBRC is all about delicious, unusual and honest rums, which means they adopt a no BS approach to classification. They aim to provide a total understanding of the liquid in the bottle so you can navigate and explore the category with confidence. No confusing mumble, just exceptional rum.
You won't hear TBRC talking about dark and light rums, but you will hear them getting excited over everything from pot still rums from single distilleries to multi-column rums from multiple distilleries. They aim to provide a total understanding of the liquid in the bottle so you can navigate and explore the category with confidence. No confusing rumbo-mumbo-jumbo, just exceptional rum.