Description
From a HUGE cult following in Europe, this is one of the most eagerly awaited rhums in Australia…and we are proud to premier it to the Tribe!
This is truly a 'paddock to bottle' rhum from the legendary Mhoba Distillery in South Africa – A pure single sugar cane rhum – The Mhoba Rhum Strand 101!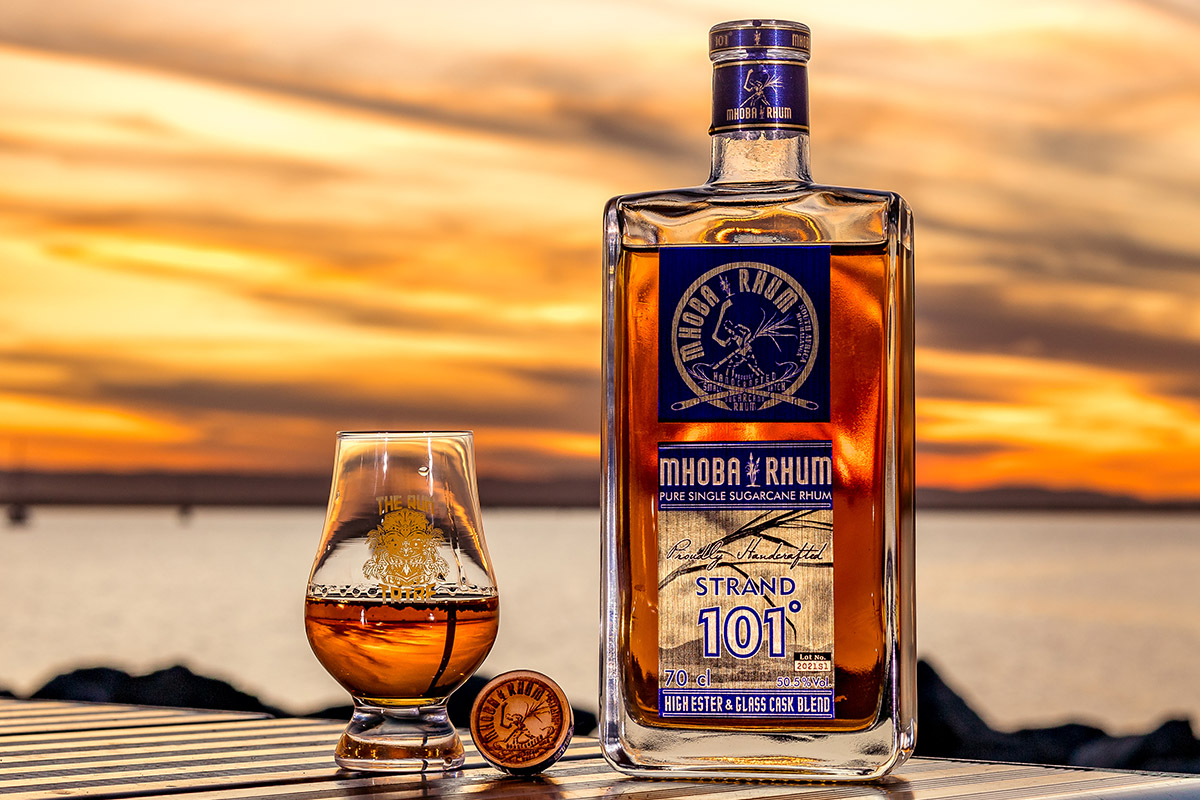 Mhoba means 'sugar cane' in the local dialect. And that sums up the business in a nutshell.  Mhoba Rhum is a 'paddock to bottle' distillery – They grow their own (Nkoomazi) cane for their own product. In fact – more than half the production costs and time are in the farming of the cane. But producing a cane-juice based rum (or rhum – I'm going to jump between these, be warnedJ) is much more demanding of fresh product than molasses based rum production. If the cane isn't juiced and controlled-fermentation begun within hours of cutting – the batch will be spoiled (with microbes other than the 'good' yeasts).
The Strand 101 from Mhoba is an interesting combination of their ruhms. It is part 'glass cask' matured rhum and part high ester White Rhum. Both component rhums are distilled in the Mhoba pot still. The 'glass cask maturation' is interesting in of itself.  Basically, instead of traditional oak barrels, this is aged in a glass container. When filled with the new make spirit, they add virgin American Oak staves that have been toasted and charred at the Mhoba distillery. The portion of rhum that has been included in the Strand 101 has been aged in these glass casks for 'more than 2 years'.
Check out some of the AMAZING reviews on the Mhoba Rhum Strand 101:
The Lone Caner   |   Rum Revelations
Our Tasting Notes
Nose: Wow! So, sooo fragrant! At first pour I get a lovely 'damp earth' aroma. After a swirl of the glass, the esters come on strong! Overripe fruit salad, a touch of nail polish remover, and then some blooming frangipani hit with a velvet punch!. Booze soaked dried fruit and also a notable sweet fairy floss note and even some baked custard there.
Palate: To my delight, those fruity notes persist on the palate. In addition, there's a lovely vanilla note, maple syrup drizzled over and even caramel milkshake there.
Finish: Mouth warming (but not hot or harsh at all), the sweetness on the palate becomes pleasantly dry as the finish progresses. A nice subtle almost aniseed note sees it out as you pour another!
Whether you call it a rhum, a rum or a sugar cane juice r(h)um or an agricole – you'll definitely call this one delicious! Really, this is a simply superb sipping rhum – those massive fruity, botanic and fragrant esters just make this an olfactory orgasm!
It's very, very well behaved for 50.5% ABV. But if you find it a bit strong (as my lovely missus did) – a splash of water (or even ice) really tones it down without sacrificing tooo much of the taste.. I haven't had my review bottle long enough to 'really 'play' with it – but at a guess some cloudy apple juice and soda would mix well with this over ice. To be honest, I'm in no real hurry to find what the Strand 101 'goes with' as it 'goes' pretty good all on it's own for me!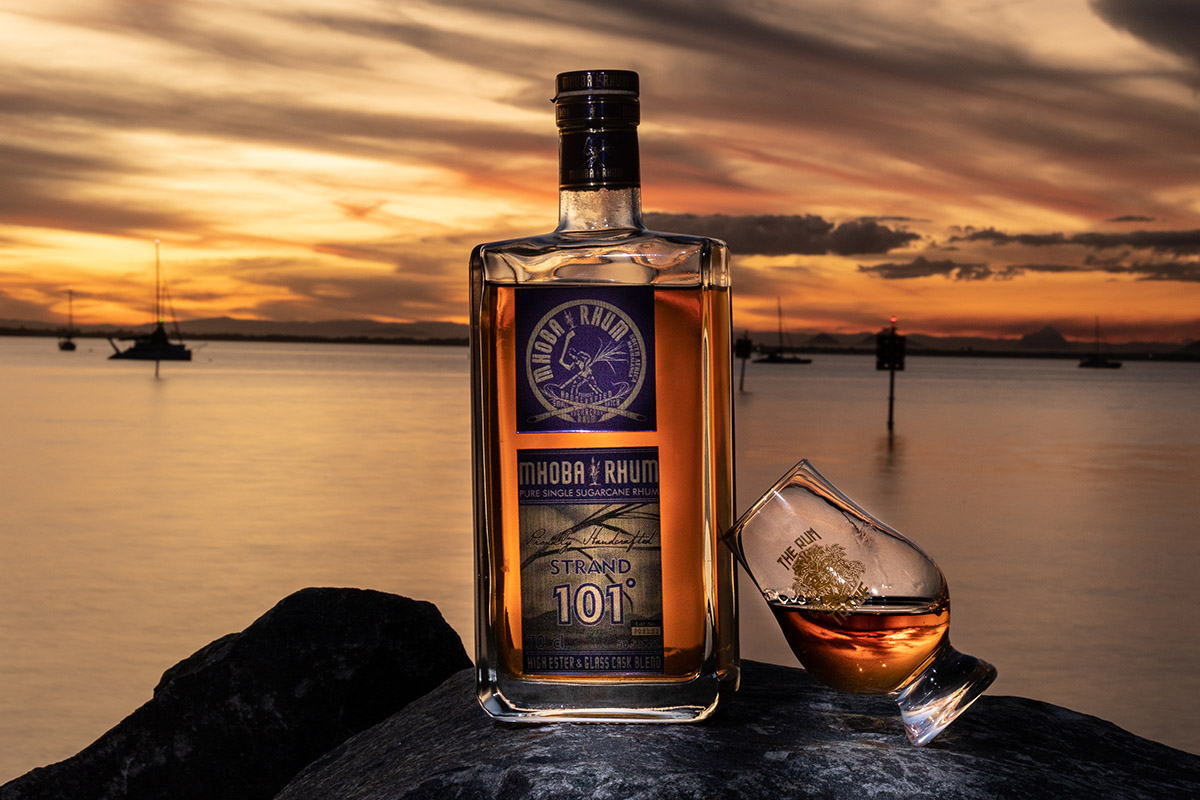 From Mhoba
G'Day Rum Tribe!
Happy Second Birthday! I hope you all celebrate your second anniversary with really great rum. We are thrilled to finally have some of our beloved rum in Australia and we really hope it is well received.
This rhum is made purely from the fresh juice of our own Nkoomazi sugarcane, grown on the MHOBA Sugar Estate, near the small village of Malalane in South Africa.
Strand 101 is a blend of  stave-aged rum and specific intense cuts of white rum.
Our "Glass Cask" rum is matured in large glass demijohns on American oak staves which we cut and char on red hot coals obtained from burning local hardwood. I have always felt the maturation process, although adding wonderful additional dimensions of complexity to both flavour and aroma, some of the vibrancy and intensity of our white rums is lost in the process. I began experimenting with blending intense fractions of white rums with stave aged rums to reintroduce some of the intense sugarcane character to the aged spirit and personally loved the results.
In 2018 I met Knud Strand, a fellow rum fanatic who helped get us into the European market and introduced us to La Maison du Whisky, who now distribute our rums in Europe.
I discussed my feeling that some of our white rum's most exceptional and appealing characteristics were somewhat dampened with time on oak. I had sent numerous samples to Knud and he too experimented with blending these various samples and confirmed my affinity for our stave-aged rum blended with some of our most intense white rum. We then decided that this blend was a necessary addition to our range and I decided it would be named after Knud and we decided on Strand's 101 which was soon shortened to Strand 101 as Strand's sounded strange to the French who are our largest customer base.
Ingredients: Passion, time, love and attention, fermented and distilled pure sugar cane juice, crystalline water, and congeners from American Oak staves. Nothing Else!
Nose: Bright vibrant cane. Acetone. Varnish. Earthy root vegetables. Menthol. Herbal and perfumed. A hint of oak influence excerpts itself with a whiff of smoke. A lot of fermented fruit and wild strawberries carry through on the nose. It remains astringent and pungent with crisp green apples.
Mouth: Beautifully sweet and oily entry accompanied by some heat. The bite of a youthful spirit rules the early exchanges with fresh sugarcane, fermenting tropical fruit and cider. A lot of funk. On the mid palate the aged component begins to envelop your tongue and becomes quite tannic, drying out your palate. This leaves a medium length finish that develops from tinned fruit with fresh cream through coffee, an oaken influence and then into a warming peppery finale. Good balance of youth and maturity. 
What makes MHOBA rum even more unique is that the whole rum making process occurs on our sugar estate. From planting our own organic sugarcane right through to hand filling and labelling our bottles after distilling in our self-designed and self-built stills, MHOBA Rum is 100% rum that is made by us.
MHOBA RUM. FROM FARM TO BOTTLE AND PROUDLY SOUTH AFRICAN!
Thank you all who read this for your time and interest in our rum and I really hope MHOBA Rum goes down well, down under!
Cheers…Robert
About Mhoba
Nestled amongst the rolling hills of the Onderberg district of Mpumalanga and amidst our own sugarcane fields, you can find The MHOBA Rum Distillery: An artisan distillery where we make 10 different types of Pure Single Estate Sugarcane Rum or Pure Single Sugarcane Rum.
Unlike most traditional rum, which is made from molasses which is the by-product of refined sugar production, MHOBA rum is made from pure sugarcane juice. Our rum is 100% pot distilled from fermented sugarcane juice and contains no additives, colourants or flavour modifiers and is therefore termed Pure Single Rum; The rum equivalent of Single Malt Whiskey.