Description
This is not a rum (Gasp!) but a Limited Edition double pot distilled Agricole from up and coming Distillery, Devils Thumb in Far North Queensland.
Due to Australian regulations, what would be called 'Agricole' Rum pretty much anywhere else in the world, cannot be called 'rum' in Australia as it has not seen the inside of a barrel. In Australia, this would need to age in oak for 2 years to be called a rum. But don't let that fool you – the Devils Thumb Australian Cane Spirit is a fantastic 'Australian Cane Spirit' with flavours all of its own.
As the name suggests, Devil's Thumb 'Australian Cane Spirit' is made from fresh sugar cane juice rather than molasses. Due to the main ingredient (freshly crushed sugar cane juice) being so quick to spoil, the process of creating Agricole is much more time-pressing than a molasses-based product. The reason for this, is that sugar cane juice will starts to spoil quite quickly once it's pressed. Thus the cane juice must be introduced to the yeast to begin fermentation very soon after it's made. This ensures that only the desired 'bugs' are present in the ferment – and limits the amount of naturally occurring yeasts and other bacteria that would otherwise compromise the end-product.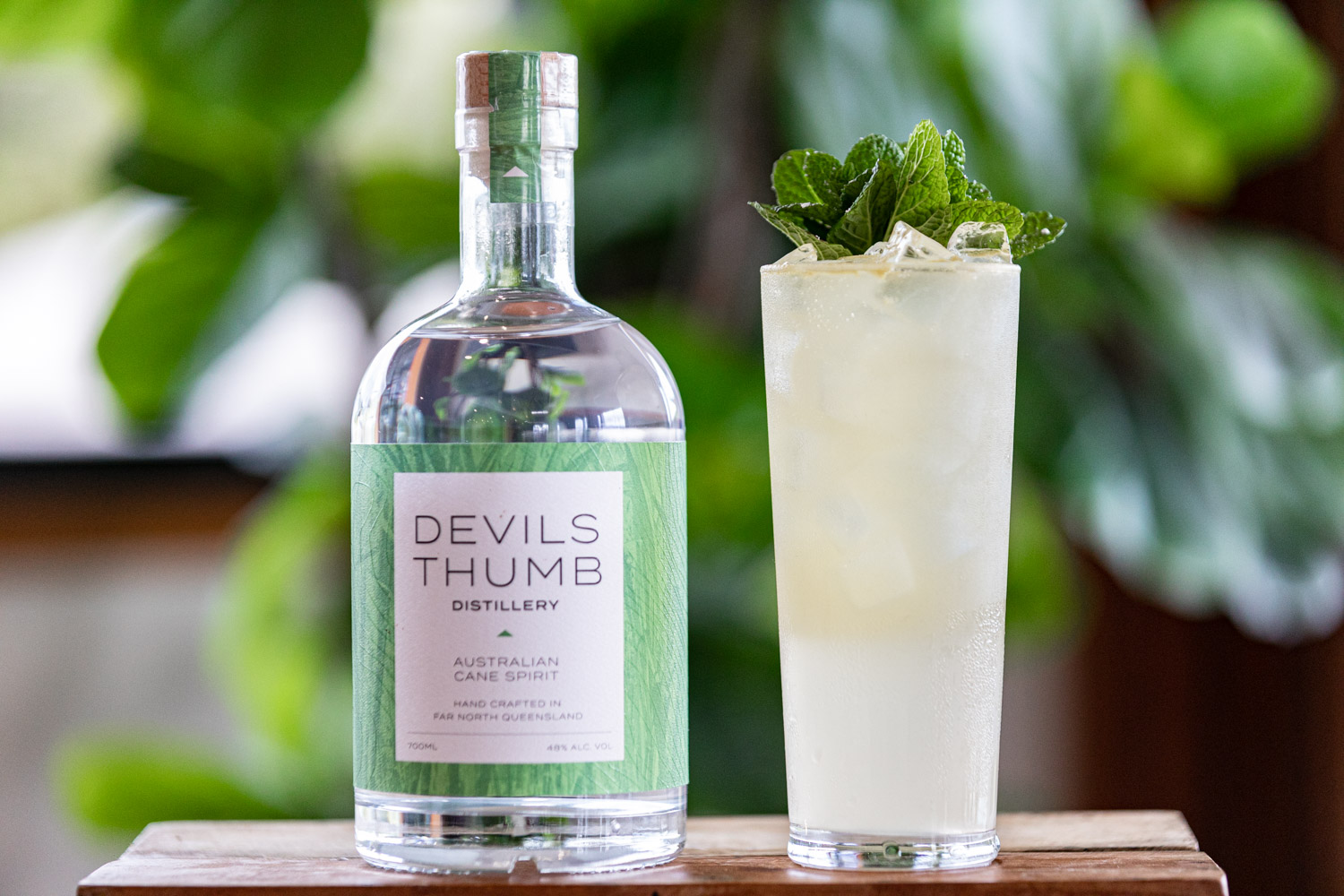 The need for fresh cane juice also makes this a seasonal product – and so production is limited to the cane harvest time when fresh cut cane is available to extract from. The Devils Thumb Australian Cane Spirit is double pot distilled and made from the 2021 crush in Whyanbeel, Mossman – Cane varietal 208 if you want to get technical!
We first 'dipped our toe' into Agricole early last year when we featured the Husk Pure Cane 50 and what an awakening it was! Unaged cane spirit is just such a fresh, naturally sweet and floral delight we couldn't help ourselves but do another for January. This is unlike any rum you've probably encountered so far (if you're new to the Tribe) – and the perfect way to drink it is in a 'ti punch'.
Once again, we're proud to give our support to new Aussie producers and we can't wait for Devils Thumb's aged releases which (currently ageing in ex-bourbon) will be available sometime later in 2022! Watch this space!
Our Tasting Notes
No imagination required to pick what this is made from. Sweet, beautiful cut cane and floral notes. Fresh cut grass, trimming hedges in the summer heat, all in the shade of an enticing sweetness.
If you've ever been around cane country during the crush, you'll recognise many of the smells and tastes you'll find in this. Cut cane, the smell of the mill when the winds blowing right – I swear there's even something in there that reminds me of watching a cane train crawl past the road crossing in the 35C heat.
I just love Agricole- oops, I mean Australian Cane Spirit – so versatile and absolutely perfect for the classic 'rum cocktails' – a mohito, or a simple and soul satisfying ti-punch (ice or not – well, that's up to you!), a dash in ginger-beer is pretty bloody good as well! If you're drinking a white rum based cocktail around a pool or the barbie in the summer heat – sub in this instead of the white rum for a fresher, floral character.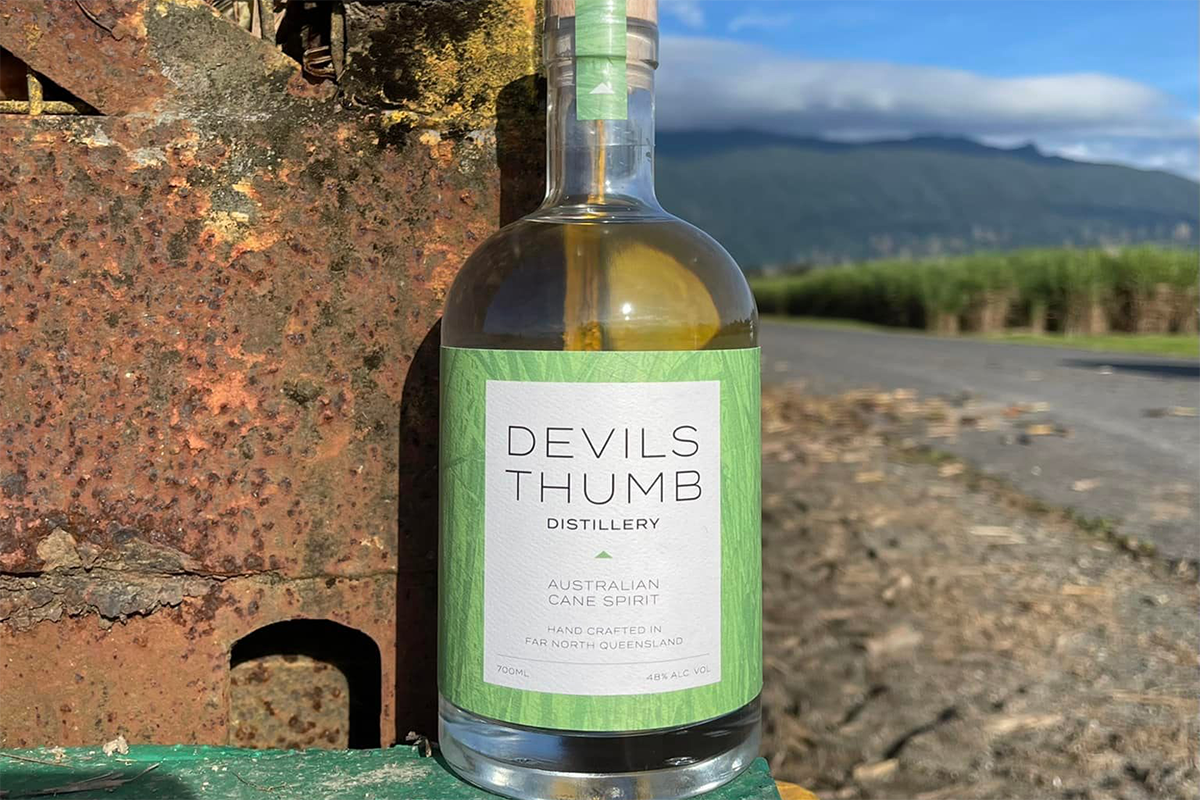 From Devil's Thumb
The Devils Thumb Australian Cane Spirit is crafted from locally sourced first press cane juice, fermented naturally then double pot distilled for a unique expression of the region. With a rich aroma and vibrant character this Cane Spirit is best served in cocktails or as a traditional Ti-Punch.
Batch 004 from the 2021 harvest is made from the cane varietal 208 that has been grown at Whyanbeel in the Mossman region
Devils Thumb Distillery is also barrel-aging cane syrup and molasses based rum in a variety of barrel types and will have our first release by the end of 2022.
About Devil's Thumb Distillery
Devils Thumb Distillery produces award winning spirits in Port Douglas and takes not only its name, but fresh mountain water from streams below the Daintree's Devils Thumb peak. Our distillery has a strong focus on rum production sourcing our raw materials from local cane farmers. Fresh press cane juice is sourced between May – October and double pot stilled to produce our Agricole style Australian Cane Spirit. Cane syrup and Molasses is also sourced to create our barrel aged rums, which are then matured onsite with the tropical climate speeding up the ageing process by 3-4 times compared to a temperate climate. The result are genuine and authentic rums, free of additives, sugar, caramel, or artificial colours.
Far North Queensland is the perfect location for Devils Thumb Distillery to produce world class spirits. Their philosophy is based on four key principles:
1. Local Provenance
Fresh local ingredients infused in to their spirits. Whether it be cane juice that is fermented the same day, or wild botanicals from the adjacent rainforest, our distillers source fresh ingredients which is reflected in the quality of our spirits.
2. Traditional Methods
Follow the time honoured traditions practiced by the best distilleries in the world. We use traditional distilling equipment and processes that align to the style of spirit. Our spirits are produced, aged and bottled without any additives. No added sugar, caramel or tannins – our spirits are genuine and authentic.
3. Natural Water
Devils Thumb use water flowing from their natural rainforest source for the production of their spirits. The water is sourced from the streams flowing below Devils Thumb peak in the Daintree Rainforest, which is the oldest rainforest in the world.
4. Tropical Climate
Devils Thumb's rums are fully matured in the tropics. Extended fermentation with natural yeasts create flavoursome rums with an unmistakable aromatic profile. Their rums are currently maturing onsite at our Port Douglas distillery in the Far North Queensland. Expect an aged release sometime this year (stay tuned!)