Description
After a GOLD MEDAL at the 2021 Australian Distilled Spirits Awards, Batch 1 of this rum SOLD OUT! But not to worry Tribe, we have all of Batch 2 (outside of the Byron region) of this single cask, pure, single rum for you… Our Rum of the Month is the Winding Road Distillery 'Coastal Cane Pure Single Rum'.
In 2021, husband-and-wife team Mark and Camille from Winding Road Distillery, took out Gold at the Australian Distilled Spirits Awards with the first release of their Coastal Cane Pure Single Rum Cask AR01 (now very sold out).  We have managed to grab all but a handful of the entire second release of this fantastic rum – Cask AR02, distilled from fresh cane juice from the September 2019 cane crush.
Just as the first release was, this second release was matured in a virgin American oak barrel with a #3 char for just under 3 years.  After careful selection from the tasting panel it was emptied from the cask in May 2022 and bottled at 46% ABV.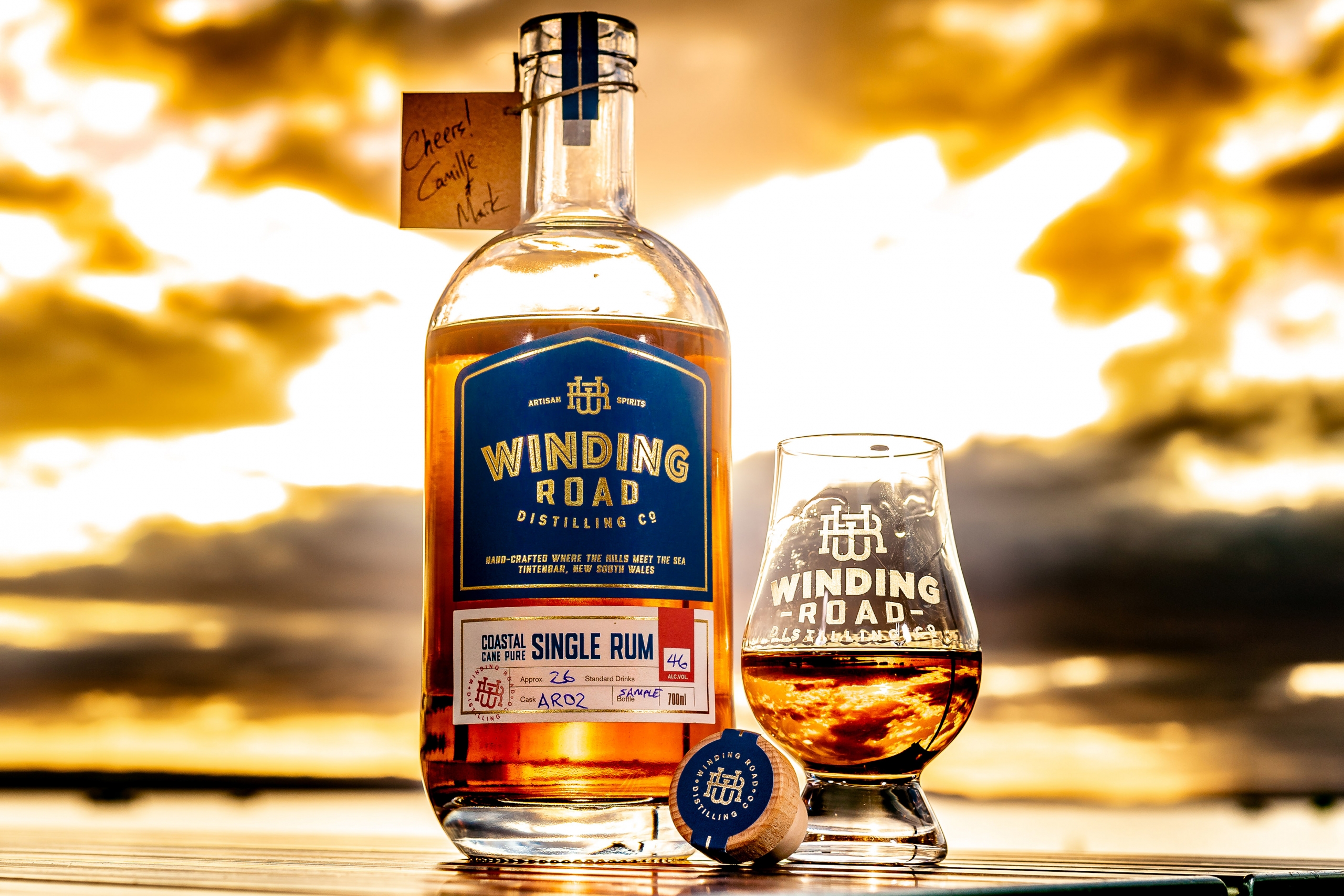 The Winding Road Coastal Cane is an aged agricole style rum, made from fermented, fresh cut sugar cane juice. To make agricole style rum, the cane juice must be very fresh. Too long between crushing and controlled inoculating with yeast means that wild and detrimental microbes can become established, thus spoiling the batch.  To this end, it's obvious that winding road uses local produce – nothing else will do. They also use pure rainwater collected at their hinterland distillery.
Our Tasting Notes
Nose: A gentle and pleasant funk backbone with mashed bananas, plumbs and custard with a pinch of aniseed.
Palate: Lovely rich and oily mouthfeel. Gently warming (though not peppery at all) with fresh cut cane billets pinched out of a cane train (chewing these is one of life's simple pleasures!), BBQ Pineapple, vanilla and fruit-pastry (apple-pie?) notes as well
Finish: The sweetness on the palate dries out in the finish with crystalised ginger and citrus peel notes as well as a touch of bush honey all swirling around each other in perfect harmony!
This is absolutely delightful sipping rum. Just so mellow and easy to sit and enjoy on. Full of those fresh, bright and 'green' flavours this agricole style rum is known for. If you've ever lived in cane country during a crush, you'll recognise a lot of flavours in this rum. It's just delightful on its own – but we'll be sending some cocktail recipe cards from winding road for the mixologists amongst us!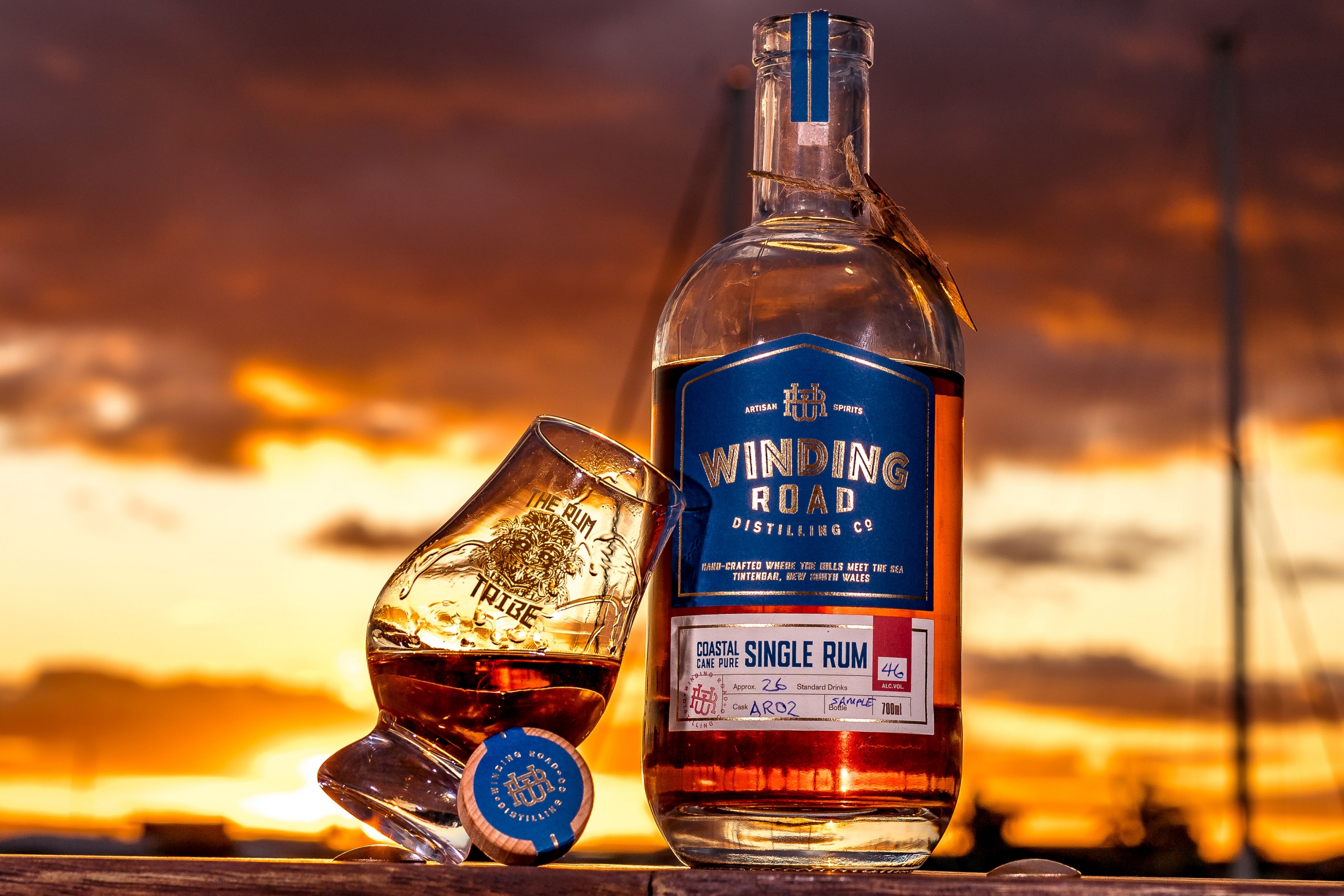 From Winding Road Distillery
Our hand-crafted Coastal Cane Pure Single Rum is a true reflection of the Northern Rivers region, with a unique profile that showcases the influence of our local coastal climate and soil.  It all begins with fresh first-press juice from sugar cane grown in the rich soil of the Wollumbin Caldera.  It is fermented, rested, and then twice distilled in our traditional 1,250 litre copper pot still.
The new-make cane spirit is then aged in a curated selection of oak barrels; influenced during maturation by the warm summers and temperate winters of our coastal sub-tropical region.   The result is an unmistakeable and truly Australian Agricole-style rum that is smooth in character, full of body, and rich in flavour.
This batch, our second release, was matured in a 200-litre new American oak barrel for 35 months and bottled at 46% ABV.
Tasting Notes: 
Nose: Complex with vanilla/crème brulee and the characteristic 'hogo' funk of an Agricole combining in a manner that makes you want to take that first sip…
Palate: A full texture and mouthfeel that coats and melts in the mouth with an ongoing
complexity of flavour.  Notes of fresh cane betray its origins amongst hints of vanilla and honeysuckle.  Natural sweetness is balanced beautifully against the subtle influence of salt and sea from the distillery's location near the coast. Each sip endures and transforms with a lingering finish, calling you back for more.
About 
Winding Road Distillery
Camille and Mark Award set up Winding Road distillery in 2015. Initially operating out of their home, they have now moved the business to a separate (and beautiful) property.
Mark (an American) and Camille (an Aussie) have had a varied path since meeting and settling in the hinterlands of Tintenbar (outside Lenox Head) in 2009. Initially drawn to the region by its incomparable natural beauty and mild climate, the friends they and sense of community they experienced confirmed this is where they were meant to be.
Fast forward to 2015 and a long-held dream to build their own craft spirits distillery grew into something more than a casual conversation on a warm summer's evening. With a love for unique whiskies, rums, and gins the idea quickly took hold. They found inspiration all around them in the lush cane fields as well as the burgeoning Australian and global craft spirits industry which was just beginning to show its potential.
Not being ones to shy away from a challenge or something a little out of left field, the Awad's began their journey down this Winding Road. Over the next few years they studied, trained, planned, schemed and built: striving towards the goal of opening their distillery while simultaneously working to maintain their home and family life, careers, and their sanity! At present, the distillery is a fairly modest affair set on a fantastic piece of land in the hills just outside Tintenbar. Plans for an expansion of the distillery plus a new cellar door and tasting facility are just about to start being turned into reality. Watch this space!