Saint Aubin VSOP – February 2022

Okay let's RHUM! For the first time ever in Australia and exclusive to The Rum Tribe we are very excited to present the Saint Aubin VSOP – A single estate rum, matured in ex-bourbon and cognac casks from a distillery in the sunny islands of Mauritius that has been making rum since 1819. Plus each bottle is individually numbered and to make it even more special you can pair it with the Saint Aubin 10 year old Pot Still…RHUM IT IS!
This is the very first time the Saint Aubin brand has made it to our sunny shores, and we're proud to be able to offer the very first taste in Australia to the Rum Tribe. Saint Aubin specialises in 'Rhum Agricole' – or rum made from fermented sugar cane juice rather than molasses. This style of rum has been produced on the Saint Aubin estate for eight generations – since 1819.
In an almost unprecedented development, we've actually had an international shipment arrive in time for the actual month we planned it for and what a shipment it is! Direct from the island paradise of Mauritius, we have a simply fantastic 'double header' for February. Our Rum of the Month is the Saint Aubin VSOP and our 'Members Extra' is the Saint Aubin 10 year old Pot Still.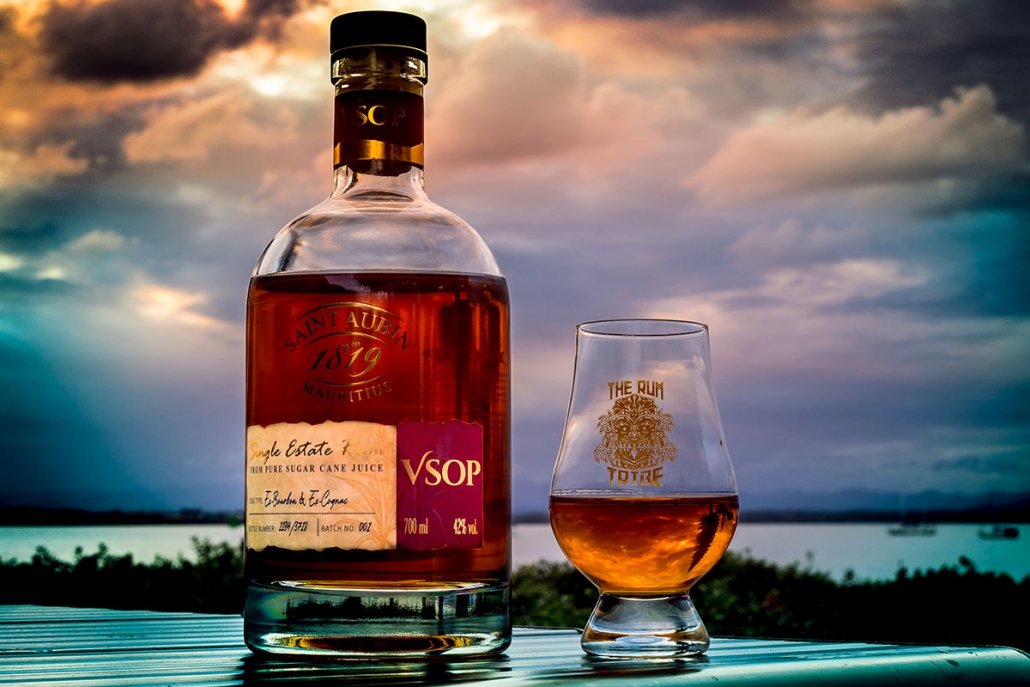 This month offers us a fantastic opportunity to explore two rums from the same distillery, but produced from differing style stills. The Saint Aubin VSOP is a column distilled spirit, the 10 year old a pot distilled rum. Both stills are 100% copper and the fermentation recipe for the wash is the same. I guess our hope is to demonstrate the viscous oiliness of the pot-still as compared to the crisp-cleanliness of the column distilled VSOP expression.
Saint Aubin estate, located in the south of Mauritius in the Savanne district, has been 'under cane' (cultivating sugar) since 1819. The distillery has been in production on the estate since 2003 and it's no wonder they specialise in Agricole style rum. For a start Agricole can only be made very close to where the sugar is crushed, due to the quick-to-spoil nature of the main ingredient – sugar cane juice. Being a centuries old sugar producer, they obviously have easy access to cane. Also Mauritius is the next Island (archipelago, technically – it's made up of 30 islands) to Reunion – one of the spiritual homes of Rhum Agricole!
VSOP stands for "Very Special Old Pale" rum. This category refers to rum that has been aged in barrels for at least 4 years. The Saint Aubin VSOP is a column distilled rum made from the fermentation of sugar cane juice rather than molasses. Unlike most modern column stills, the Saint Aubin column still is made from copper rather than stainless steel. It is then aged for 4 years in bourbon and cognac barrels. The result is a light spirit (typical of column distillation) with a complex flavour profile stemming from the barrels it has been tropically aged in.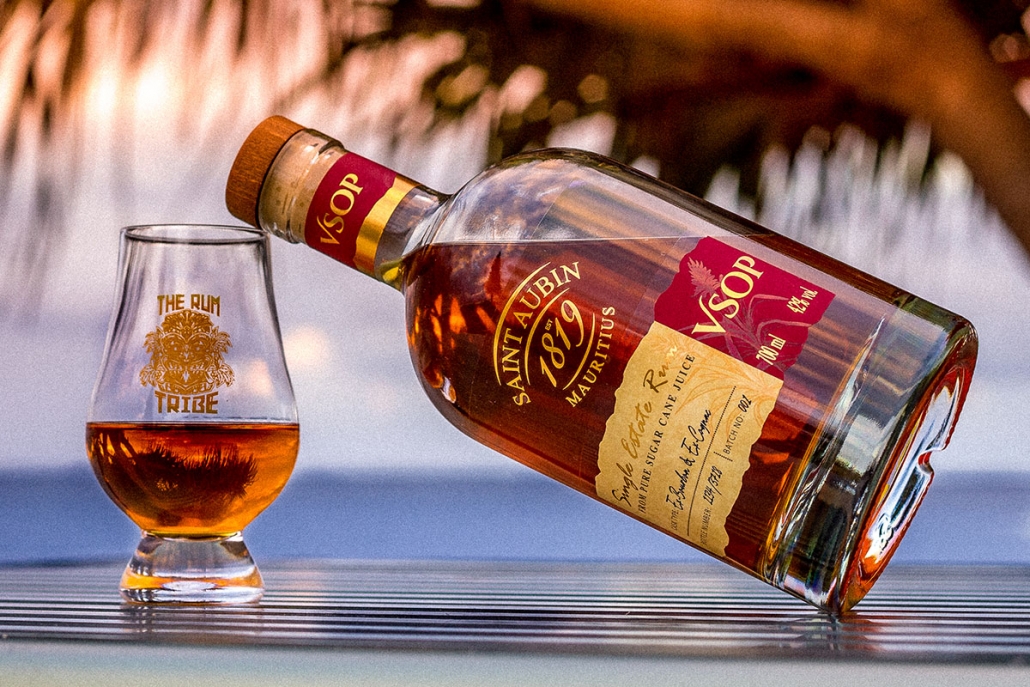 Our Tasting Notes:
Nose: Light floral notes surround a core of vanilla, cherry and mashed banana with just the slightest hint of tropical funk.
Palate: Delicate, light mouthfeel, slightly dry with a peppery edge. Those fruits are still there along with fresh cut grass and a healthy dose of vanilla.
Finish: The fruity notes persist along with the pepper, but a pleasant leathery note emerges towards the end.
This is a light and clean tasting rum. Not overly sweet at all. Whilst there is plenty of flavour, there is a lack of oiliness, almost a dry palate, thanks to that column distillation.  Crisp, fresh and lively. If there is such a thing as a 'cleansing rum' – this is it!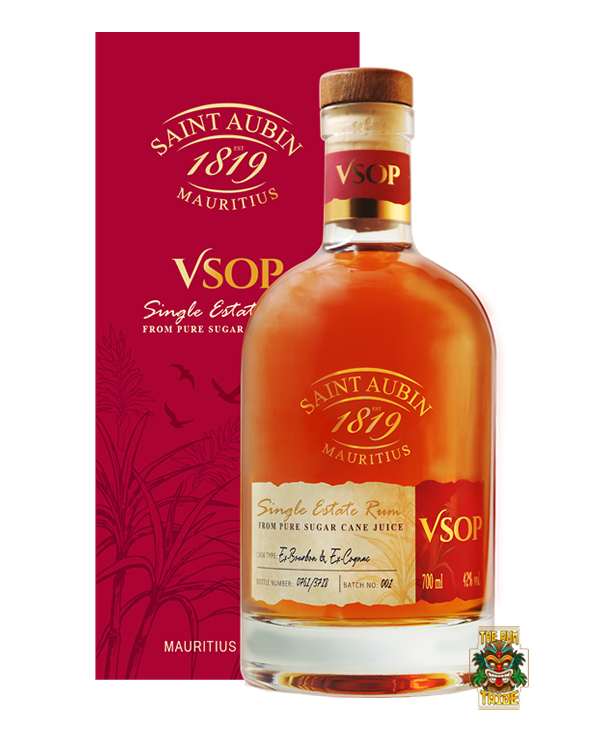 FROM SAINT AUBIN
In Mauritius, the Saint Aubin distillery has been smoking since … 1819! This venerable institution now belongs to a large agro-industrial group that has diversified into, among other things, ecological tourism and tea cultivation.
In this vast area of ​​750 hectares, cane is cultivated with which we will produce tasty rums signed Saint Aubin. Just like, for example, this very old VSOP rum.
The result of column distillation of pure cane juice, it has aged for 4 years in Bourbon and Cognac barrels, which gives it it's aromatic profile. It exudes delicious scents of candied fruit that are sure to arouse your curiosity, or rather your lust! No need to buy a ticket for a flight to Mauritius, we take care of bringing this very old Mauritian rum to you!
ABOUT RHUMERIE DE SAINT AUBIN
Located along the undulating slopes of southern Mauritius, the fields of Saint Aubin have been under sugar cane cultivation since 1819. Bountiful rainfall (a product of the island's microclimate), along with copious tropical sunshine provide the Saint Aubin Estate sugar plantations with the perfect conditions for sugar production. The rich volcanic soil, which the estate lies on, is the 3rd point of the trinity of sugar production. The on-site production of such high-grade cane and subsequent cane juice ensures the very best and freshest ingredients go into making this Rhum Agricole. Knowledge and traditions passed down through 8 generations of family ownership add the rest.
The Saint Aubin estate was established in 1819 (which the company logo pays homage to). It wasn't long before rum distilling was being carried out on the estate as well. The family has now been distilling for the local market for eight generations. This culminated in 2003 with the building of the 'Rhummarie De Saint Aubin' and the emergence of the Saint Aubin brand into the global market since then.
The Saint Aubin distillery utilises both column, and pot still distillation. Unusually though, all the stills at Saint Aubin are fully copper. Unusual in that most column stills are stainless steel – especially in the modern rum industry.
The distillery is just one aspect of the Saint Aubin Estate. It is nowadays a multi-faceted business that has expanded and diversified from its sugar-based roots. Now incorporating eco-tourism, tea production, other local products as well as the rum, Saint Aubin Estate is a big player in the Mauritian economy.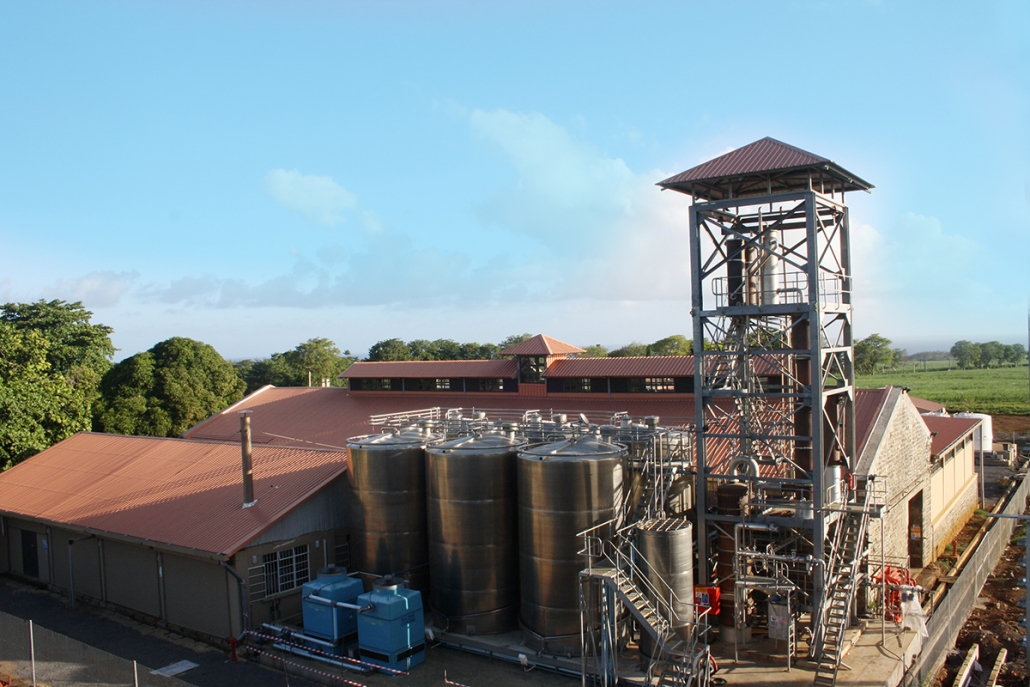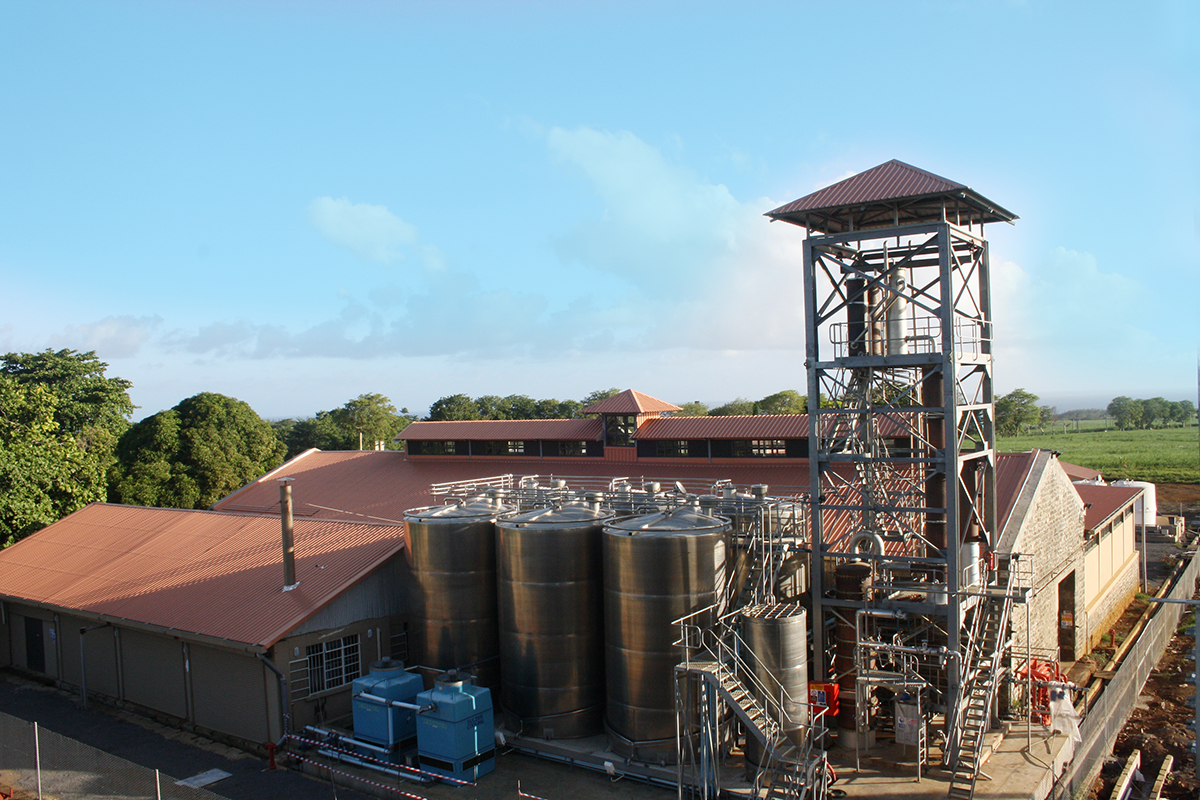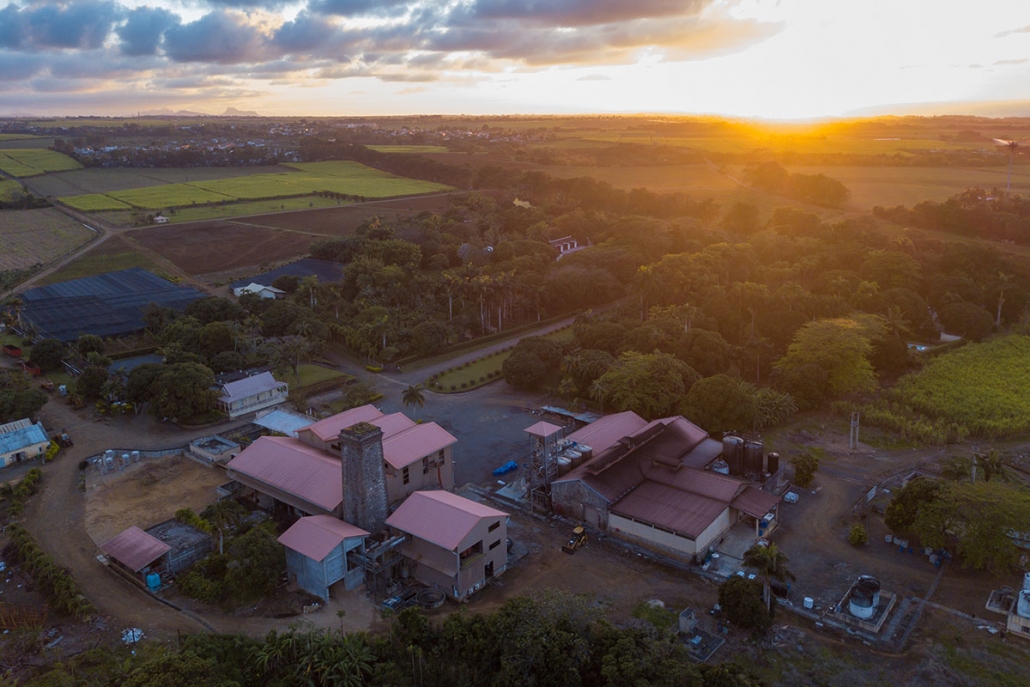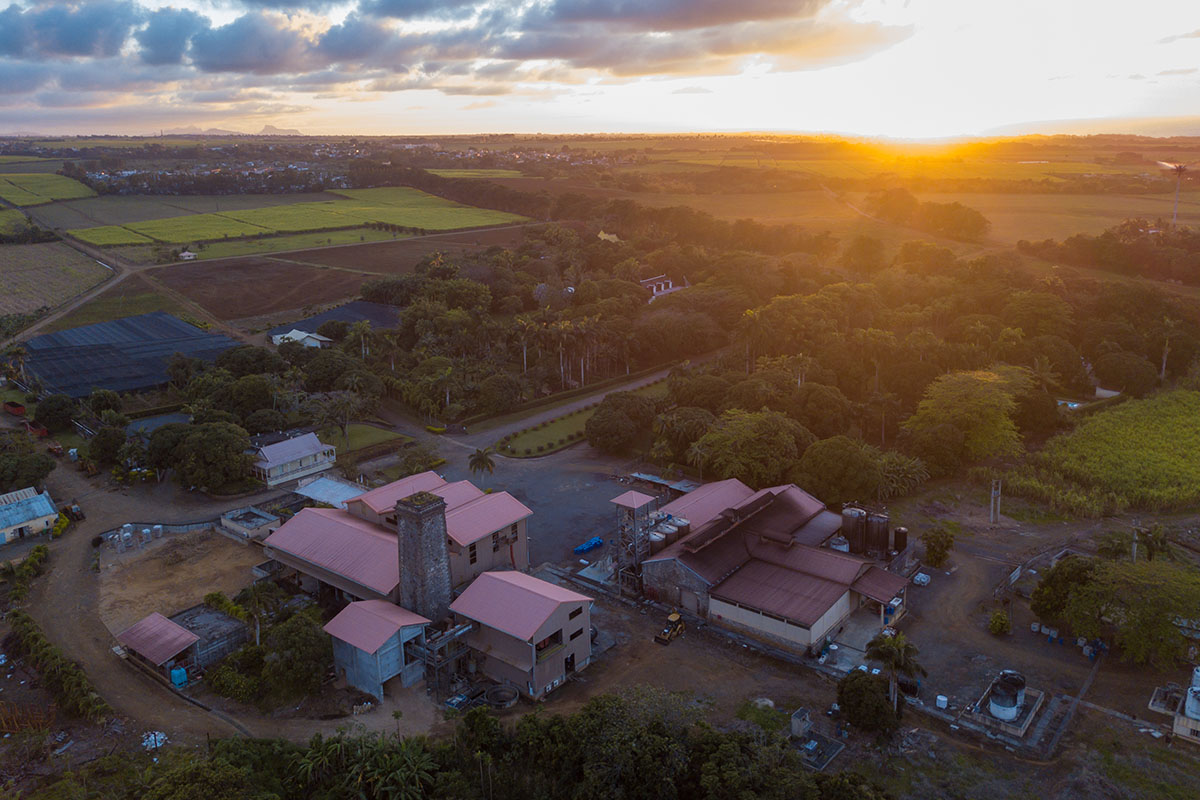 https://rumtribe.com.au/wp-content/uploads/2022/01/Saint-Aubin-VSOP-Header-1.png
405
1030
admin
https://rumtribe.com.au/wp-content/uploads/2022/01/Main-Logo_Border.jpg
admin
2022-01-23 22:27:18
2022-02-24 14:44:32
Saint Aubin VSOP – February 2022