After the complete sell out and rave reviews that was the first release of the Dead Reckoning Rum, we are so excited to deliver the worldwide launch of Dead Reckoning's second release to The Tribe: Dead Reckoning Mutiny – South Pacific, and what a rum it is!
Aged for nearly 12 years (11 in ex-Bourbon barrels the South Pacific and 6 months in Cream Apera barrels in Australia) and a single cask limited release of only 400 bottles that will sell out! If you are a rum lover you will want this rum!
The second rum release for the 'Dead Reckoning' Rum label from The Rum Tribe rum geek and all-round expert on distilled sugar, Justin Boseley and yet another exclusive release to The Rum Tribe.
Now what we 100% know is that Dead Reckoning Mutiny – South Pacific was aged initially in 'the Tropics' for 11 years in an ex-Bourbon Barrel. The South Pacific is known for its tropical warm climate and high humidity which ages spirits in what is called tropical maturation. The tropical ageing is a harsh mistress, however. During that time, a whopping 62% was lost to the Angels.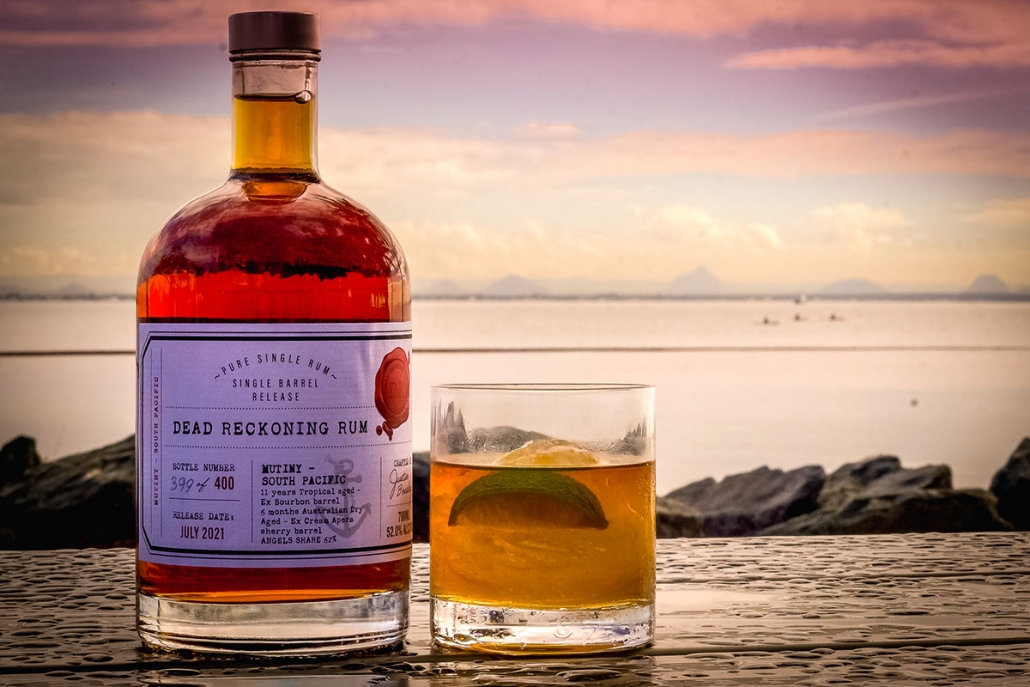 It was then brought to Adelaide and transferred to a Cream Apera (Australian 'sherry' style fortified wine) barrel where it was finished for 6 months and here is where something very peculiar happened. After 6 months of finishing in Adelaide, the ABV actually increased by 4%, which means more water escaped the cask than alcohol did.
So in some parts of Adelaide, it seems, is one of the very few locations in Australia where the ABV in the barrel increases over time as opposed to the tropics where the ABV decreases. This is said to be caused by humidity levels – high humidly = loss or evaporation of the alcohol molecule, low humidity = the water molecule evaporation leaving more of the alcohol molecules. Or so the current and much debated (around many bottles of rum) theory goes.
The Dead Reckoning Online Tasting
In mid July we will be hosting an Dead Reckoning online tasting and cocktail session via Zoom. We will have The Rum Tribe Team, Justin Boseley and other special rum lovers chatting about the Dead Reckoning Mutiny – South Pacific. Keep an eye on our Facebook Page for dates and further information.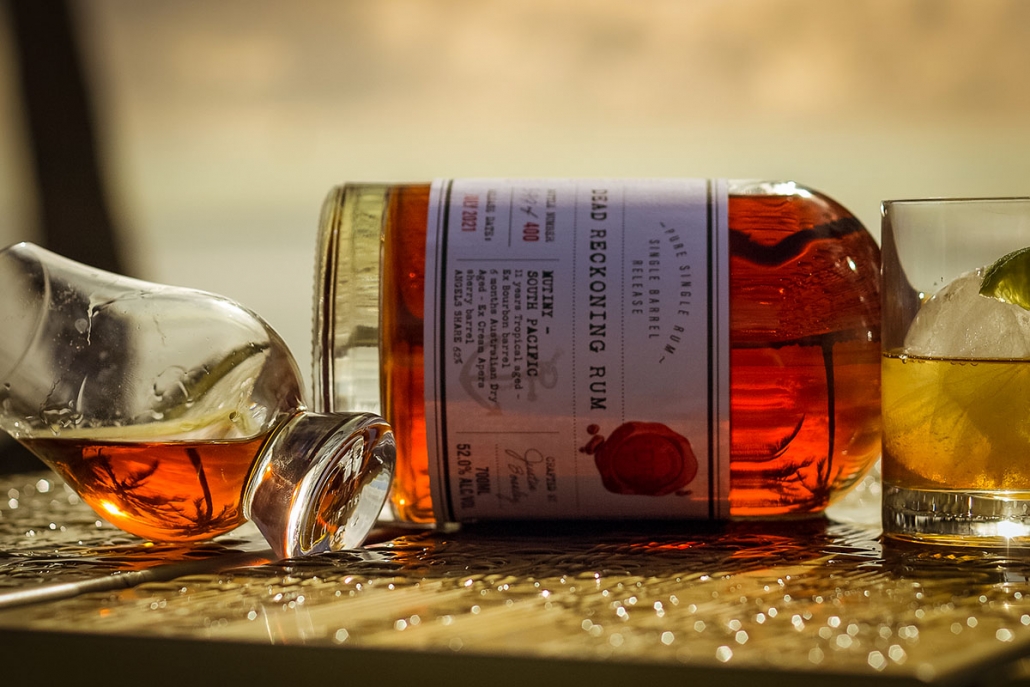 Our Tasting Notes:
Nose: WOW – first thing that hits is that unmistakable funk! Man that is pure banana, papaya and pineapple left to go off (just a bit) in the sun! Deliciously over-ripe fruit and some star anise there as well.
Palate: It's a deliciously thick and rich – almost syrupy – mouthfeel. An instant hit of raisins then some spice warms the mouth. Waves of tropical fruit alternate with rich spices – very reminiscent of Arnott's Spicy Fruit Roll biscuits.
Finish: With rolling spiced fruit, mild warmth and lolly-sweet fruit notes that you can chew on for minutes afterwards!
Man this is just sooo good. So many rolling flavours and notes creating a delightfully complex rum that really satisfies from the first sniff to the very end of that huge finish!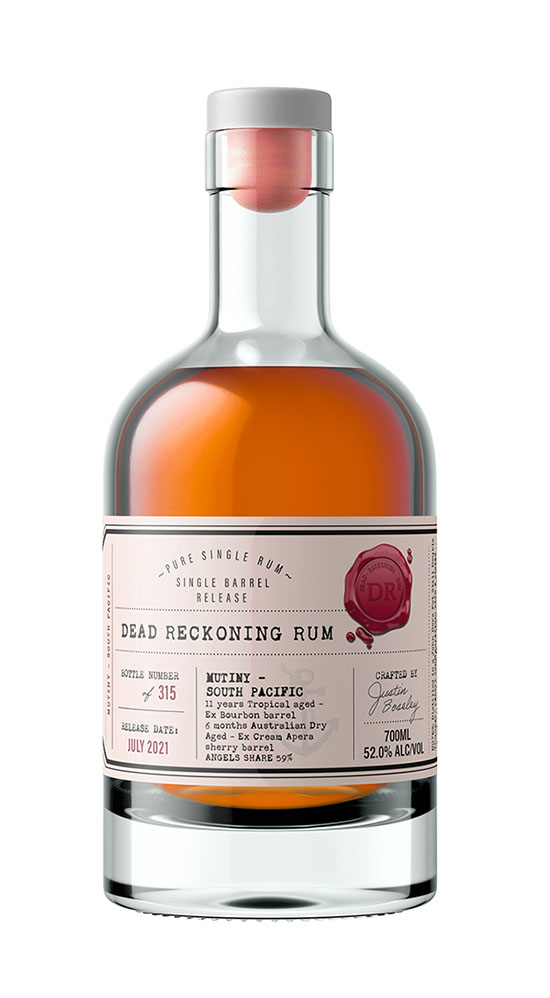 FROM DEAD RECKONING
As soon as this bottle is opened, it's as if you're taken to a familiar and rewarding back street called funky town. Without the knowledge of its origins your aware you're in the trewlawny region of Jamaica engulfed by the smells of Hampden and Worthy Park.
A hint of industrial fumes, freshly laid bitumen and engine oil can be smelt – and believe me all is in a good industrial funk kind of way. When poured into a glass it opens up to reveal fresh pastries and croissant, nannas fresh cooked apple and cinnamon pie sitting on a window seal waiting to cool.
After a few minutes in the glass more subtle notes of stewed pear and apple can be found with traces of ginger and raisins
On the palate were back to a familiar Jamaican style of funk although its sucker punch smell has been subdued and it's a tamer smoother and gentle experience. The sherry barrel ageing influence can now be found with raisins and sultanas and hot roaster macadamia nuts.
Nannas apple pie is on the back of the palate with a long finish of fresh cooked still warm banana cake and ginger Bread. The finish is long with oak and a hint of last night's smoky campfire coals.
A Mutiny Cocktail? Let's Make the Treacle @ Hains & Co
60ml Dead Reckoning Mutiny
7.5ml Demerara sugar syrup
22.5ml apple juice
2 dashes Angostura bitters
1dash orange bitters
1 bar spoon fresh pressed ginger
ABOUT DEAD RECKONING
JUSTIN BOSELEY
Justin, has immersed himself in rum for the past 20 years; a journey starting as a deck scrubbing lad with a thirst for Rum and adventure culminated in him becoming a Chief Officer; driving billionaire's mega yachts around the world. This life of salty seadog adventure took him to Rum's heartland, the Caribbean islands for 6 months a year, every year.
When he wasn't at the helm of a yacht he could be found hanging off a bar or at a distillery sampling the best the Caribbean rum scene had to offer. Upon ending his days at sea there was only one thing he knew better that navigating around the world's oceans- that was Rum. For 10 years Justin has scoured the globe discovering & importing the world's best rums into Australia.
Dead Reckoning is Australia's first independent rum bottler, and this is the second expression from Justin's brand. We know there's more in the works from Dead Reckoning and we can't wait to try more and more of these fabulous independent bottling from a true rum legend.
MUTINY
The mutiny on the Royal Navy vessel HMS Bounty occurred in the South Pacific Ocean on 28 April 1789. Disaffected crewmen, led by acting-Lieutenant Fletcher Christian, seized control of the ship from their captain, Lieutenant William Bligh, and set him and 18 loyalists adrift in the ship's open launch. The mutineers variously settled on Tahiti or on Pitcairn Island. Bligh navigated more than 3,500 nautical miles (6,500 km; 4,000 mi) in the launch to reach safety and began the process of bringing the mutineers to justice.
Bounty had left England in 1787 on a mission to collect and transport breadfruit plants from Tahiti to the West Indies. A five-month layover in Tahiti, during which many of the men lived ashore and formed relationships with native Polynesians, led many men to be less amenable to military discipline. Relations between Bligh and his crew deteriorated after he began handing out increasingly harsh punishments, criticism and abuse, Christian being a particular target. After three weeks back at sea, Christian and others forced Bligh from the ship. Twenty-five men remained on board afterwards, including loyalists held against their will and others for whom there was no room in the launch.
The area known as the Bligh Water is the body of water (approximately 9500 km² in extent) surrounding the western Fiji islands.
https://rumtribe.com.au/wp-content/uploads/2021/06/Header2.jpg
405
1030
admin
https://rumtribe.com.au/wp-content/uploads/2022/01/Main-Logo_Border.jpg
admin
2021-06-24 09:54:57
2021-12-02 13:14:40
Dead Reckoning Mutiny – South Pacific – July 2021