Description
Get your rum glass ready for the only rum EVER to come out of NSW powerhouse distillery Corowa! EXCLUSIVELY bottled for the Tribe, matured in first fill Pedro Ximinez casks…if there is such a thing as a sherry bomb rum…this is it! With only 390 bottles in total, this is a STRICLY LIMITED, collectors must-have of Australian rum – The Barrel House 28 – Single Origin Rum.
We are proud to offer the 'Tribe the chance to own collectable Aussie rum history. Distilled by legendary Corowa Distillery this remains the only rum ever distilled by the Corowa team!  How legendary are Corowa? They have just been selected as one of only TWO distilleries in the world, to be invited to present at the Queen's Platinum Jubilee later this year.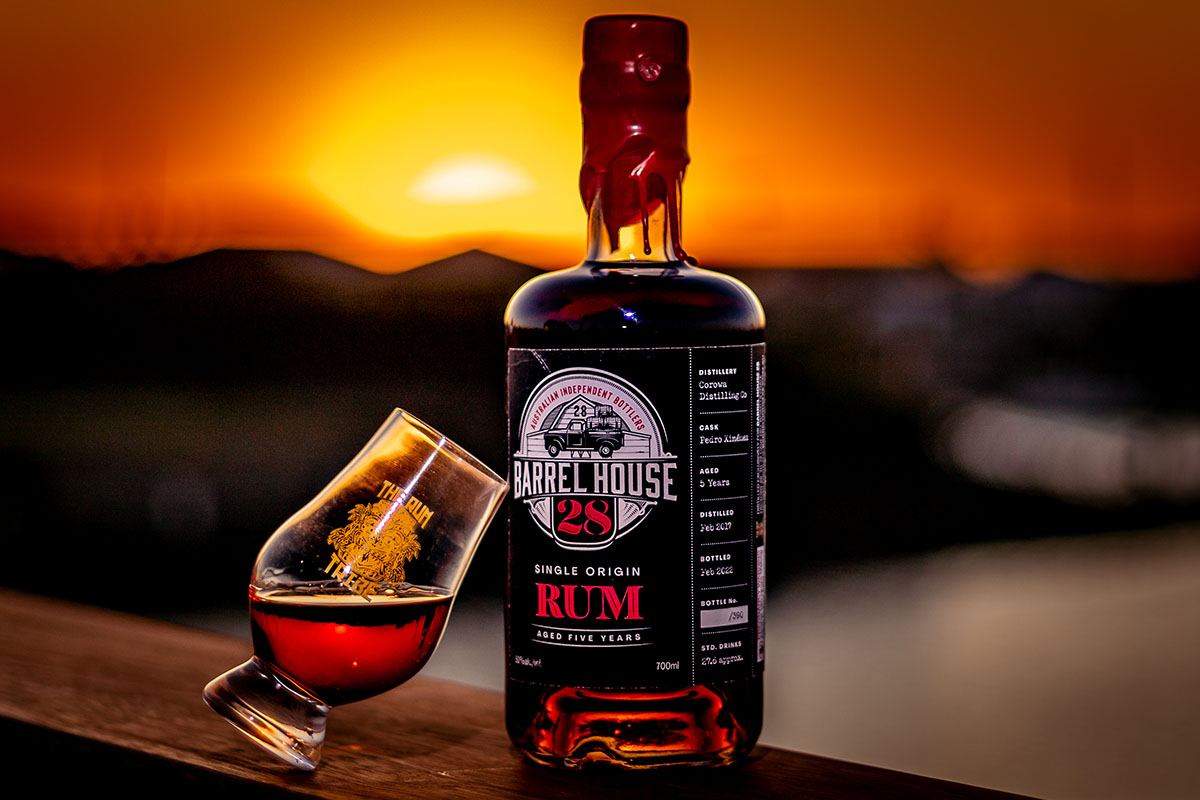 This is a 'Barrel House 28' bottling –  new indy bottling company with a fantastic pedigree. Barrel House 28 is owned by Robbie Tucknott. Now Robbie not only is 'Barrel House 28' – he's also the proprietor of one of Australia's biggest barrel importer, brokerage and cooperage to boot! So it's fair to say he's able to pick and choose the very best casks coming into the country! Having the onsite cooperage also has its obvious advantages when it comes to marrying new make with wood.
As for the spirit itself, does it come anymore Australian than this? Distilled at the Corowa distillery – the building itself a heritage listed 100 year old flour mill. The town of Corowa is regarded as the 'birthplace' of Australian Federation (google Corowa Conference if you're unaware!). It sits on the banks of the legendary Murray River in fact, cobber. A couple of Aussie-rules loving country boys rolled their sleeves up and saved the old flour mill (they paid the town the princely sum of $1 and a promise to put the building to good use) and converted it into a distillery.  Aussie AS!
Seriously, this is an absolutely fantastic dark rum – aged in two 128 litre Pedro Ximinez ( a very rich, dark sherry) casks for just over 5 years and bottled exclusively for the Rum Tribe. No colour, no sugar, no spices. Just pure, single origin, Australian rum from a new Aussie Indy bottler – Barrel House 28.
Now you may think Corowa Distillery is a whisky distillery – and you'd be right!  Corowa Distilling have made a big name for themselves in the Australian single malt whisky industry – and abroad.  In fact, they have just been selected as one of only TWO distilleries in the world, to be invited to present at the Queen's Platinum Jubilee later this year.
This is the only rum Corowa has ever made. Look – for that fact alone it's worth grabbing a bottle to collect. And the distillery is about to have a 'world stage spotlight' shone on it at the Queen's do later this year. But if you're planning to collect a bottle – do yourself a favour and get two – 'cause you absolutely gotta try this rum! Seriously.
Our Tasting Notes
Colour: Dark, dark , DARK brown. Did I mention it was dark? Colour up the absolute wazoo!
Nose: Funky over-ripe banana, but a massive dollop of stewed fruit as well, with a biscuit spice on top.
Palate: mmmm – Oily, oily mouthfeel. Man – this is like syrup! Mouth coating to the extreme. Huge sultana and fruit mince notes plus a nice pepper hit. There's also that 'new leather' quality I get so often from Aussie rums. Look, I know 'luxurious' isn't a flavour – nonetheless, luxurious is definitely an apt descriptor for how this rolls around the palate.
Finish: Long and chewy with all those sherry notes flowing through. Sultanas, stewed fruit, toffee notes, chocolate, citrus and even a surprise paw-paw sweetness there – all with a lovely pepper to see it out to the very end!
This is seriously fantastic rum. From the absolutely mouth-watering colour, the massive thick and viscous mouthfeel – to the rich and luxurious PX notes (sultanas, stewed fruits and spices) which abound here. But under all that, the funky 'traditional' rum notes (bananas, tropical fruit) manage to dazzle through the spaces. Way too good to sit in a dusty collection. This rum deserves to be enjoyed with a mate (whilst your second bottle gathers dust in your collection).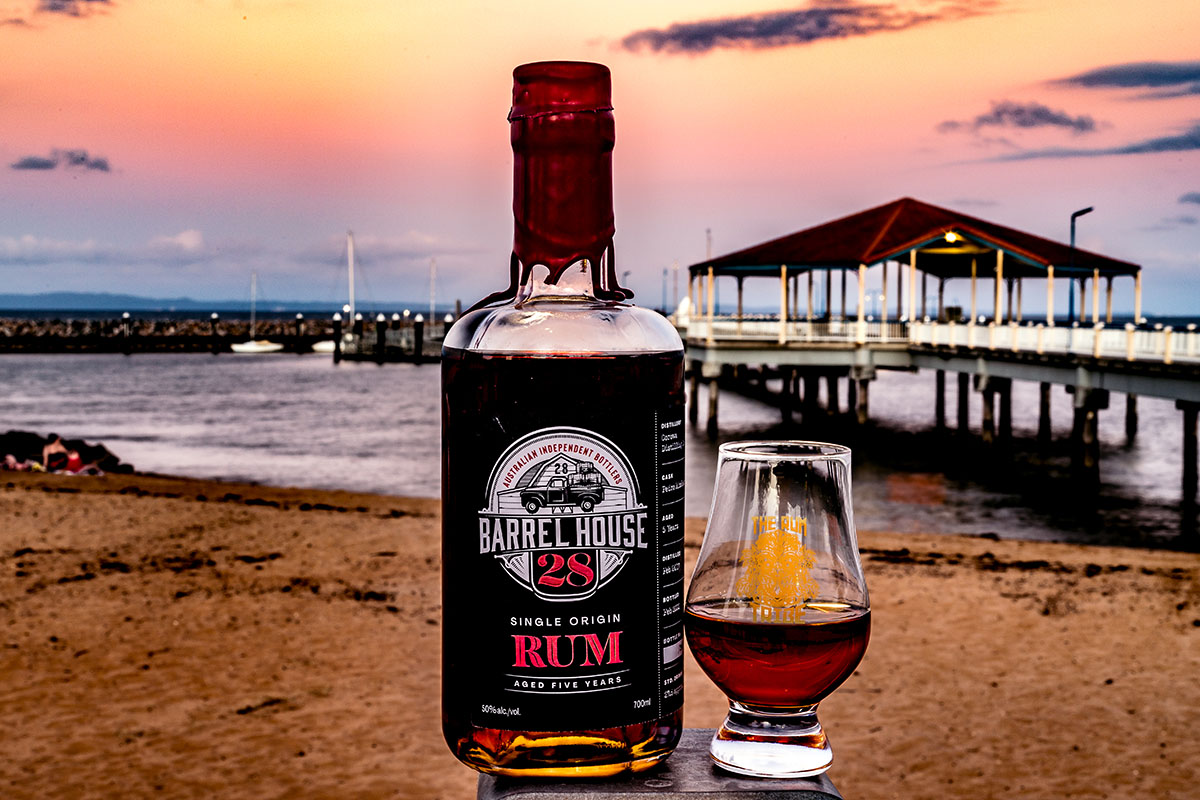 From Barrel House 28
The team at Corowa who love to innovate and push the boundaries of what they can do, made the decision to turn their hand to making rum. Off the back of a friends recipe and an inquisitive nature to see what can be achieved, the team set about making their first ever batch of rum with great success. In the true Corowa style the team wanted it to be bold and flavourful, so the rum was aged in Pedro Ximinez barrels known for its robust flavours.
With the success of the whiskies being produced unfortunately rum had to take a back seat in production, ensuring that this rum is truly one of a kind.
In stepped Barrel House 28. Dean (Corowa Distilling) and I have been good friends for a very long time and I bloody loved the flavour of this rum aged full maturation in PX. So with a hand shake, I bought both barrels over a fried chicken lunch at the Corowa distillery. The rest they say, is history.
When you walk into Barrel House 28 you will be greeted by the world's finest barrels – floor to ceiling, our own copper pot stills and great spirits. In the footsteps of the Yarra Valley a region known for being incredibly discerning and only producing the highest quality produce. We carefully select the finest quality spirits locally and from around the world, then carefully age them with our own casks to make a unique, quality product that you can trust and will adore.
About Corowa
By the banks of the Murray River, Corowa's Flour Mill built our town from the ground up. Exporting grains across the country and around the world, she was a powerhouse. Until her doors shut in 1970 and the building was left to decay. It was the end of an era and our whole town felt it.
When two men with a love of footy and a passion for whisky meet, something beautiful happens: an idea to turn the town's abandoned flour mill into a world-class whisky distillery. Ambitious? Yes. A little nuts? Maybe.
In every drop of Corowa's finest, you'll get a taste of true Australia. And that's the way it should be. From the grains we source from local farmers, to the water we pinch from the Murray River, and our copper stills handmade right here, we've always supported local.
We've travelled across the world to master our craft and train under top distillery experts. From the Scottish highlands to the Tasmanian mountains, we've brought back their secrets and made it our own. Looking at this ancient craft through fresh eyes, we've captured its essence and created new processes for a refreshingly new take on whisky.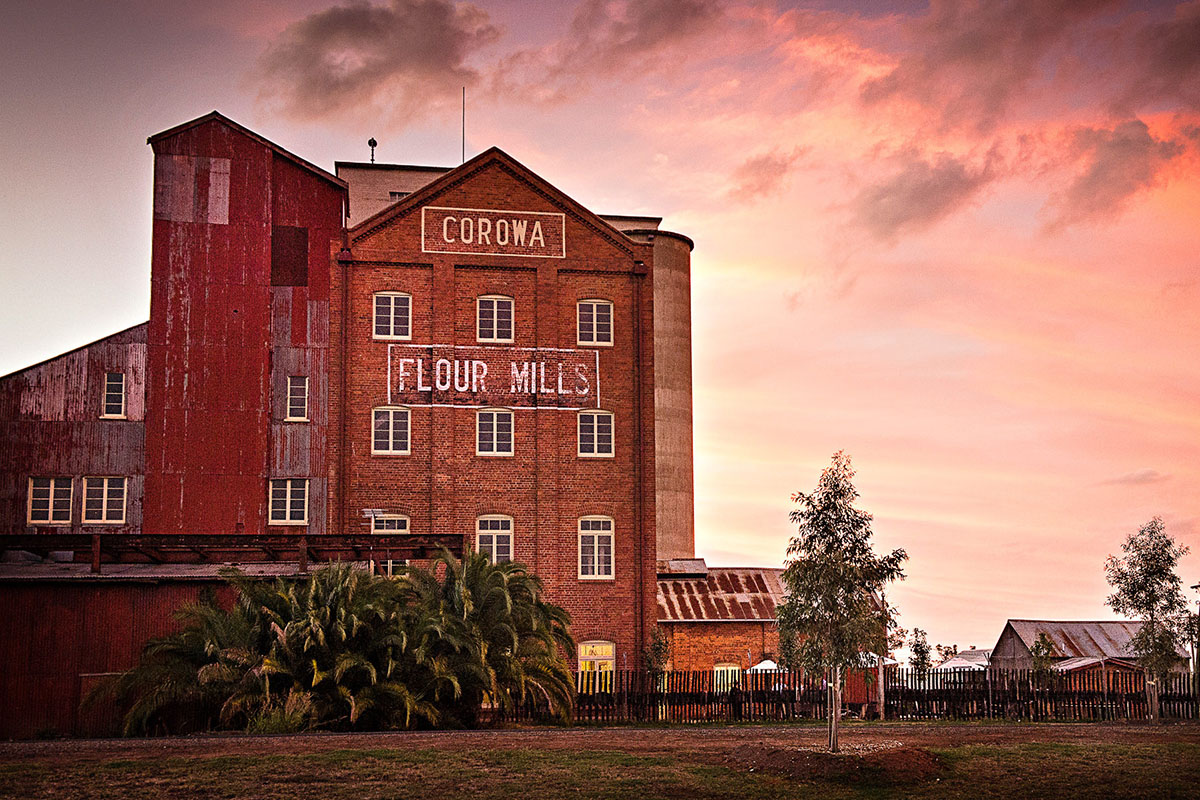 \n\n\n