Description
An EASTER RUMMY TREAT? Yes Please! This rum from the Grove Distillery in WA is just that – hot cross buns in a bottle…well let's call it Hot Cross Rum! If you're rather partial to a toasted hot cross bun slathered with butter – well this is your huckleberry and the only place you can get it outside of 'The Grove's' cellar door, is right here!
This is the second batch of this wonderful adults-only Easter sweetie, made to the same recipe as last years first edition. We were lucky enough to grab some from Batch #1 last year and it flew out the door. This is a STRICTLY LIMITED-EDITION Easter wonder with only 200 bottles produced, so get in quick.
At last an Easter treat for the grown-ups! A rum that oozes sultanas, cloves and doughy flavours by the bucket – but all wrapped up in a rum that's got it goin' on! There's a touch of funk too – the spices don't mask anything – rather they add to the experience.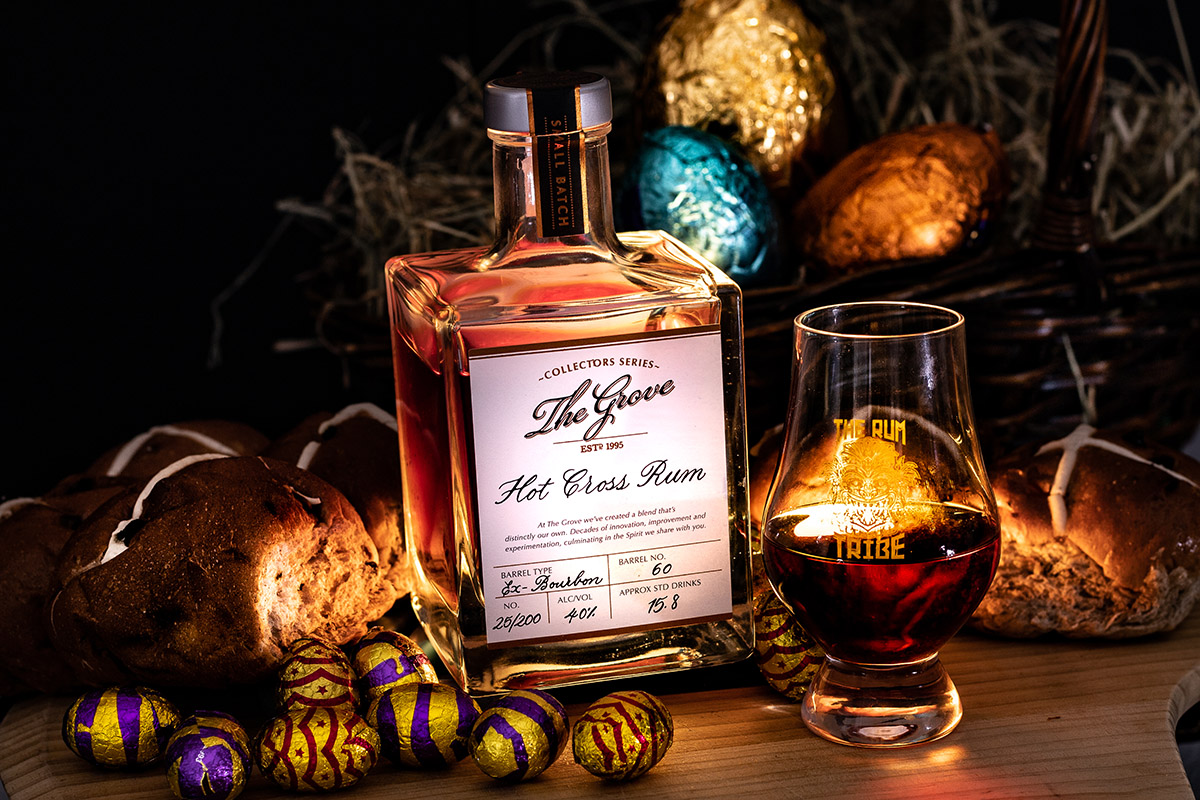 Yep, it's a spiced rum! But it's much more than 'just' a spiced rum. For a start, the base rum is 4-year-old, single cask, first fill bourbon cask aged rum. The bourbon barrel used to age it has previously aged the Grove's own Bourbon. This 4 year old rum is then set to steep in the spices, botanicals and fruit for two months to extract all those delightful, well, hot cross bun-ny notes we love.
Look, let's be honest. If you don't like Hot Cross Buns – you're not going to like this one. If you DO like a nice tasty, toasty Easter bun with a steady stream of melting butter dripping down your fingers, then you really should get into one of these limited edition Easter wonders!
Check out their Rum Affogato Cocktail Recipe and what we can only imagine is one of the yummiest cocktails ever – The Hot Cross Rum Apple Crumble Cocktail!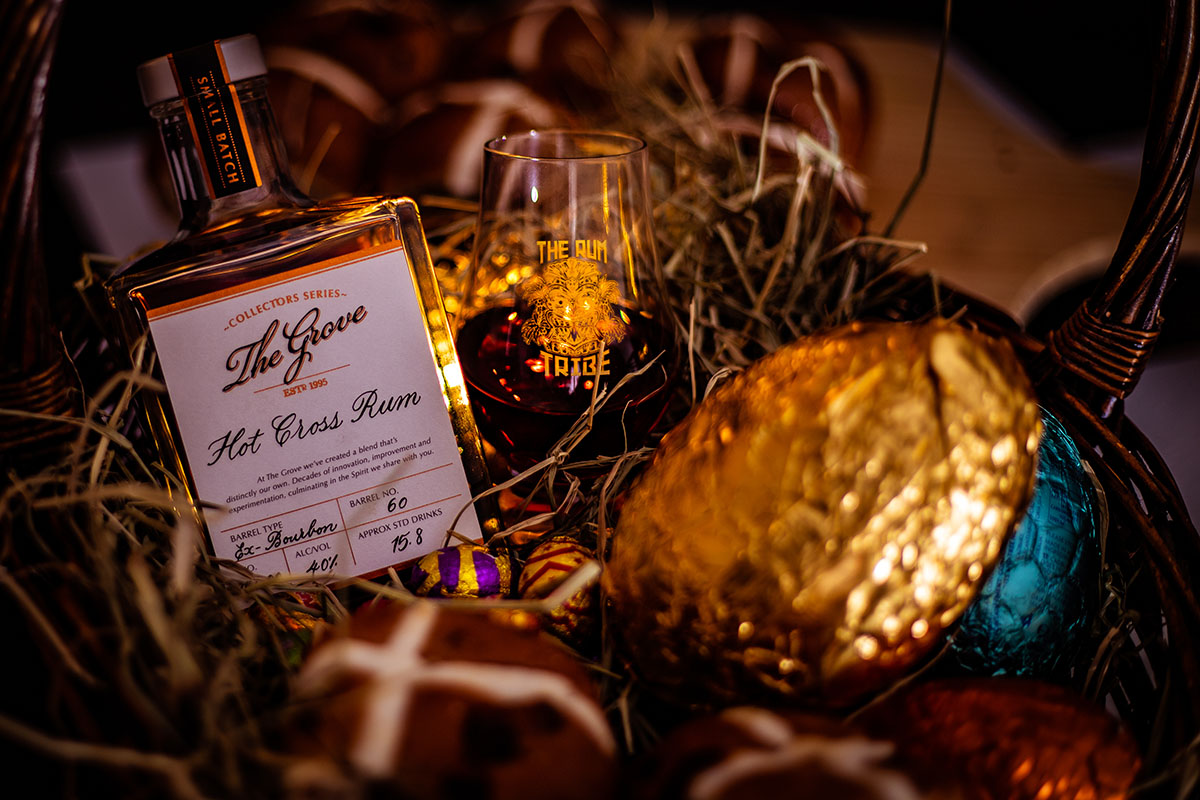 Our Tasting Notes
Nose: Well, as a matter of fact it smells like hot cross buns. Sultanas, mixed spice and cinnamon. BUT –there is more. There's a real Caribbean-style funk there too, right at the front of it all.
Palate: Believe it or not – there are lots of Hot Cross Bun Notes here.  The sultanas really burst through, but the mixed spice, cinnamon and citrus peel aren't lost.  Tastes amazingly like a (gasp) Hot Cross bun! There's even a buttery quality to the palate as well that completes the hot cross experience! Sweet, but not cloyingly so. Those mixed spice notes definitely keep the sweetness in check, but they can't hide the funky tropical fruit notes of the rum itself.
Finish: Once again, the liquid hot cross bun just keeps on giving. All those Easter bun-ey flavours keep on going around and around and around. Like kids on Easter morning.
Whilst this is an amazing re-creation of the flavours and smells of hot cross buns in a rum form – it's certainly not a 'one trick bunny'.  Yes, the hot cross bun is strong in this one… BUT, there is definitely a Caribbean-esque rum at the heart of it.  Very approachable – at 40%abv, it's certainly not challenging to drink neat, with many familiar notes and qualities. But – also complex enough to allow me waffle on for at least three or four paragraphs.
Go on, your kids will be hand-over-fisting Easter-eggs all morning – you deserve something to at least help you zone out their sugar-rush! And this is definitely in-theme with the day! So load up a freshly toasted hot cross bun with an absolute slathering of real butter, pour yourself a Hot Cross Rum, and sit back and enjoy crazy sugar-day! If you can't beat em, join em, after all!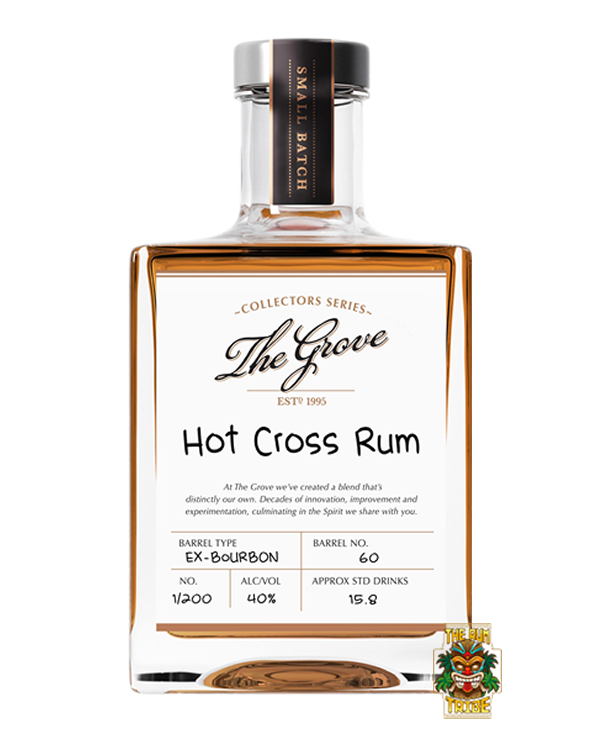 From Grove Distillery
The Grove has created a spicy-sweet Rum, a perfect Easter offering at this year's family lunch. And when it comes to infusing flavour in spirits, Head Distiller at The Grove, James Reed, has learnt from the best.
Born in Alaska, he's travelled throughout the U.S., to Europe and the Caribbean, working and learning with local experts. Many spirits at The Grove are inspired by James' global travels; it's how the Caribbean Spiced Rum's unique best-selling blend came to be. Dark spirits are James's speciality – Americans who love their Kentucky Bourbon are blown away by the bourbons and rums James produces.
"Crafting a spirit that would pair with Easter celebrations and at any time of the year was great fun. This expression has a flavour profile with more warmth than it's Caribbean counterpart, whilst still sweet, spicy and exciting. A perfect accompaniment to the post-lunch cheese board, or with dessert."
It's deep-amber colouring honours the ex-Bourbon barrel the Rum has been aged in. You'll taste caramelised raisins and vanilla, along with notes of clove, all based on rich dark molasses.
There's warmth and spice in every sip, the rum is homely and satiating, leaving the mouth with a fruit-cinnamon taste.
The flavour is achieved through steeping the fruits and spices in our dark rum. Once the rum has left the barrel, it's infused with all the flavours of a traditional hot cross bun;- cinnamon, vanilla, and cloves.
It's why The Grove stands out in Wilyabrup, the first distillery in this world-class wine region, a rare gem in a national market obsessed with craft gin. Dark spirits take time, and with over a decade on their side, that's something The Grove have in spades.
The Grove have loved the craft for years, trying new things everyday, they are excited to share the; 'Spirit of the Grove'.
About Grove Distillery
Established as a boutique winery in 1995 and evolving in to liqueur and spirit production in the mid-2000's, The Grove Distillery was the first craft-distillery in Wilyabrup, Margaret River. From the beginning, Founder Steve Hughes and Head Distiller James Reed had a focus on dark spirits, and after nearly a decade of distilling and barrel-ageing rums, whisky's and bourbons, this distillery is creating some one-of-a-kind pieces of Australian craft-spirit history.
Head Distiller James lived in the Caribbean in his sprightly youth and it's here that he saw the locals in Saint John on the Virgin Islands making their rum in ex Jack Daniels barrels sourced from the US. He knew that to make a delicious dark rum he would need to do the same.
Luckily, James also makes some of the best Kentucky-style corn mash whiskey (bourbon) you can get. It's the barrels that have aged our bourbon that we then use to age our Rum – giving it it's distinct flavour.
We hand-bottle everything before it's sent out, winning awards both locally and nationally for what we do here. This is the spirit of the Grove, its bravery, it's not being satisfied with normal, it's making bloody good spirits while having a good time.