Description
Privateer is BACK! Last year we were fortunate enough to feature a few rums from the legendary American rum maker – Privateer and they sold out almost immediately!
To put it frankly – we haven't heard the end of it! So many requests for MORE Privateer have been coming in since then, we've lost count. So we called in some rum favours and we have managed to get a few bottles of The Privateer New England Reserve Rum!
The New England Reserve Rum is a blend of 2 to 6 year old rum (a mix of pot and column still) aged in a variety of both new and used American oak barrels. After the barrels for a batch are selected, they are blended in a tank and cut down to about 50% ABV with barrel-aged water. The blend is then re-casked in heavily used barrels. After a resting period, it's bottled unfiltered at 46% ABV with no added sweeteners, colours, or flavours. Oh – and as an always-welcome bonus, the bottle is 750ml!
As our members know, Privateer is one of the most sought after rums on the planet!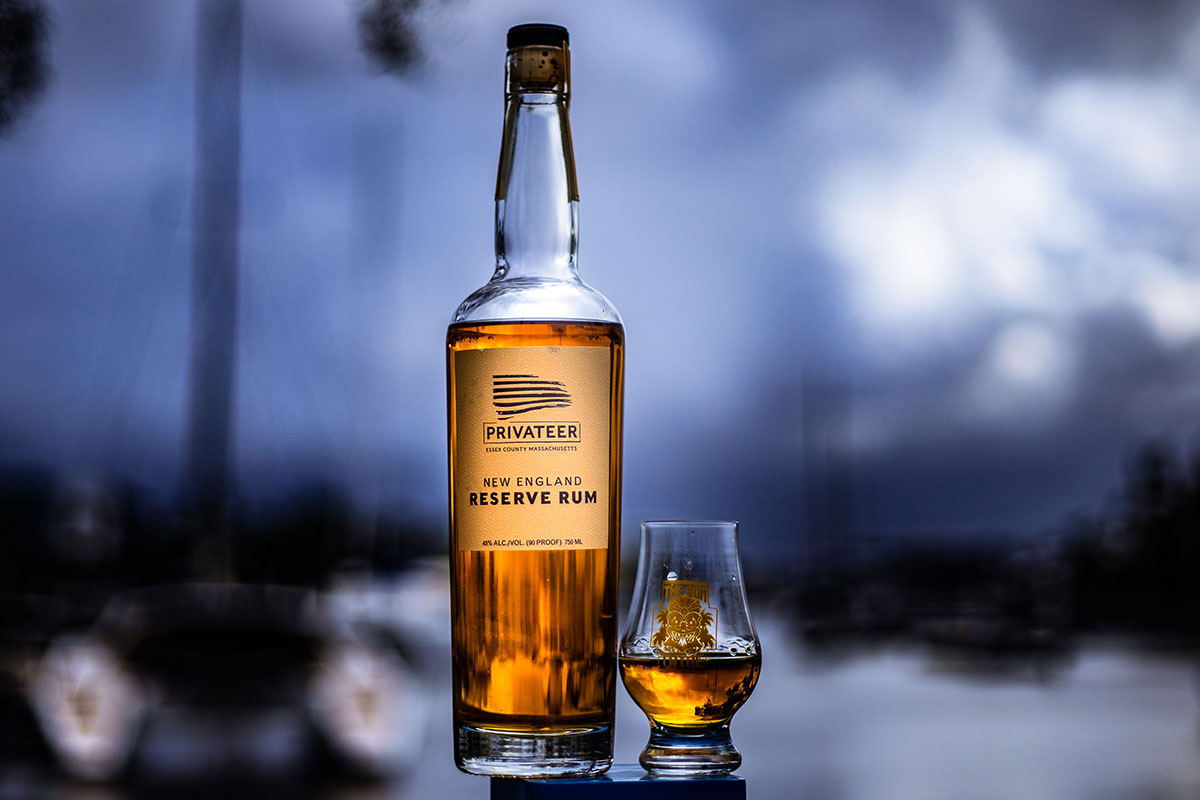 Privateer share the Rum Tribe's philosophy when it comes to what a rum should be – as they put it – "Best Ingredients. Best Practices. Never Sweetened. Never Filtered" Like us, Privateer fervently believe that well made, carefully aged rum can easily stand on it's own without the need for [mostly undeclared] additives to prop it up. This is a company that is all about the rum!
In case you don't know – a privateer is a sort of 'deputised' pirate.  During the War of Independence, America gave 'Letters of Marque' to ships who wished to hunt the British ships. These 'letters' effectively made the ship an official military vessel. Well, somewhere in between military and pirate to be accurate.
This month's extra is not only made by the direct descendant of privateer, Andrew Cabot – the company that produces it also embraces all the history, drama and passion of the era when American merchants were their emerging country's navy. Even the brands logo pays homage to those swashbuckling buccaneers of the revolution with a stylisation of the American Privateers flag.
As a sneak peak, We're in the process of organising something a little special once more with Privateer but we won't see that in our glasses for some months yet and so to tide us all over until then – we are delighted to be able to offer the 'Tribe' a bottle from the Privateer core range – the New England Reserve Rum.
Our Tasting Notes
Nose: Quite sweet and sugary on the nose at first – but then rich vanilla slides through followed by fresh cut wood.
Palate: Vanilla burst at first, then a [very] mild pepper coats the mouth – more a tingling that 'hot'.  Then I get burnt sugar and light notes of caramel. I bit Crème-Broulee –ish, but very clean on the palate.
Finish: Light and clean. Some fruitiness and toffee with a nice spicey buzz to take it out.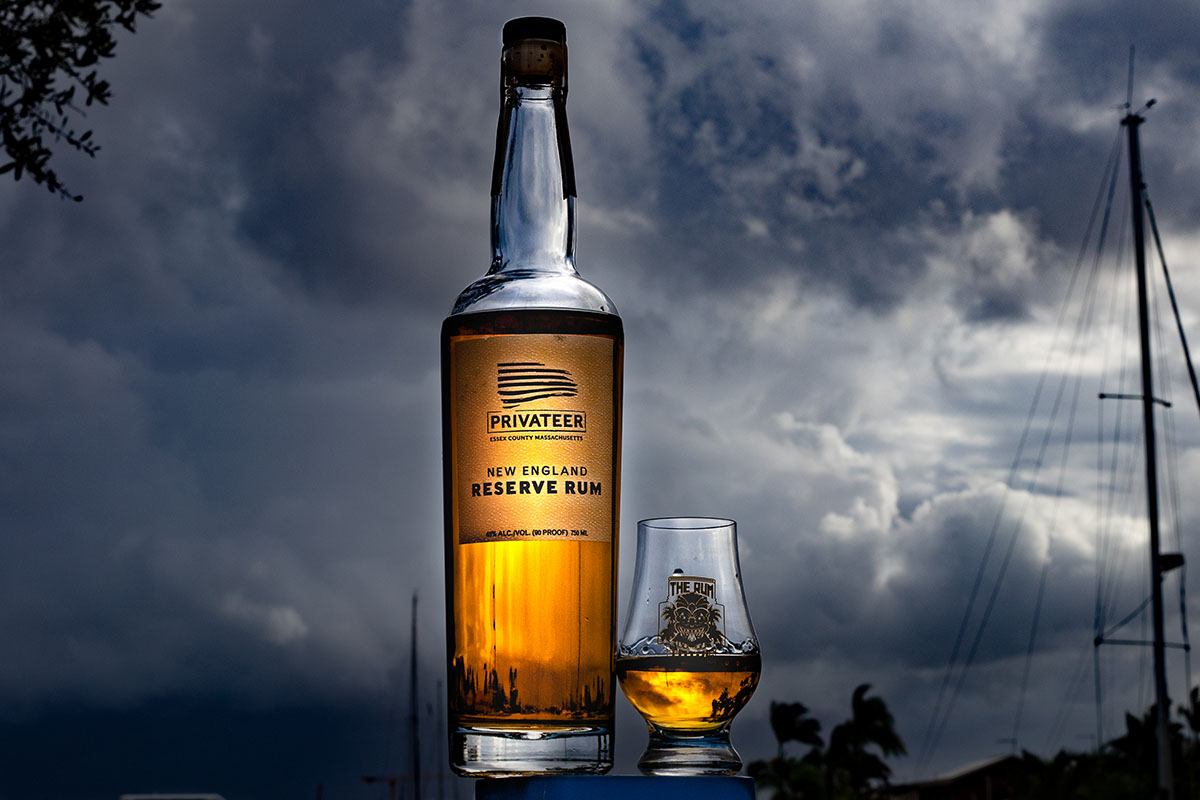 From Privateer
Privateer New England Reserve Rum is distilled to achieve the rich flavour of rum and complexity that speaks for itself. Enjoy neat, or mixed in cocktails.
Simple ingredients done well with appreciation for essential quality was our top aim in creating this blend of 2 to 6 year old rums. As we tasted through our cellar, we discovered our maturing barrels had the potential to make a richer, deeper rum blend suited for easy-to-reach, everyday occasions. After casks are selected and carefully blended, we proof them with aged water and re-cask the rum into old oak barrels to mingle, marry, and create a harmonious flavour profile.
Finally, we harvest these rested barrels and bottle. This rum expresses our evolution in pushing for deeper flavours, richer concentration, and a richness that is at once accessible, generous, and sincere. We hope you enjoy it your favourite way be it neat, on the rocks, or in a cocktail.
About Privateer
The original Andrew Cabot (1750–1791) – privateer and entrepreneur  – not only amassed a flotilla of 25 ships to aid his countries bid for independence, he was also the owner of a rum distillery in Massachusetts.  6 generations later – his direct descendant of the same name, discovered his ancestor as well as the 'family business' whilst doing genealogical research.  Already a keen and accomplished sailor, [the current] Andrew Cabot – on finding documents and advertisements pertaining to his ancestor's distillery was immediately "drawn to the alchemy of distilling".  
As an American history nut, Andrew well knew the importance and significance of sugar and rum in the American war of independence. After discovering his family place in this very history – Andrew decided that his legacy would be the re-birth of the Cabot name in American rum production. The first requirement was a location for the distillery, and to Andrew, there was no other option but to locate in the new distillery in the same Essex County that the late Andrew Cabot had his distillery.
Whilst Andrew had an interesting and varied resume – including 20 years software development, and a genomics research position at Harvard Business School to name a couple – one skill he did not possess was how to distil rum – and so he did. It was not his intention to carry out the job of distiller at Privateer, but he felt it was a skill he needed to have a more than basic grasp of to successfully run a distillery.
In 2011 the Privateer distillery was operational and production of white rums started immediately. The 'business end' of the distillery is two stills. A steam-coil heated, 1,000 gallon Vendome pot still from Kentucky separates the low wines.  The spirit still is a 200-gallon copper eau de vie still (a pot/column hybrid), made in Germany by CARL GmbH. It's named "Baldwin," after the writer James Baldwin, and handles all final distillation tasks.