Description
Let's go back to the traditional home of exceptional rums…the Caribbean! An 8 year old, ex-bourbon barrel matured, pure single rum, 100% matured in the Republic of Trinidad and Tobago – The Cane Island Trinidad 8 year old.
Cane Island has been buying, blending and bottling rums from around the world for around 10 years now and the Trinidad 8 year old is part of their 'Single Estate Series'.  As it says on the label – this is 8yo minimum aged rum from a single estate in Trinidad, namely Trinidad Distillers Limited (TDL). If you haven't heard of TDL – that's ok, it's much, much more commonly known as Angostura Distillery, which I bet you have heard of!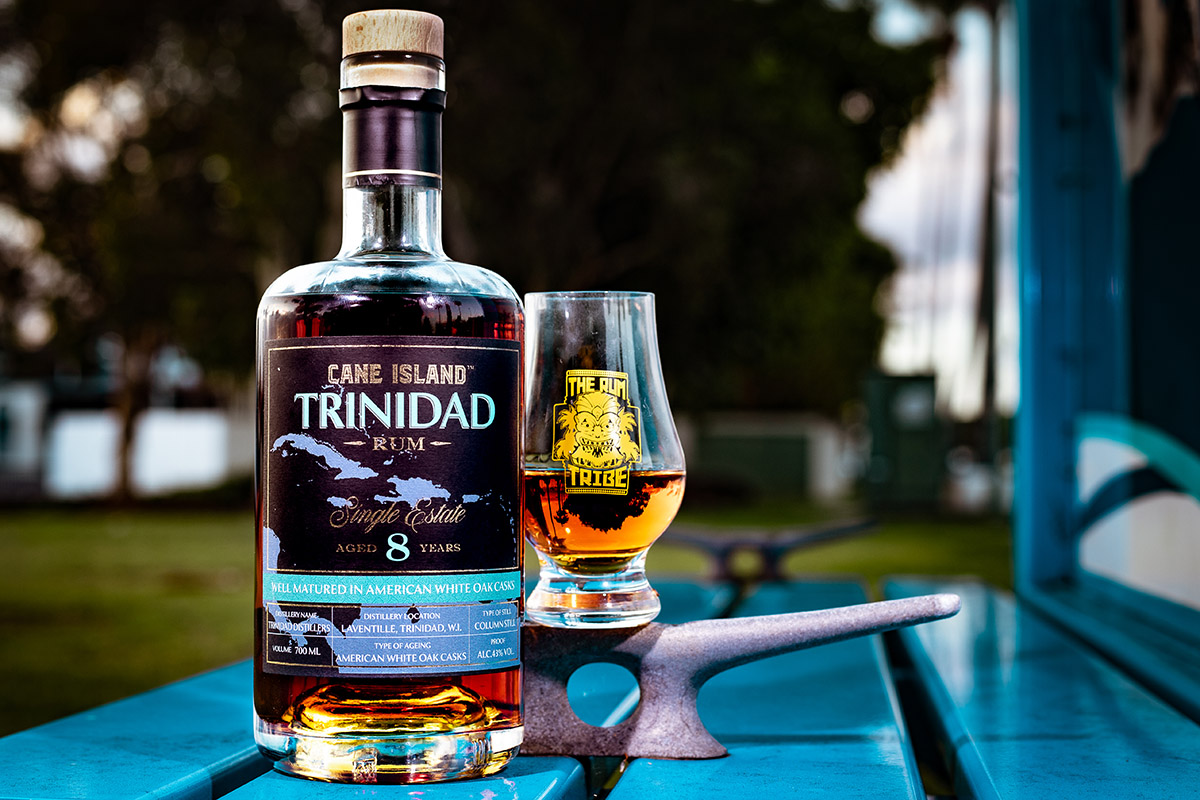 Interestingly, the molasses used in the production of this rum is sourced from outside the country as the last sugar refinery in Trinidad and Tobago closed down in 2007. The Molasses now comes from Guyana, the Dominican Republic, and Fiji.  Fermented for between 48-56 hours using their own proprietary yeast strain.
The Cane Island Trinidad 8yo is column-distilled in TDL's five-column still with heavy spirit being tapped at around 80% ABV from the first column and a much lighter  spirit tapped from the fifth. Several medium-body spirits are taken from other points on the stills and used for blending. All of these spirits from differing points in the still are aged separately for 8 years in ex-bourbon (Jack Daniels & Four Roses) casks before blending and bottling. Cane Island are quite open about sugar and colour – they add around 10g/l of sugar and may use E150 (caramel) to colour their rums for consistency. We applaud their transparency!
Our Tasting Notes
Nose: Mashed banana, stone fruit , stewed apple and pastry – like bakery apple slice.
Palate: Lovely visocus mouthfeel – coats the whole palate instantly. Sweet tinned prunes with chocolate notes, salted caramel, liquorice, coffee and vanilla custard
Finish: Sweet and easy with a nice mild pepper to offset. The fruit and spice notes really last and that slight pepper walks with them the whole way.
This is a truly easy going and most sippable rum.  Whilst sweetened – it's not overly sweet, and the pepper really offsets that nicely.  A very approachable rum that won't scare  a 'newbie' with new and unfamiliar notes, but with enough complexity and great balance to satisfy a season rum drinker.
From Cane Island
With this range, we are trying to showcase rums from one single distillery in one country/island. The single-origin rums are meant to highlight the unique flavour profiles of these distilleries and show what the difference in techniques can do to the final product.
The Cane Island Single Estate series offers authentic, aged rums coming from one single distillery. This rum was distilled at Trinidad Distillers Limited in Trinidad. Every single drop of this fine Trinidadian Rum has spent at least eight years in the barrel at the distillery. A true age statement of tropical ageing in Trinidad.
The Trinidad 8yo Rum is fresh and fruity, rich and creamy in character notes of mango banana liquorice cinnamon and allspice carried from nose to finish enjoy it straight on the rocks or in your favourite cocktail.
About 
Cane Island
Cane Island Rum offers an authentic range of rums from selected Caribbean and Central American countries, all rums truly represent the style and tradition of the origins and distilleries.
The rum selection of Cane Island Rum consists of Single Island Blends and Single Estate Rums. The Single Island Blends are blends of rum coming from different distilleries from one island. The Single Estate Rums are sourced from one single distillery.
Cane Island Rum currently offers rum from a few of the most iconic rum countries: Barbados, Jamaica, Panama, Thailand, Trinidad, Australia, Guatemala, Venezuela, and Nicaragua. Each one of these countries has a long history in rum production, with their own styles and traditions. All rums reflect the true rum characteristics and identity of the island.
Rum is one the most diverse and historic spirits in the world. There is no other distillate which is produced and aged in so many different countries around the globe. Each rum-producing country has its own history, uniqueness and special traditions when it comes to rum making.
All rums in our portfolio have been tropically aged for several years in wooden casks. Tropical ageing is three times more intense than ageing in colder climates, because the heat of the Caribbean intensifies the interaction between the rum and the wood.
This authentic ageing process results in beautiful, aged rums.
About Angostura Rum
ANGOSTURA® is one of the leading manufacturing companies in the Caribbean that produces a superb collection of rum brands such as Angostura® 1824, Angostura® 1919, Angostura® 1787, Angostura® 7-year- old rum, Angostura® 5-year-old rum, Angostura® Reserva, Angostura Single Barrel®, Angostura Tamboo, Angostura® White Oak and its innovative array of flavours – Sorrel, Coconut, Watermelon, Pink Grapefruit and Pineapple, Forres Park Puncheon, Black Label, and Royal Oak.  The Company also produces the leading bitters products in the world – ANGOSTURA® aromatic bitters, ANGOSTURA® orange Bitters, ANGOSTURA® cocoa bitters, Amaro di Angostura® and signature beverages – Angostura® Chill Lemon Lime and Bitters, Angostura® Chill Blood Orange and Bitters and Angostura® Chill Sorrel and Bitters.
Along with being a Royal Warrant holder to Her Majesty Queen Elizabeth II for our ANGOSTURA® aromatic bitters, we have successfully marketed our iconic bitters globally and have a geographic reach into 170 markets. The recipe for Angostura® aromatic bitters has not been changed since the first bottle was introduced to the world in 1824.
Many of our brands have been bringing joy for generations in Trinidad and Tobago, our core rum market. Meanwhile, our premium rums have been causing a stir at countless international competitions over the past decade. In the last year alone, our rum range has been rewarded with over 25 prestigious accolades internationally.