For the first time in Australia and exclusive to the Rum Tribe, welcome to one of the most awarded Rhum's on the planet. A traditional French Rhum Agricole from the tropical haven of Vietnam…The Sampan Overproof Rhum!
This isn't the first time we've debuted a new product to Australia – but it is the most awarded new brand we have released! The Sampan Overproof has won so many awards from various shows and judging's held around the world we had trouble fitting them all on the graphic…Gold, Double Gold, Best of Region and many more as shown below…the accolades are knee deep for this Rhum Agricole.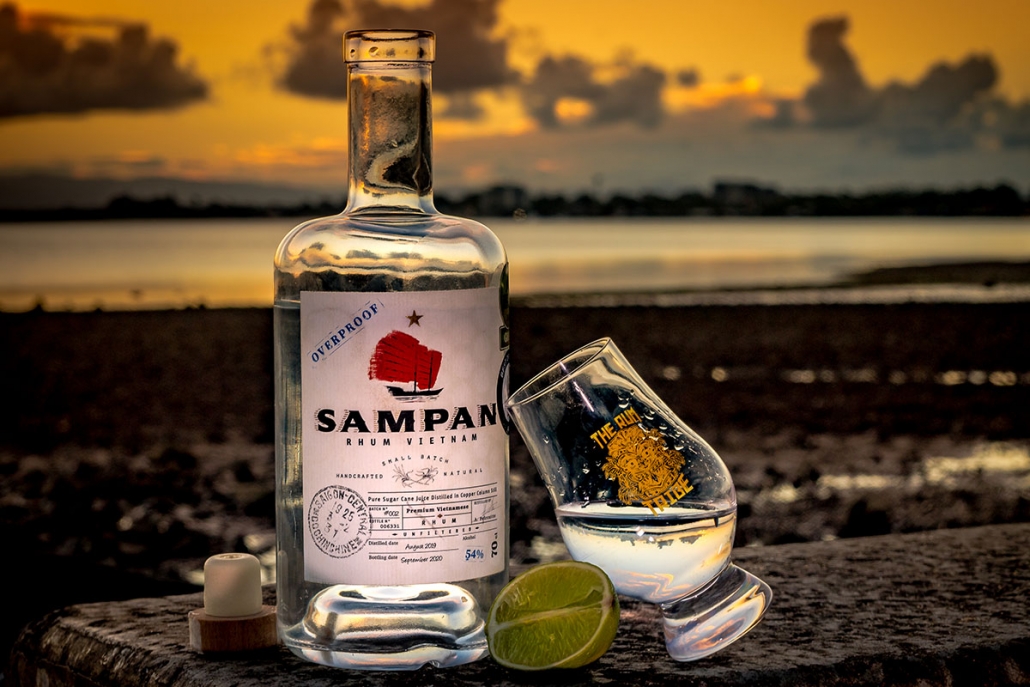 The first thing we need to state to the Tribe – especially our newer members – is that this is an un-aged spirit. In other words, it's never been inside an oak barrel. This is given away by its transparent appearance. Sampan Rhum is spirit straight out of the still, into a completely neutral and non-reactive stainless steel vat and 'rested' there whilst the water used to dilute it to bottle strength is slowly added. It may be different to what you know as rum – but rest assured, this style of spirit is loved by millions around the world as 'rum'.
The Sampan Rhum Agricole itself has enamoured itself to the worlds most respected rum reviewers such as the 'The Lone Caner' but here in Australia, it's a relatively unknown style of spirit and the unknown can be a bit daunting, so let's explore this 'Rhum Agricole' business a bit closer –just what's it all about?
Now we know that in Australia, rum is traditionally an aged spirit. In fact, under Australian law, cane juice or molasses based raw spirit must be aged in oak for at least 2 years to be called 'rum' here. But rest assured – a lot of the world doesn't have this legality, nor is aging rum even traditional! Rhum Agricole is and has been enjoyed as 'rum' for hundreds of years in the French Caribbean and beyond.
Don't get the impression that Rhum Agricole is somehow 'less sophisticated' in both its production and flavour profile than it's barrel aged rum cousins. The quality control for Sampan Rhum Agricole begins at the ingredients and goes right through the production process to bottling and shipping. The cane is cut by hand. The water and cane juice is constantly tested and monitored. The fermentation process is a carefully thermo-regulated affair. The stainless column stills the very best French stills. Even this 'unaged' Sampan Overproof spends 7 months resting in stainless vats, which allows a 'slow drip reduction' with the purified water cutting the 70% raw spirit into the desired alcohol percentage (54% ABV in this case).
Without the additive and subtractive qualities years on wood have on a spirit – what you have is the 'raw' flavours of the product rather than 'rounded' flavours (and added flavours for that matter – from the wood). Thus to be palatable, this spirit must be produced with the greatest care and from the best ingredients.
Now we know this is a big step for some of the Tribe. This is NOT rum as we normally know it here. We understand that some have never come across Agricole before – and at 54% it can look pretty intimidating! So how do you drink an unaged Agricole Rhum? Well, the good news is pretty much exactly like any rum! It has a lighter, fresher, more floral taste than an aged rum. It mixes well in 'white rum' cocktails such as mojitos, daquiris and Pina Coladas. It's great with mixers – brilliant with ginger beer and slice of lime as a Dark and Stormy.  If you're a lover of passionfruit drinks (pasito or passiona or golden pash depending on what state you live J) – you are going to love a simple slug of this in one of those. Trust me.
But in my opinion, the very best way to drink Rhum Agricole is the 'traditional' way – the Ti Punch.
In a small glass put about a half teaspoon of demerara (or brown) sugar (or more… or less, as you like)
cut a 'coin' of lime (just a circle of skin with a tiny bit of pulp, as opposed to a wedge)
Squeeze the lime coin into the glass – you want a few drops of juice to start the sugar dissolving – but mostly you want all those lovely citrus oils that come out of the skin itself
Add a good serve of rhum to the glass, drop in the lime coin and stir until the sugar dissolves.
You can add a cube of ice if you like (it's your drink, after-all)
Now just sit back and sip that Ti (or 'Little') Punch. Oh yeah! When you finish it, start again – but don't throw out the old lime coins – not only will they keep adding flavour, they make a pretty good way to keep track of how many you're drinking. And at 54%abv, you may wanna keep at least a casual eye on the consumption rate ;)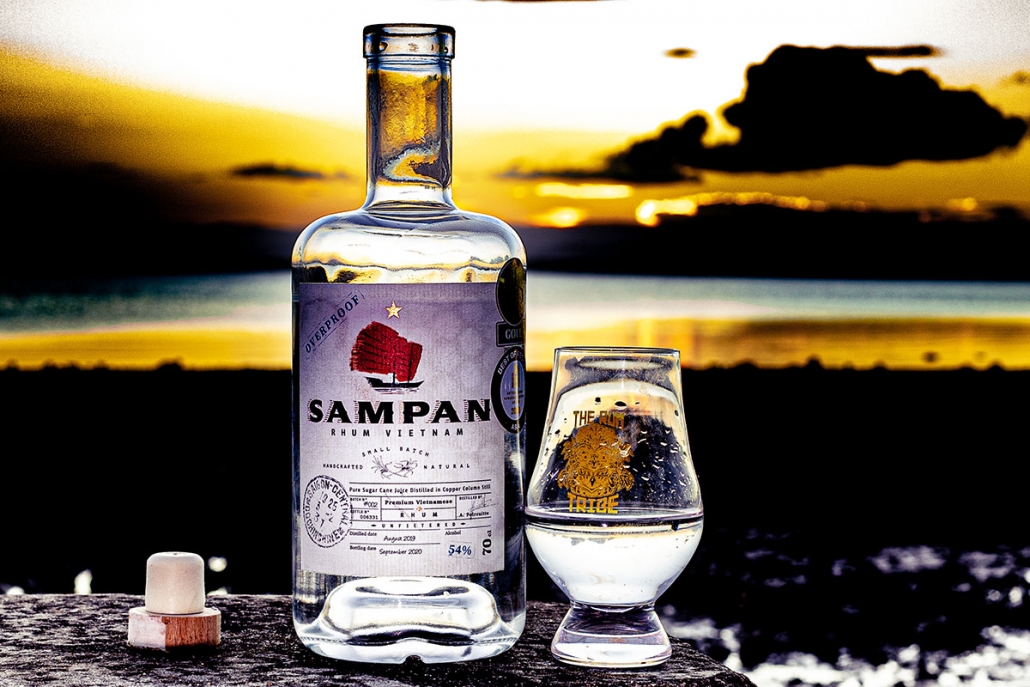 Our Tasting Notes:
Nose: Man, there is just SO MUCH going on in the nose. There's a real fresh and lively quality to it as well. There's cut grass and floral notes, there's sweet candy floss and liquorice all sorts, but also salty olives. Freshly cut cane, earthy petrichor and even some citrus swirls by.
Palate: Not as sweet as it smells, but certainly not dry, those fresh earthy notes are still there, I get some passionfruit, pineapple and pomegranate as well, and there's also a sort of yeasty vibe going on (like fresh bread dough). What is surprising is how little pepper or heat there is at 54%.
Finish: Oddly enough I get a bit of a 'woody' note in the finish, more of those earthy and sweet notes chase each other around, and there's also some aniseed humbugs right at the last.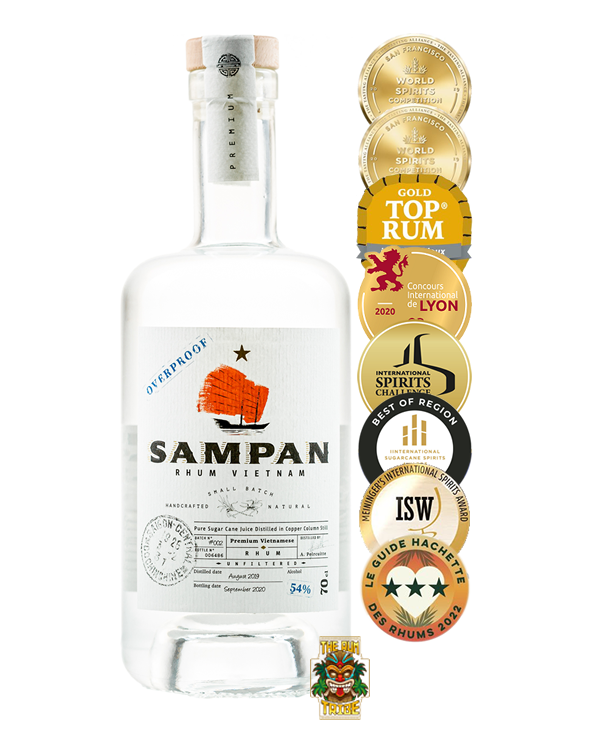 FROM DISTILLERIE INDOCHINE
"Created in 2018, Sampan Rhum is a result of 2 years of reflection from spot location, production process, cane sugar selection and distillery building from A to Z. A sampan is a typical cabotage boat from south east Asia allowing the interior land to be connected to the world exchange. The origin of the word sampan is closely linked to the journeys of great navigators in XVI century from the Caribbean to Asia, same navigators who bring sugar cane from Asia to the Caribbeans. For us choosing 'Sampan' as a brand name is a tribute of this rhum connection between Asia and the Caribbean."

Antoine Poircuitte (founder, distiller)
Nose: Highly aromatic with notes of white flowers and violets, impression of being immersed in a sugar cane field.
Palate: Beautiful aromatic attack with intense fruity notes that bring sweetness and velvet. A refreshing finish thanks to the liquorice.
The high alcohol content brings structure to the aromas, intensifies each cocktail, releasing the Sampan's Rum aromatic/ original bouquet.
ABOUT DISTILLERIE INDOCHINE
A team combining more than 35 years of experience in the field of wines and spirits, but above all, a group of friends dedicated to bringing together in the same project, their love for rum and their attachment to Vietnam. Antoine Poircuitte, the Master Distiller, driven by his passion and experience, wanted to bring back to taste a family tradition in order to elaborate the best Vietnamese agricultural rum.
The one and only place in Vietnam where you will be able to discover a French still and a traditional ageing method surrounded by a pristine beach! It is the ideal place for all lovers of Artisan rum who want to enjoy their tastings in a heavenly setting.
Located on the seafront, Distillery Indochina is nestled in a privileged natural environment were the production conditions and ageing process in barrels are perfect. Only 15km south of Hoi An, a UNESCO World Heritage Site, and 40km from Danang and its international airport. Distillery Indochina welcomes you all year round with its tasting bar and guest house.
Quang Nam's province local sugar cane variety, is renowned for its high quality and aromatic properties. In addition, the top quality of local groundwater has been highlighted by both French and Vietnamese independent laboratories. The sugar cane fields are cultivated in a range of 40 km around the Distillery, using traditional methods and excluding the use of any pesticide or chemical. The best canes are carefully selected and exclusively harvested by hand.
The harvesting time of Sampan production takes place at the end of each day. Harvesting done by hand means a low per-hectare yield but enhances a better juice concentration. To ensure maximum freshness and a high-quality juice cane, the canes are always delivered within 12 hours of harvesting, directly at our production site. Both Extensive soil testings and cane analysis are carried out regularly by certified labs in Vietnam and in France to guarantee a high quality of juice and rum.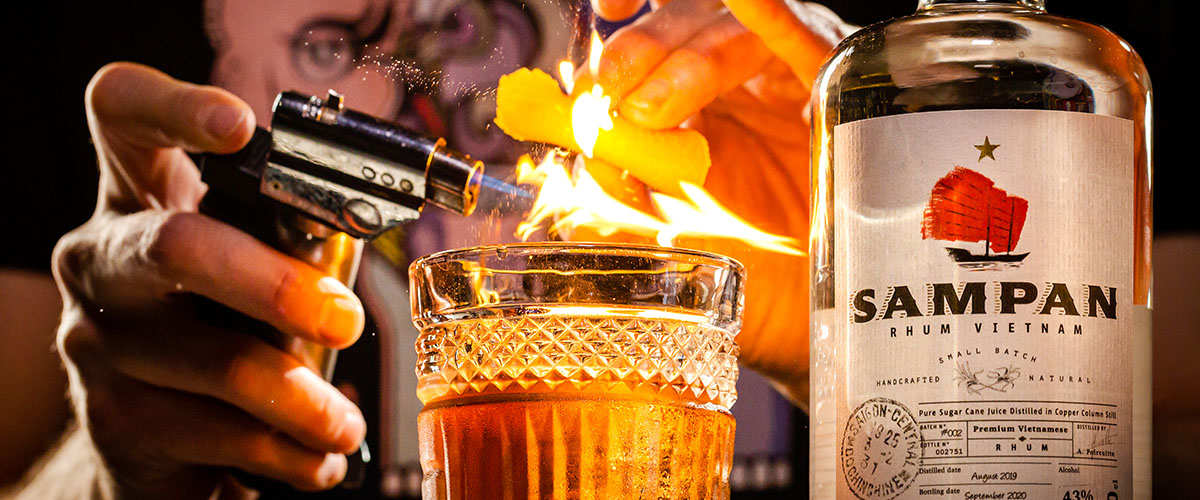 https://rumtribe.com.au/wp-content/uploads/2022/04/Samppan-Header-1.png
405
1030
admin
https://rumtribe.com.au/wp-content/uploads/2022/01/Main-Logo_Border.jpg
admin
2022-04-25 21:19:11
2022-05-24 20:55:08
Sampan Overproof Rhum – May 2022