Description
With an 'ode to funk'…our favourite Australian (actually Victorian) hogo heads have delivered an EXCLUSIVE KILLIK/ RUM TRIBE collaboration – The Killik Virgin Oak American!
This is the very first Virgin Oak maturation Killik have done – and I'm here to tell you, it won't be their last! It's bloody brilliant! This is molasses based rum – the wash was seeded with proprietary yeast prior to having wild yeast [via dunder] added. It was distilled in a copper pot still, and then laid to rest in a virgin American oak cask for 2.5 years before being bottled at 48% exclusively for the Rum Tribe.
Now, Killik do it a bit different to most Australian rums. For a start they embrace the characteristic known as 'hogo' or 'funk' in their rums. This is a flavour profile mostly unexplored by Aussie distillers but huge in the Caribbean – Jamaica particularly being seen as the 'spiritual home of hogo'.  But some Aussies, like Killik (and Nil Desperandum is another) are notable for actively pursuing this quality with the use of dunder and muck in their fermentation.
Killik's raw spirit alone is world class – in fact the Killik 'Silver' as it's known, has been winning medals all over – culmination in a gold medal and Best in Class at World Spirits Awards earlier this year. Killik have proven themselves to be world-class producers of hi-ester rum and we are absolutely bloody stoked to be part of another 'first' for Killik – a virgin oak maturation.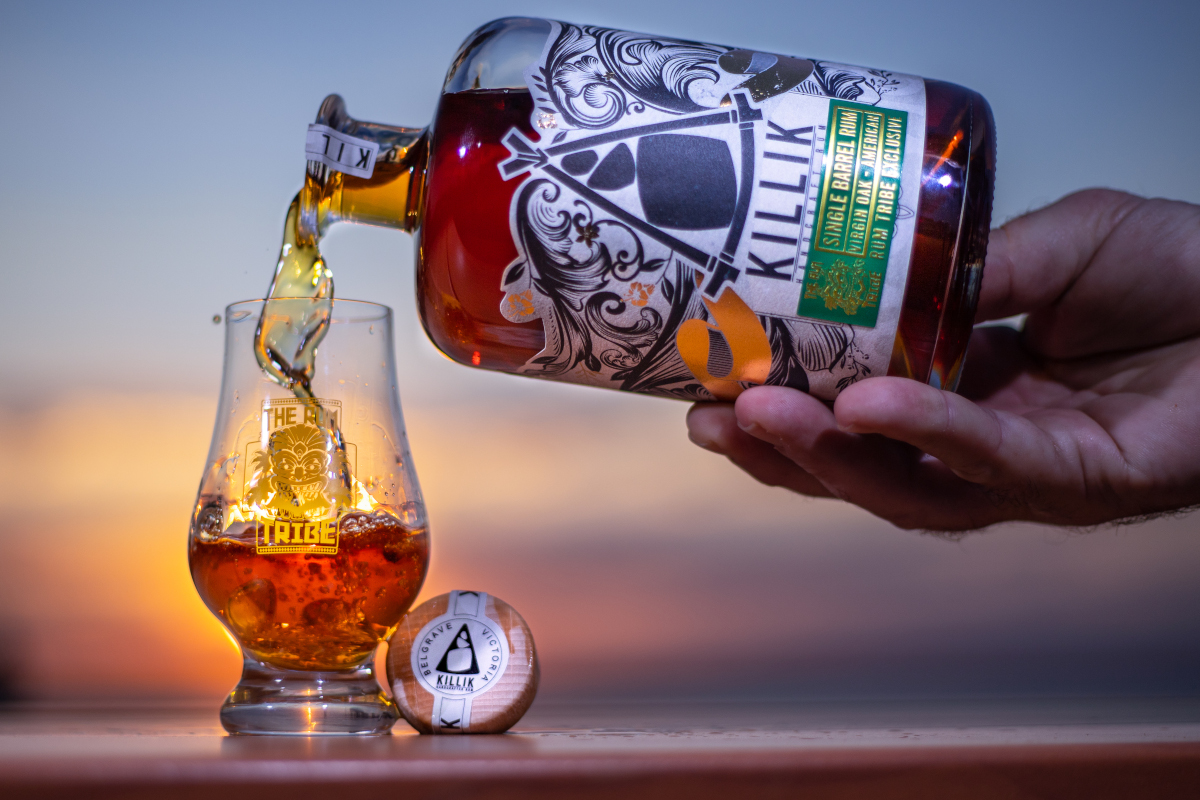 But what is this 'hogo' that we speak of? Well, originally a Jamaican style, hogo is an easily identifiable – yet hard to describe – flavour which is the result of wild yeast fermentation. It is commonly characterized by its potent, funky nose and taste. In fact hogo is also known as 'funk' in some places. It can be very difficult to define and can vary wildly. In the case of Killik, it is often very fruity with strong aromas of tropical fruit, over-ripe banana, strawberry, and a distinct milkiness.
The key to hogo, or funk, is the use of wild yeasts in the fermentation stage of production. And the source of those wild yeasts is what's known as 'dunder and muck'. Those with a delicate constitution may wish to look away now, because as the names suggest, dunder and muck isn't the loveliest stuff in the world. Dunder is what's left over in a rum still once the spirit has been distilled out of the wash.  It's essentially dead yeast, water and whatever caramelised, boiled out, leftover gunk they can scrape out of the still after a run. The dunder is then chucked in a 'dunder pit' which could [traditionally] be a big hole in the ground (an actual 'pit of dunder' as it were). These days most dunder pits are contained in some sort of large plastic container such as IBC's. Killik's dunder pit is an old dairy vat (Pictured).
The dunder is 'fed' carbohydrates in the form of, well, whatever fruit etc is lying around the distillery or surrounding farms. This added sugar allows a secondary fermentation to begin by any wild yeast that happen to land in the pit. By this stage the 'dunder pit' is a foul looking, cow-shit reeking, bubbling vat of the nastiest looking sludge you can imagine. This wonderfully vile concoction of wild yeasts, and the flavour molecules they excrete (along with CO2 and alcohol) is what 'seeds' the next rum mash and is known as 'muck'.
Use of dunder and muck in rum production originated in Jamaica around the same time as the slaves discovered making rum. It makes sense as it provided an inexhaustible supply of an otherwise hard to come by (in those times) resource – yeast! With the commercialisation and industrialisation of rum production in the subsequent years, reliability, repeatability and yield of the fermentation process became essential. Thus the uptake of commercial and proprietary yeasts saw the use of wild yeasts dwindle – and so muck and dunder began to be a fond memory with only a handful of distilleries interested.  Luckily, there has been a 'rediscovery' of dunder and muck use in rum distilling, and Killik have pioneered its use in Australia.
This is the very first Virgin Oak maturation Killik have done – and I'm here to tell you, it won't be their last! This is molassas based rum – the wash was seeded with a proprietary yeast prior to having wild yeast [via dunder] added. It was distilled in a copper pot still, and then laid to rest in a virgin American oak cask for 2 ½ years before being bottled at 48% exclusively for the Rum Tribe.
Last month we worked with Dead Reckoning to get the price as far down as possible – and this month Killik have stepped up to help us do same. We've both trimmed as much fat as possible to get this rum out to the tribe for the best price we could without selling our children. I'm not gonna lie – we've even re-used the Killik gold labels with just a sticker added in order to keep costs as low as possible!
And we've done it again – a 700ml bottle of hand made, single cask, pure single rum for $125. I dare you to find better!
Our Tasting Notes
Nose: all sorts of things you wonder if you should be smelling. Strait away there's sour milk – but swirl that glass and so many more notes are released. There's grape bubblegum. There's Curry powder. Tart apple. Model Airplane glue. There's all sort of weird and almost-recognisable odours wafting there.  I'm betting the sweets of your youth will determine what you get out of the nose here.
Palate: Almost as soon it hits your palate, all those 'weird' smells in the nose seem to align and make perfect sense now as they morph into stewed apple. In fact, apple strudel with sultanas and vanilla… wait for the cream! Ahh there it is! But then more fruit takes over and the fruit salad paradigm swings in for a twirl.  That delightful creamyness remains though. This morphs and swirls and shape-shifts and dances across the palate.
Finish: It's a bit of a sweet and sour finish on this one. Really sweet notes such as plumbs and more chewing gum notes, but there's also a sort of sour worms sweet/sour thing too.
Once again – a hugely complex and utterly discussable rum from one of my favourite distilleries. If you're new to hi-ester rum  – you really need to look at them a bit like stinky cheese.  The smell (nose) is confronting – but makes perfect sense once you bite into it!
Kudos Cal and Sam – you've kicked it outta the park again!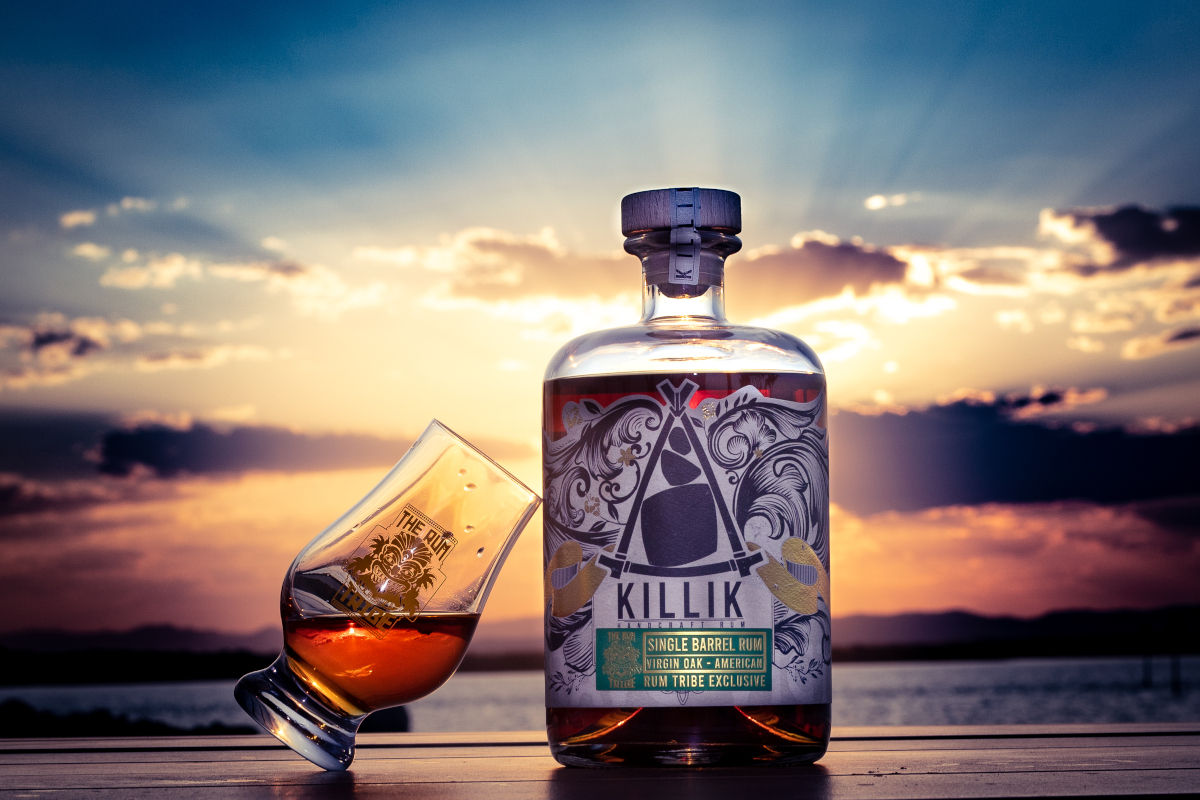 From Killik
Hey Tribe! We're thrilled to introduce our newest gem from Killik's vault – our Single Cask Rum. This rum is a true testament to the prowess of pot still distillation, boasting high ester levels that showcase a symphony of fruity characteristics.
While many rums may hint at tropical notes, ours uniquely shines with pronounced cantaloupe undertones, blending seamlessly with flavors of ripe bananas, passion fruit, and a touch of guava. These vibrant ester-driven flavors find a harmonious balance with the rich and robust influences of our custom-coopered virgin American oak barrels. Virgin oak, fresh and untainted by previous spirits, imparts luscious notes of intense vanilla, caramel, and toasty aromatics. The final product?
A rum that's both bold in its fruity essence yet grounded with rich American Oak. We can not wait for you to delve into its multifaceted flavours and aromas and share your insights!
Tasting Notes:
Right off the bat, you'll notice a distinct ethyl acetate presence, though not as pronounced as in Jamaican pot rums. As that initial wave subsides, a moderately strong fruitiness emerges, with a standout melon note and lots of stone fruit, a departure from our usual KILLIK profiles where pineapple often dominates. The influence of the American oak is unmistakable – you get a robust roasted quality paired with a generous helping of vanilla. It's clear this one matured in a virgin oak barrel, and even though it's only 2.5 years old, its flavor profile suggests a more mature spirit.
About 
Killik
Born in Belgrave, Victoria, Killik Handcrafted Rum is a family run distillery that aims to fill the void of great Australian rum. Their aim is to create products that were not only top tier in quality, but are also the most unique Australian rum you can find.
"HIGH ESTER IS THE DIRECTION THE RUM WORLD IS MOVING "
Callan Pratt – Partner, Killik Handcrafted Rum
Our rum utilizes a wild fermentation which leads to a high ester content referred to as "hogo" in the rum scene. Killik Handcrafted Rum is the first Australian dedicated rum distillery committed to this traditional Jamaican style of rum production.
The Killik lineup is perfect for creating classic cocktails or enjoyed neat.