Description
Want some 'hogo' in your rum life? Following on from the smash hit that was the Killik Gold Rum we are ecstatic to release the 'super funky', multi-award winning Jamaican style, Killik Handcrafted Silver Overproof as the Members Extra.
• 2022 Silver Medal at London Spirits Competition
• 2022 Silver Medal at World Rum Awards
Born in regional Victoria, Killik Handcrafted is a brand that's rapidly gaining favour with Australian rum drinkers looking for something 'a bit different'. Killik are one of the few (but growing) number of Australian distilleries that are exploring muck and dunder in their rum production.
The Killik Handcrafted Silver OP – is a multiple medal winning Australian un-aged molasses based spirit that has been said to compare very favourably to those of similar styles from Jamaican legends Hampton and Worthy Park.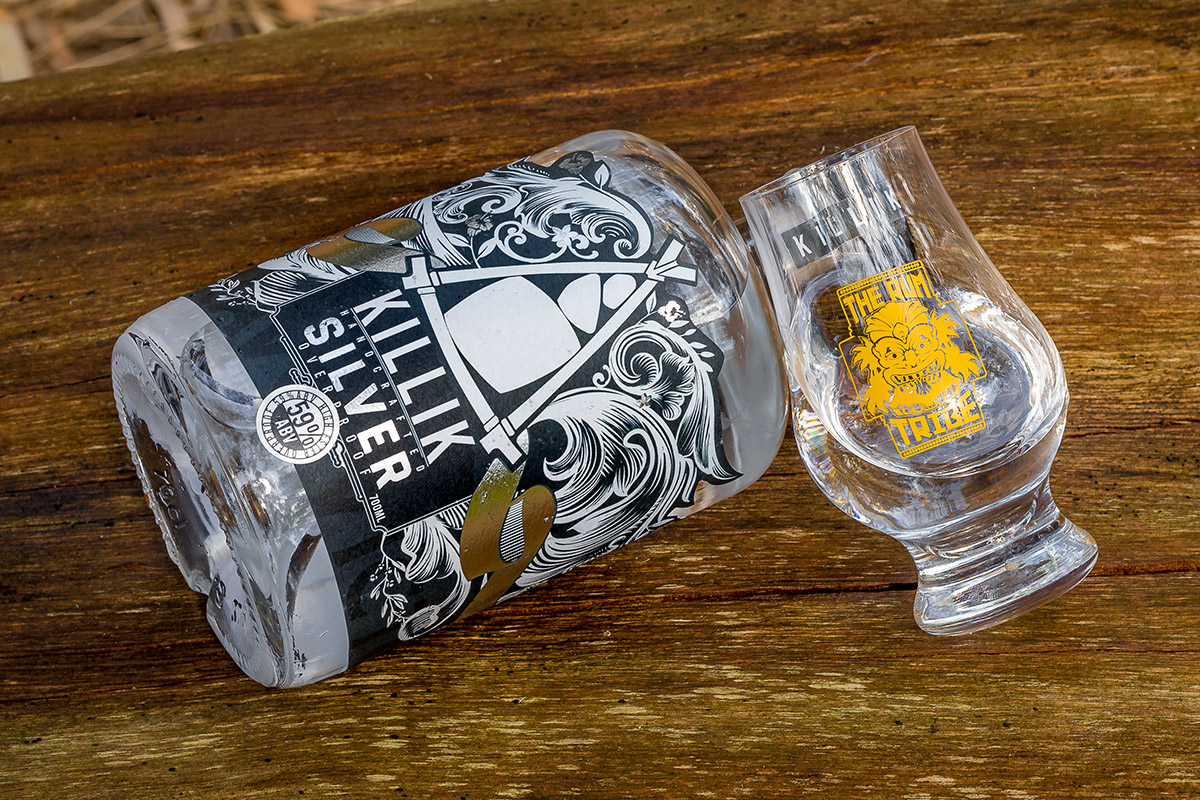 Where Killik stands out from most Australian distilleries (although that number is expanding), is that they add 'dunder' at several stages throughout the ferment. Dunder is basically what is left over in the still after a wash has been distilled. It is removed from the still and placed in a 'dunder pit' (or 'muck hole') and allowed to re-ferment for some time. It's part science, part 'gut feel' and part black magic. But what the addition of dunder adds to a ferment is wild yeasts that affect the production of a high ester content wash. Put simply, esters are the 'fruity' flavour compounds. These are the molecules responsible for the 'funk' or 'hogo' that Caribbean rums are famous for. The sickly sweet, overripe fruit aromas tinged with sour milk and earthy notes craved by seasoned rum drinkers.
The word hogo derives from the French term "haut gout," which refers to slightly tainted game meat and any other strong yet desirable flavour. Now 'funk' and 'hogo' are divisive qualities. In a similar way that 'peat' divides the whisky community, 'hogo' divides the rum community. It's a 'love it or hate it' thing. It can be overwhelming to the new-to-hogo drinker – but if one likes it, the discovery of a new type of flavour profile is very exciting!
Our Tasting Notes
Nose: On first sniff, there's a real creamy note – almost like a caramel milkshake that's gone warm. Almost immediately this changes to overripe fruit for a moment,  but then an underlying bubblegum note makes it's presence known – it's a weird (I know – it feels weird even writing it!), yet pleasant combination.
Palate: The palate is an incredibly complex whirlwind of flavours. The milky-bubblegum comes charging through, but is then cut in half by an almost fruit-tingle mouthfeel (almost like there's some bicarb soda in there)
Finish: A deep rooty sweetness – almost sarsaparilla – quality about it.  There's a peppery sensation that coasts the mouth as the flavour fades – but again, this has a real bicarb soda 'tingly' feel about it rather than a 'hot' spiciness.  Eclectic aniseed humbug lolly sees it out this unfamiliar, yet endearing tot.
This is a complex, challenging and rewarding spirit – unlike anything I've tried before. It's sour milk and aniseed – but in a bizarrely fantastic way. Undoubtedly a bit unnerving the first time you approach it.  This is a brave new world of flavours that logic says shouldn't really fit together well – but in reality, the whole is much greater than the parts.
From Killik
Hey Tribe,
Cal here one of the head distillers at Killik Handcrafted Rum.
We have a really special bottle on offer for you guys with KILLIK silver OP. It's one of our expressions which really communicates what we are all about here and really shows great rum isn't all about age statements.
This particular bottle is a very yeast driven example of what molasses distillate can be. As soon as you open it up you will immediately know this isn't like any other Australian distillate. Our overproof, like many of our rums is open fermented and ferment time is dictated by when we think it is time (we know when its ready). Our muck pit plays a lead role in defining the flavour of this distillate, our muck pit is where all our wild yeast live providing all our funky esters.
The first aromatics out of the glass will be pineapple and stone fruits leading into kiwi, lychee and melon. Further inhalations will reveal over ripe fruits typical of a Jamaican over proof rum. On the palate you will find a surprising sweetness, juicy fruits and bubblegum.
Try it neat or make some unbelievable cocktails with true old world funk. Put a little into a mai tai with your favourite aged rum or blend it into some old world tikis and see how much life is added to them by using a funky rum.
About Killik
Born in Belgrave, Victoria, Killik Handcrafted Rum is a family run distillery that aims to fill the void of great Australian rum. Their aim is to create products that were not only top tier in quality, but are also the most unique Australian rum you can find.
"HIGH ESTER IS THE DIRECTION THE RUM WORLD IS MOVING "
Callan Pratt – Partner, Killik Handcrafted Rum
Our rum utilizes a wild fermentation which leads to a high ester content referred to as "hogo" in the rum scene. Killik Handcrafted Rum is the first Australian dedicated rum distillery committed to this traditional Jamaican style of rum production.
The Killik lineup is perfect for creating classic cocktails or enjoyed neat.