Description
Get ready for a rum from a family-run distillery who's products – rum, gin and vodka – have won world acclaim over the last few years (and they only kicked off in 2018!) and they have been members and supporters of the Rum Tribe pretty much since we started.
Ally and Nick Ayres have been members and supporters of our little 'rum fam' since we kicked off the Tribe and we are stoked to finally be able to offer Batch #3 of their Silver Medal winning Outcask Rum as our Rum of the Month (and we're also going to take this opportunity to announce a fantastic project we're working on with them)!
Now Karu Distillery has been absolutely slaying the spirits world in the couple of years with medal after medal for their vodka, gin and rum. The Outcask Rum scored Silver in San Francisco and the World Spirits Awards this year, and Silver in the inaugural Australian Rum Awards last year.
Karu are proud producers of (amongst other spirits) pure single rum, and as such the Outcask Rum contains absolutely no added sugar or colour and is proudly non-chill filtered. Their molasses based spirit is matured in Whipper Snapper Bourbon casks (from WA) in their 'Devils Wilderness' distillery and bond-store. Located in the Blue Mountains west of Sydney, the maturation gets its share of stinking hot summer days and freezing cold alpine winter weather as well. Outcask Rum is made from a marriage of barrels around 3 years old and is bottled at 46%ABV.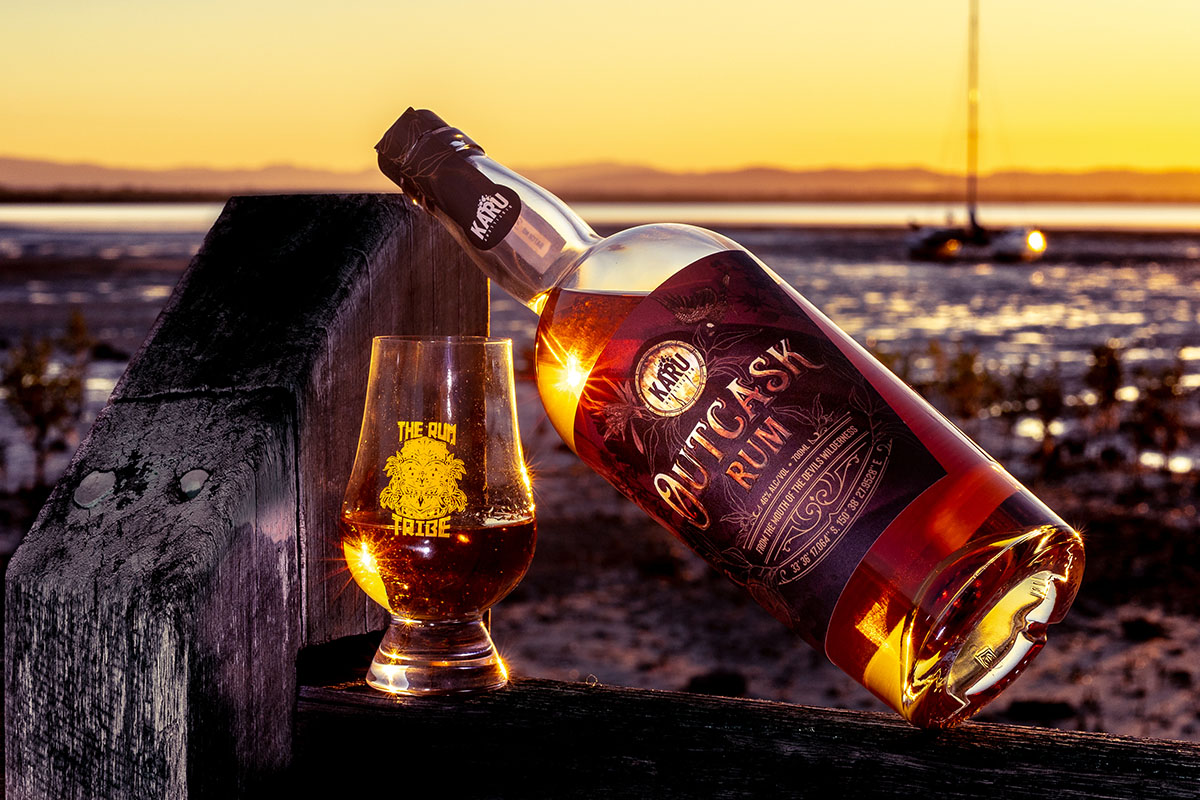 I guess there's only one thing we here at Rum Tribe HQ like better than selling rum – and that is selling the rum of a family we're proud to not only call friends, but members as well!
Now Outcask Rum is part of Karu's 'Core Range' and each batch of Outcask is thus blended from different casks for consistency of product. However, Karu is not shy to do a little experimenting with interesting single cask maturation and finishing. And to this end we'd like to announce a very exciting collaboration with Karu that will come to fruition sometime early in 2024. This very special project will see a cask of Karu Rum finished for around twelve months in a… <drumroll please> … first fill ex-Grand Marnier cask!!.
This is one of the nicest and most delicious casks whose bunghole I've had the good fortune to stick my nose into!
Our Tasting Notes
Nose: Big fruit salad and caramel sauce notes with a little sweet licorice there too.
Palate: Bold and sweet, slightly overripe tropical fruit notes with more aniseed notes, beautiful vanilla and citrus-sy waves all wrapped up in a buttery, crème brûlée oodie.
Finish: Finish for miles here – sultanas and fruit mince, some mixed peel and more caramel, coffee and dark chocolate with a lovely pinch of white pepper to tingle the tongue as it departs.
This rum is no shrinking violet – big bold and fruity all night long, and at 46%abv it's got enough 'oomph' to really impress neat or over ice, and will standout in your favourite mixer too. As a lifetime boatie from Brissy, I can definitely recommend this rum in a 'Moreton Bay Mud' (rum, milk and ice – easy on the milk and ice!!)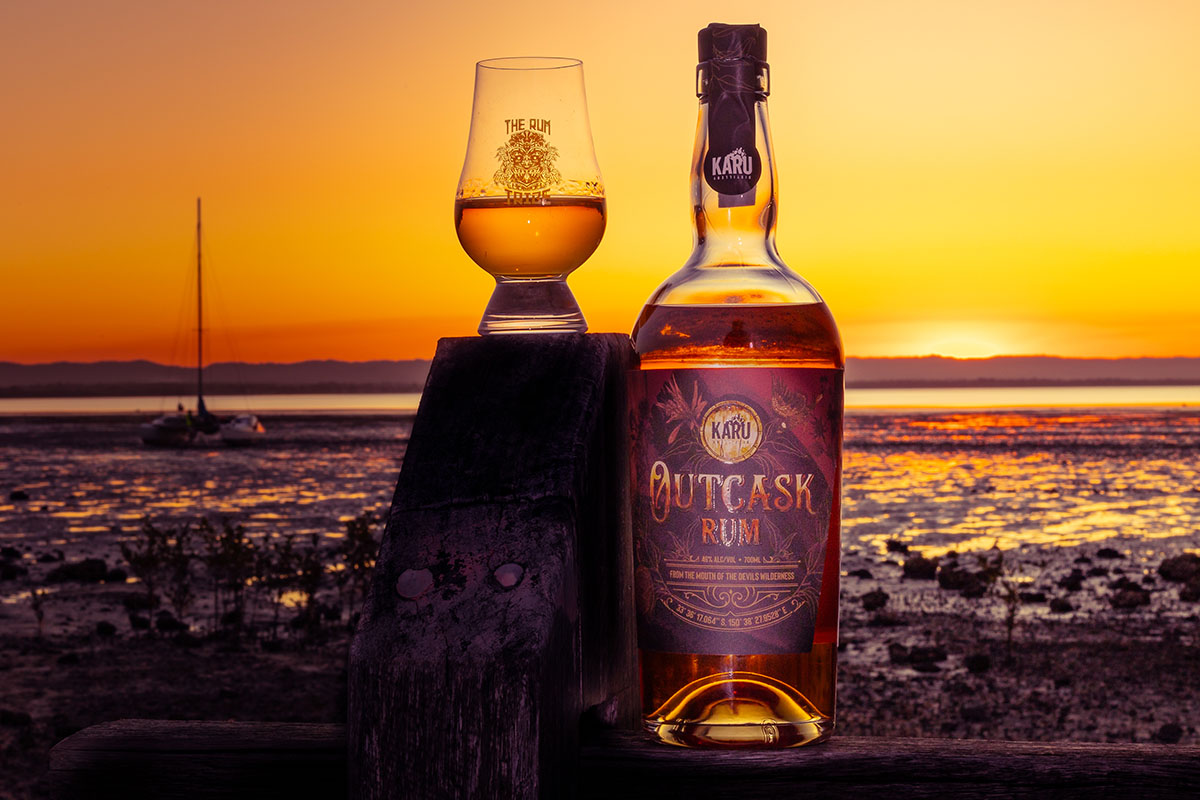 From Karu Distilling
Outcask is the first rum to enter our core range of products.
It follows simplistic traditional methods of production meaning it's a pure molasses rum, fermented for two weeks, pot distilled and matured at our distillery in NSW.
Having been self-taught in rum production, I felt it was appropriate to start at the beginning and explore the traditional pot distillation method first. By doing this I found a lot of thick and chewy flavours such as vanilla and caramel whilst the aromatics carried more fruiter notes, together you got a big rum with a lot to offer.
The absolute main goal with this rum was something you can have fun with, what we didn't want something that was limited to just having neat. Outcask Rum is great solo, however, it is scrumptious in cocktails like Pina Coladas, Jungle Birds and Rum Old Fashions. It was fun to make this rum and we want the consumption of it to be the same.
"Plenty of flavour with creamy vanilla and pineapple on the palate, a touch of coconut and freshness from orchard fruits and a swirl of golden sweetness"
About 
Karu Distilling
Launched in 2018 Karu Distillery by husband and wife team Nick and Ally, the focus has always been to create quality spirits that highlight the science and art of the distillation process.
Based in the Devils Wilderness NSW the range has grown to include Affinity a contemporary Australian gin, Lightning a navy strength gin, Morita a chipotle vodka and Outcask a golden rum.
Karu is fast becoming one of Australia's most awarded distilleries, in 2021 Lightning gin took out the Trophy for best contemporary gin at the International Wines & Spirits Competition.