Description
This is a first for us and for our mates Nick and Ally at Karu Distilling… We've never offered a 'pre-made' rum cocktail before and what a debut is…not just a any rum cocktail – a barrel aged rum cocktail based on the multi Award-Winning Karu Outcask Rum! The Karu Distilling Barrel Aged Old Fashioned!
Now we know there is a good number of Tribers who get their cocktail groove on at home in a most awesome way. We also know that there is a fair percentage (myself included) who intend to do so, but never seem to have the ingredients, patience or inspiration to look up a recipe when we're drinking. Sometimes it's easier to just add coke or ginger beer but sometimes something a little more sophisticated would be nice. So we have the answer – a rum based cocktail ready to pour over ice and dress up to your hearts content.
Now if you 'know your cocktails' – then you'd probably recognise that an Old Fashioned is normally based on bourbon, or rye, whisky. The Karu Barrel Aged Old Fashioned takes the old fashioned Old Fashioned straight to rum town! Based on the medal winning Karu Outcask rum, this is a fruitilcious take on an old cocktail – with an edge of whisky from the barrels it's aged in.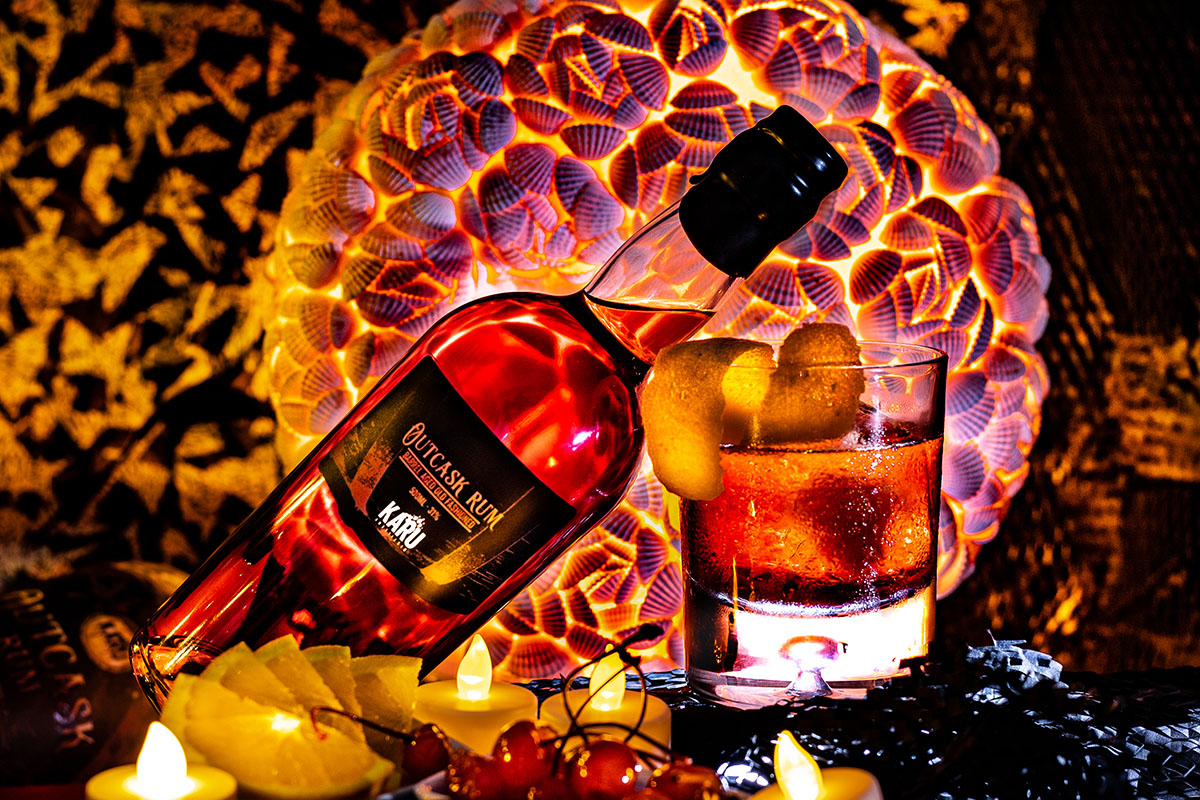 As far as presentation goes – well it's pretty simple – pour over ice (as fancy or as servo-bought ice as you like) then garnish with a twist of orange peel. Peel a strip, then twist it whilst holding it over the top of the glass to squeeze out those lovely citrus oils. Lay the twisted peel on top of the ice. If you prefer – you can sub a Luxardo (Maraschino) Cherry for the orange peel. Make sure to serve with a mega-nonchalant air – like it's just a little something you whipped up.
Now if you were to order one of these at a cocktail bar, you'd be looking at twenty bucks plus. The 500ml bottle represents around 8 generous Old Fashions making it just under $10 for a two nip cocktail….a rummy bargain.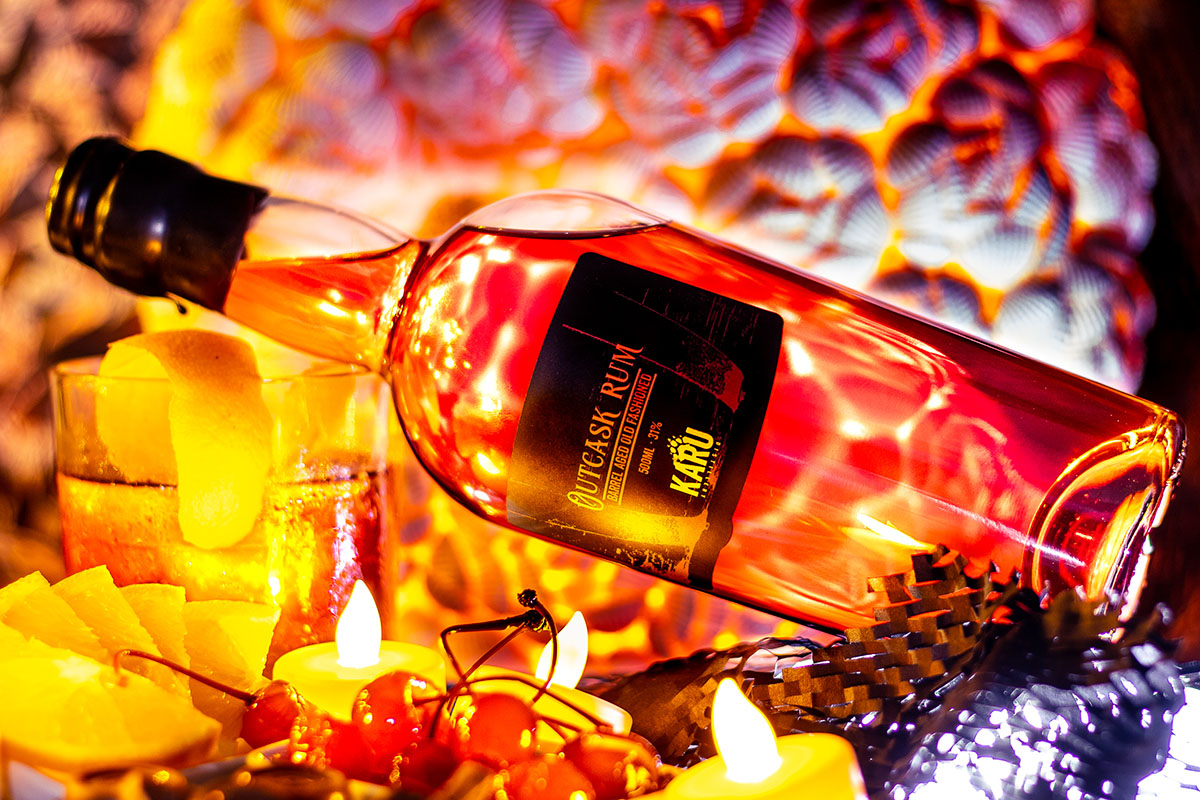 Our Tasting Notes
In my humble opinion you really can't have an Old Fashioned without a (generous) orange peel twist, to add all those beautiful citrus oils. So I'm reviewing this with a twist + a big ice cube. The nose and initial hit presents big jaffa flavours – dark choc and orange. But as you roll that massively viscous syrupy joy drop around, the cloves and spices from the bitters kick it into a real fruitcake vibe.
Not into jaffas? Substitute the orange twist with a maraschino cherry (or two) for a more of fairy floss hit before the fruitcake flavours descend!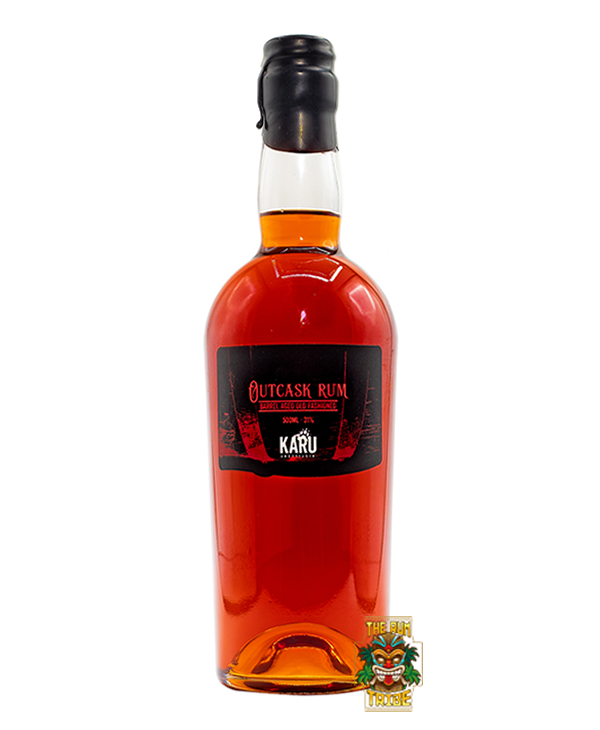 From Karu Distilling
Our Outcask Rum Old Fashioned came about not long after the Rum's release.
We knew we couldn't just have a regular rum old-fashioned, so we sourced the best 20L Tasmanian whisky casks to finish the cocktail in.
We are big celebrators of cocktails at our distillery and came across using rum in an old Fashion because rum is the best. Simply add a large cube of ice to a tumbler glass, pour, stir, and add an orange rind for the experience of having a bar-quality cocktail in the comfort of your own home made easy.
The drink itself gives you a really nice balance of sweetness that accommodates the choice of bitters paired with our rum. The barrel aging of the cocktail adds depth to the flavours on offer. It's absolutely perfect to sip on during cooler nights and warmer days.
About 
Karu Distilling
Launched in 2018 Karu Distillery by husband and wife team Nick and Ally, the focus has always been to create quality spirits that highlight the science and art of the distillation process.
Based in the Devils Wilderness NSW the range has grown to include Affinity a contemporary Australian gin, Lightning a navy strength gin, Morita a chipotle vodka and Outcask a golden rum.
Karu is fast becoming one of Australia's most awarded distilleries, in 2021 Lightning gin took out the Trophy for best contemporary gin at the International Wines & Spirits Competition.