Description
Dead Reckoning Mhoba – South Africa. CASK STRENGTH, LIMITED EDITION and EXCLUSIVE to the Tribe in Australia! This is the first Dead Reckoning release of a cane-juice based rum.
Dead Reckoning indy bottlings need no introduction to the Rum Tribe. They have dazzled us with release after release from distilleries all over the world and the man behind it, Justin Boseley, has a knack for finding sensational spirit in far flung places, bringing it to Adelaide and matching it to the perfect cask where it's aged further in a unique dry heat environment that actually increases the ABV of the spirit in the barrel over the years. Weird but true!
Now at 2 years, 5 months this is a fairly young rum by Dead Reckoning standards. It was initially expected to be around 18 months – 2 years in the finishing cask but Justin was surprised at just how 'active' the ex-bourbon cask has been with the rum. So active, in fact, that he elected to bottle it after just 5 months in the finishing cask. Its job was done!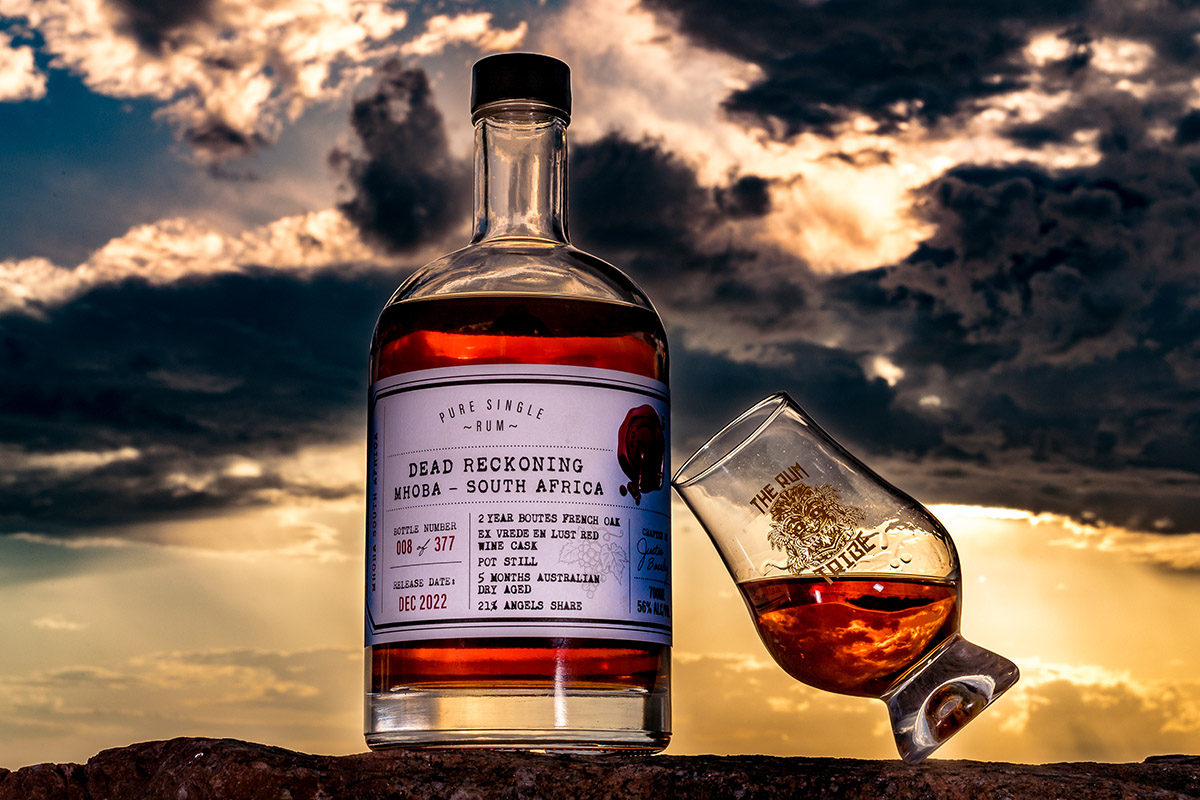 This latest Dead Reckoning spent it's first two years in a South African red wine cask (from the Vrede em Lust estate in the Franschhoek wine valley) in the sub-tropical South African climate at the Mhoba distillery.
Justin describes finding this cask in Mhoba's bond-store as an explorer describes finding an undiscovered ice cavern or the like. An 'A-HA!' moment where he knew he'd found what he was looking for.  The culmination of a long journey.  All he needed now, was some time in Adelaide to add 'his touch' to it, which came in the form of an especially active ex-bourbon barrel. After only 5 months, it was exactly where Justin wanted it. A perfect amount of vanilla, custard and caramel from the high-char American oak added to the rich fruity decadence of the red wine aged Mhoba.
Our Tasting Notes
Nose: Tart fruit salad and raspberry jus at first with a rich sweet caramel sauce on the side.
Palate: Wonderfully mouth coating. More of those sensational fruit notes – but more stewed now, nice and sweet,  and the vanilla comes through in a crème brulee creaminess.
Finish: Delicious mixture of fruit, vanilla, citrus peel and salted caramel lead you onto the next pour… in just a sec, I'm still enjoying this one!!
This is a delicious rum that is perfectly weighted with the abv to give it real 'oomph' on the palate – but the alcohol is very well integrated at 56% ABV. A little pepper there – but the massive creamy fruitiness dominates and continues to do so as you chew that utterly satisfying finish!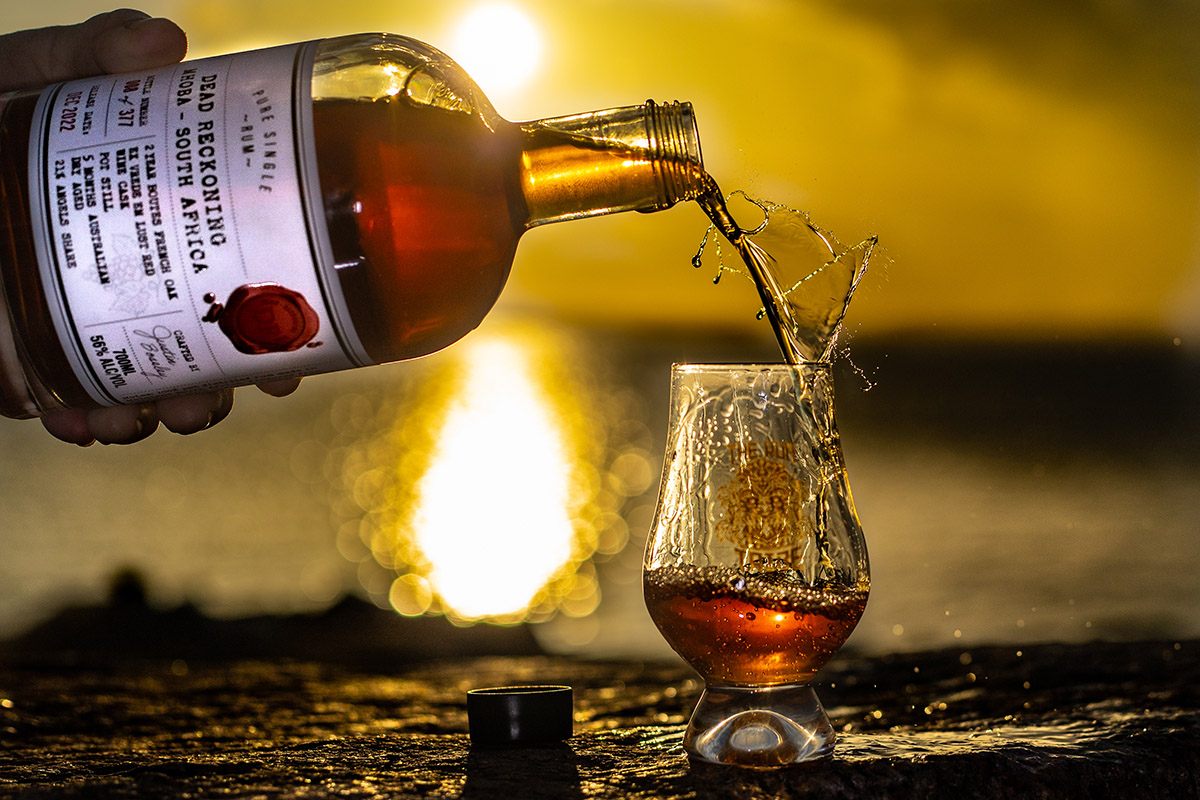 From Dead Reckoning
Upon tasting Mhoba rum for the first time this was a revelation and also a rewriting of the Rum flavour profile rule book, it reminded me of the first time I tried a Jamaican Hampden. After tasting the Vellier Mhoba release I knew I had to get my hands on something of similar quality.
I hand selected this individual single barrel release, chosen for its deep rich and unique flavour profile which was aged for 2 years in Africa in a ex Sth African red wine cask. To put my own signature on the release it underwent Australian dry ageing in Adelaide South Australia.
Tasting notes: It's time in the red wine cask has given this rum layers of flavour profile, not only do you get crisp red apples and cranberry juice, A heavy level char bourbon cask introduced hints of vanilla caramel and custard tart.
About Dead Reckoning
Justin, has immersed himself in rum for the past 20 years; a journey starting as a deck scrubbing lad with a thirst for Rum and adventure culminated in him becoming a Chief Officer; driving billionaire's mega yachts around the world. This life of salty seadog adventure took him to Rum's heartland, the Caribbean islands for 6 months a year, every year.
When he wasn't at the helm of a mega-yacht he could be found hanging off a bar or at a distillery sampling the best the Caribbean rum scene had to offer. Upon ending his days at sea there was only one thing he knew better that navigating around the world's oceans- that was Rum. For 10 years Justin has scoured the globe discovering & importing the world's best rums into Australia.
Dead Reckoning is Australia's first independent rum bottler, and this is the second expression from Justin's brand. We know there's more in the works from Dead Reckoning and we can't wait to try more and more of these fabulous independent bottling from a true rum legend.
About 
Mhoba
Nestled amongst the rolling hills of the Onderberg district of Mpumalanga and amidst our own sugarcane fields, you can find The MHOBA Rum Distillery: An artisan distillery where we make 10 different types of Pure Single Estate Sugarcane Rhum or Pure Single Sugarcane Rhum.
Unlike most traditional rum, which is made from molasses which is the by-product of refined sugar production, MHOBA rum is made from pure sugarcane juice. Our rum is 100% pot distilled from fermented sugarcane juice and contains no additives, colourings or flavour modifiers and is therefore termed Pure Single Rum; The rum equivalent of Single Malt Whiskey.
What makes MHOBA rhum even more unique is that the whole rum making process occurs on our sugar estate. From planting our own organic sugarcane right through to hand filling and labelling our bottles after distilling in our self-designed and self-built stills, MHOBA Rhum is 100% rum that is made by us.
MHOBA RUM. FROM FARM TO BOTTLE AND PROUDLY SOUTH AFRICAN!