Description
A LIMITED EDITION Dead Reckoning Rum celebrating the legendary 'Operation Jaywick' with half the proceeds going to the Commando Welfare Trust – just in time for Remembrance Day. Oh and the Fat Rum Pirate scored it 4.5 out of 5…We are proud to be a part of the Dead Reckoning MV Krait.
November sees us observing Remembrance Day on the 11th. To commemorate all ex-servicemen we have a very special bottling of a 9 year old Beenleigh Rum from Dead Reckoning that commemorates an incredible feat by some of Australia's first commandos – the legendary 'Z' Force.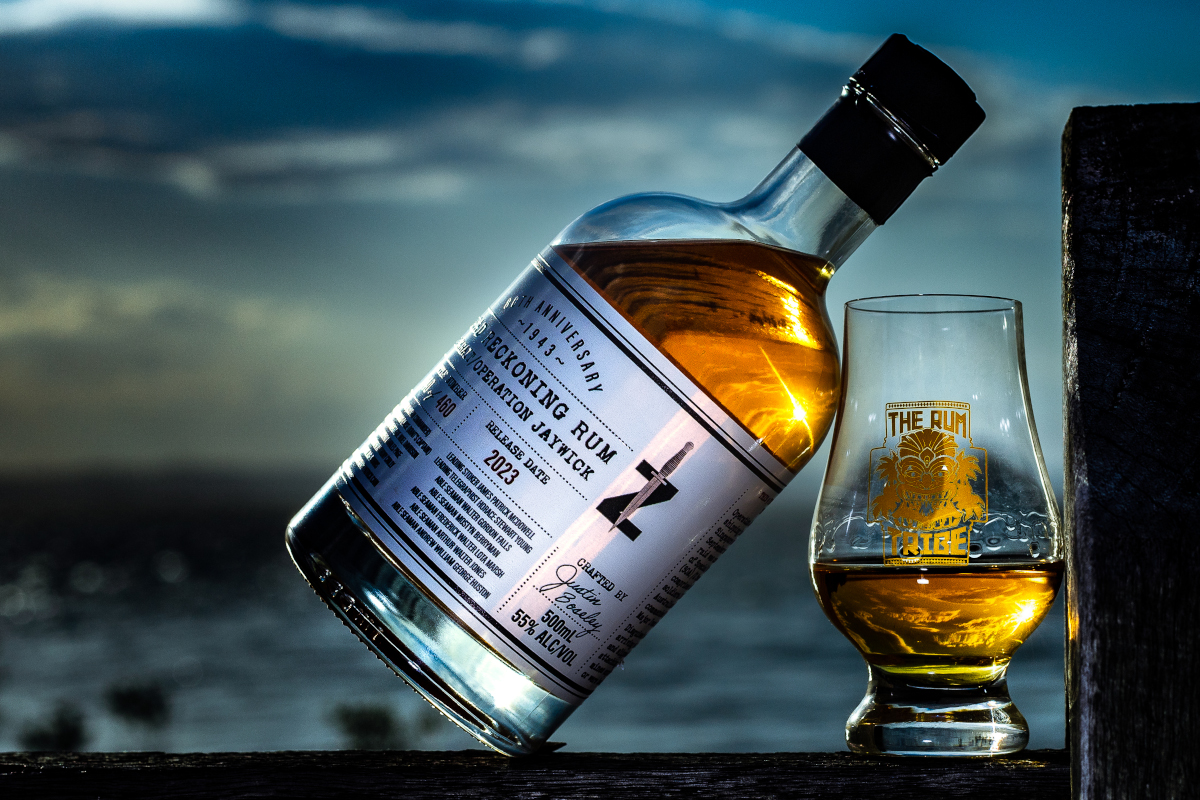 This 9 year old Dead Reckoning MV Krait/Operation Jaywick also has an amazing 'origin story' itself. Initially created at the legendary Beenleigh Distillery (a blend of pot and column still) and tropically aged on-site for 4 years in ex-bourbon casks.
It was then sold to a 'European rum buyer' and sat in a bond-store in Amsterdam for 5 more years of continental ageing. Fortuitously Justin Boseley, whilst on a 'European rum buying trip' [terrible job, right?] came across said barrels of Beenleigh and scooped them all up to take back home and bottle. Some of this rum was then bottled as 'Australia 9 Year Old' for the European market (back on a boat to whence it came!) but a portion was set aside for this special tribute bottling to a special group of Aussies. All of it going into glass at 55%ABV.
But don't just take our word for it – 'The Fat Rum Pirate' gave it a 4.5/5 star rating and said of it –
"This is the first time I have sat down properly with a distillate from Beenleigh. I have to say I am highly impressed. This is great stuff."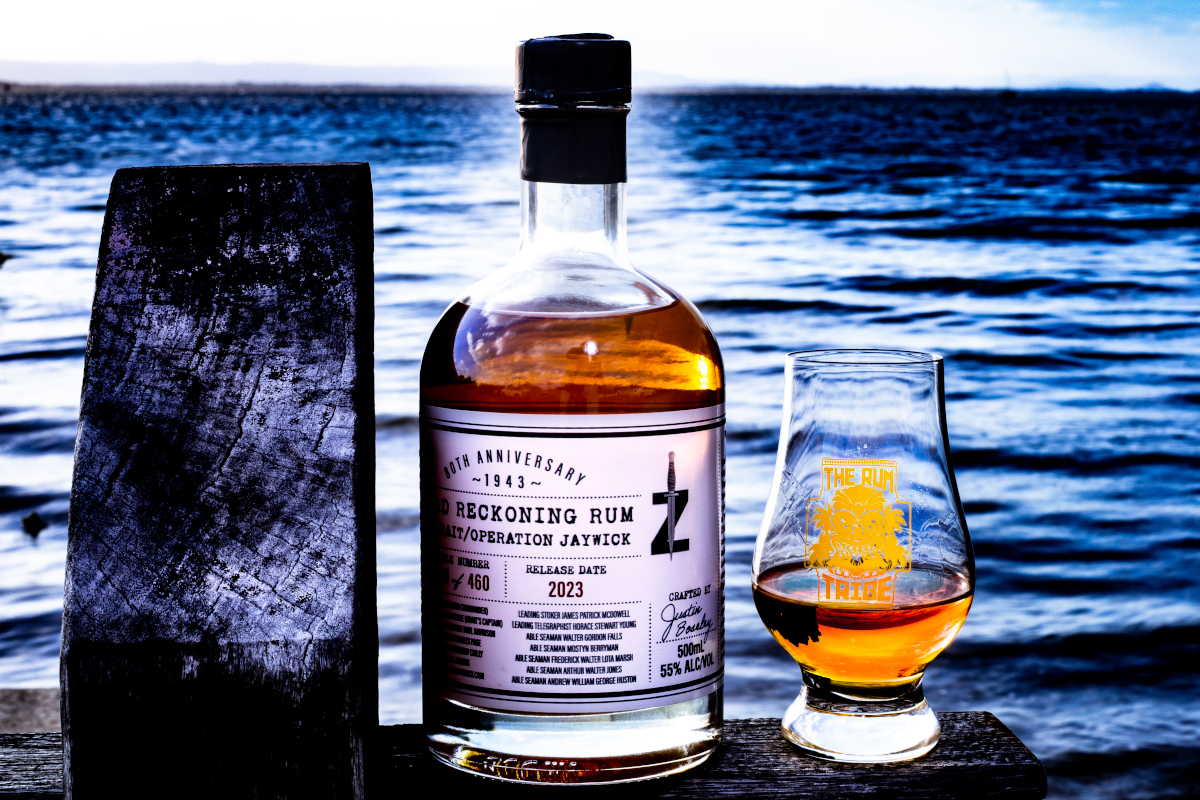 Operation Jaywick (from Australian War Memorial)
Operation Jaywick was a raid on shipping in Japanese-occupied Singapore harbour between September and October 1943. The raid was carried out by members of Special Operations Australia (SOA) from Z Special Unit. The team comprised of four British soldiers, and 11 AIF and Royal Australian Navy personnel, commanded by a British officer, Major Ivan Lyon.
Disguised as Malay fishermen, Lyon's team travelled from Exmouth in Western Australia to Subor Island, 11 kilometres from Singapore, in a captured boat, renamed the MV Krait. The Krait was a slow-moving, wooden-hulled vessel about twenty metres long and sporadically suffered engine trouble for the duration of the voyage.
On reaching the island three-and-a-half weeks after leaving Australia, the team launched three two-man collapsible canoes (folboats). Lyon and five others then paddled into Singapore harbour. Arriving at night they split up and slipped from ship to ship attaching limpet mines, paddling another 80 kilometres to rendezvous with Krait six days later on 2 October.
When the mines exploded, seven ships were sank or badly damaged. The Krait recovered its intrepid but exhausted canoeists and travelled back to Australia, arriving at Exmouth on 19 October 1943.
Our Tasting Notes
Nose: Unmistakeably bourbon aged on the nose. Lovely light Jasmine-ey notes there with a not-unexpected, malted milk and vanilla embrace. There's a hint of something else though- not quite medicinal, nor industrial – it's Retsina (the Greek pine wine) I think – took me a while to pick it though.
Palate: Rather oily mouthfeel. I get a – not quite but almost – sarsaparilla note – root beer perhaps!(?) But it's sort of crossed with (or is it?) creaming soda? The column still portion of the sprit is apparent in the crisp tail-end of the palate which presents as granny-smith apple that leads into the…
Finish: medium length –but certainly easily describable as buttery! In fact – a real nut-buttery-nes sort of rolls over the pallet as the sweetness fades.
This is a rum that really shines with the addition of a 'bloop' of water. Just a touch really transforms this rum (in this guys humble opinion). There's a pepper in the palate that just an absolute poofteenth of water really takes the edge off. My only criticism (are you listening Justin!) is the 500ml bottle.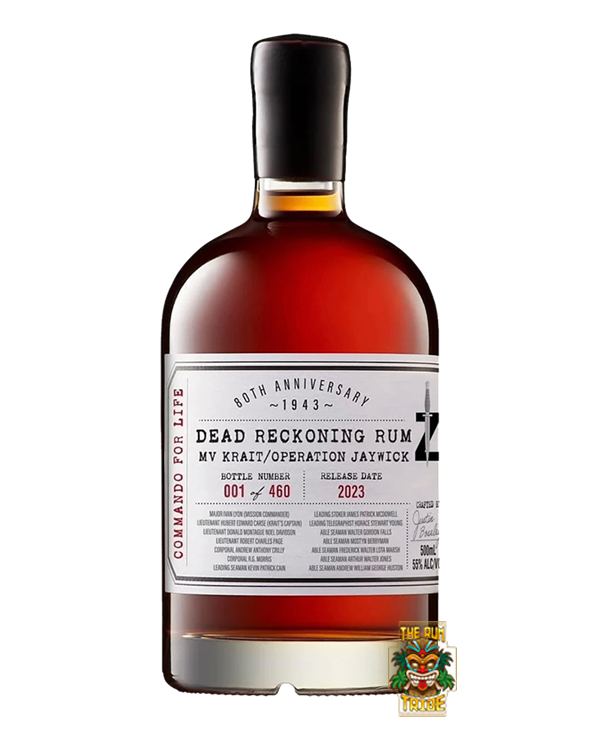 From Dead Reckoning
G'day Rum Tribers.
As we know, a lot of my previous releases have been military maritime connected, and this release is no different.
Operation Jaywick was comprised of 14 Commonwealth Special Forces and Naval Offices that travelled on the Krait, a – let's call it, stolen -Malaysian fishing vessel. They left Broome in September 1943 and travelled up to Singapore Harbor where they sunk and severely damaged nine Japanese ships. After this very daring – and successful – raid, they travelled back through the, Malacca Strait back down to Broome.
And quite conveniently, there was a case of Australian rum on board if they survived. If being the key word.
So, to commemorate this daring raid in World War II, I've come up with the same rum they would've been drinking back in that day. It's a nine year old Australian rum from a secret distillery. We're just gonna leave it at that.
So let's move on to the rum. Being from an Australian distillery, it's quite herbaceous and almost, I would say pine driven on the nose. Now I also get a lot of stone fruit and rockmelon on the nose. And at 55%, it's a delight to sip on.
On the palate you get that real stone fruit again, plus real green apple crispness but now, not so much pine at all. Absolutely delightful and available through the Rum Tribe for November.
Please grab some and support the Commando Welfare Trust. Cheers.
About 
Beenleigh Artisan Distillery
In 1865 a duo from England by the names of John Davy and Francis Gooding purchased 300 acres of land fronting the Albert River. They named the clearing after their old Devonshire farm, which was called Beenleigh.
Originally, they had intended to grow cotton on this land, but as fate would have it, a more lucrative alternative presented itself- sugar cane.
As legend would have it, around the same time, a man called James Stewart, known as 'The Bosun' was operating a floating sugar mill, aboard the S.S. Walrus, along the Albert and Logan Rivers. He soon found a productive use for the excess molasses he produced- making Rum on the sly.
One day in 1884 the SS Walrus washed ashore on our banks. No-one was aboard- except The Bosun's Copper Pot still. Beenleigh Artisan Distillery was born!